Up 49-3 with his Heisman Trophy-winning quarterback not needed for the entire second half, Lincoln Riley rampaged up and down the USC sideline, red in the face. The Trojans' punt return unit couldn't get on the field properly, forcing Riley to burn a meaningless timeout in a game that was over the moment it began.
A casual observer may have seen Riley's reaction and decided the hotshot young coach was majorly lacking in life perspective. This observer? Quite to the contrary, I think Riley had it just right, revealing a healthy understanding of just how little USC's romp of Stanford proved — and how daunting the rest of the season looks now, knowing what we know after two full weeks of he college football season.
The Trojans' first bye week is here, and they better take full advantage. Because the cakewalks are over for good. USC's second bye week is perfectly placed on Thanksgiving weekend, the week before the Pac-12 championship game. But for the Trojans to qualify for that game in Las Vegas — and certainly for them to be playing for a spot in the College Football Playoff semifinals — actual greatness will be required.
USC won't be riding a perfect run through an inept Pac-12 to the playoff in the league's final season as a major conference. It seemed that would be the case in the preseason, but now one could argue the Pac looks like the best of the "Power Five." Without a doubt, it's the most entertaining.
Heck, as Riley was freaking out about his punt team late Saturday night, Cal was leading Auburn in the third quarter (the Golden Bears didn't pull off the upset due to three missed field goals). Of course USC should be able to handle its trip to Berkeley Oct. 28, but, sandwiched between huge contests against No. 12 Utah and No. 8 Washington at the Coliseum, the pesky Golden Bears represent a legitimate trap game.
The most dramatic change in perceived degree of difficulty on USC's schedule is the trip to No. 22 Colorado on Sept. 30. Deion Sanders and his swaggering Buffaloes have taken over college football in his first season coaching at the sport's top level. As if Colorado's exhilarating wins over Texas Christian and Nebraska and the constant repetition of his Aflac ad with Nick Saban didn't bring enough "Coach Prime" into our lives, I knew we were living in Sanders' world on Saturday when I saw him featured in an ad for California Almonds.
After last season, Riley could have been the spokesperson for fast transfer portal turnarounds, but Prime looks like he's about to take that one, too.
All joking aside, can Trojans-Buffs get here already? Even if Colorado loses the week before at Oregon, the shine won't come off the opportunity to watch Prime's son, the smooth Shedeur Sanders, and do-everything wide receiver/cornerback Travis Hunter come after Williams' Heisman.
Two weeks later, USC travels to Notre Dame, which earned its No. 10 ranking by dominating North Carolina State Saturday on the road. The Fighting Irish are a much more dangerous team this year with veteran Wake Forest transfer Sam Hartman at quarterback.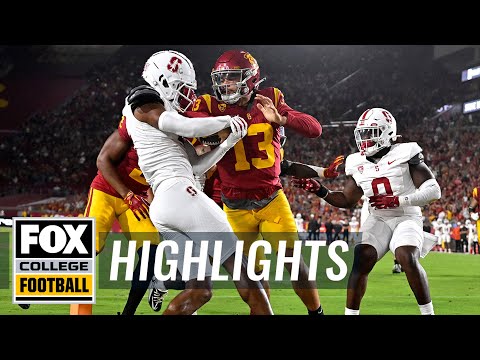 Then there's USC's final Pac-12 tussle with Utah, which impressively just beat Florida and Baylor without quarterback Cam Rising. You think Kyle Whittingham won't have the Utes ready to quiet the Coliseum?
To start November, No. 8 Washington and No. 13 Oregon await USC during back to back weeks. Those were always going to be headliners, but think about how good UCLA freshman quarterback Dante Moore could be when Nov. 18 rolls around?
Before the season, I picked the Trojans to make the playoff semifinals. Their performance has done nothing to dampen those expectations, but their opponents have raised the standard. Anything but a transcendent USC season that's worthy of the program's annals won't get it done in 2023.
And that's exactly what the long-tortured, tried-and-true Trojans should want. Pete Carroll's 2004 team wanted to "leave no doubt" on its way to a national championship, and, with this gantlet ahead, this group can hush all doubters with a playoff run.
Steve Sarkisian's big night
Texas' 34-24 win over Alabama in Tuscaloosa Saturday night was the biggest victory of Steve Sarkisian's coaching career. I did not think Sark could take a team, even one as talented as these Longhorns, into Bryant-Denny Stadium and beat his mentor, Saban. I assume I'm not the only critic he proved wrong Saturday either.
The best news for Texas fans? This win did not feel remotely fluky. The Longhorns were easily the better team on both sides of the ball, and with Sark calling plays, the sky is the limit for quarterback Quinn Ewers and the compelling cast of playmakers around him.
Texas' schedule from here is pretty favorable. The Longhorns will be favored to win every game, and while I don't expect them to run the table, they can likely afford to lose a game and still make the playoff semifinals with a massive win like this in their back pocket.
Now all Texas and Sark have to do is play with the weight of expectations. No big deal, right?
Clear the way
As a fan, I love this season so far. While the country awaits Georgia's first loss — we're probably going to be waiting quite a while given the Bulldogs' soft schedule — a collection of fascinating teams are ascendant and building calluses.
Florida State and Texas have the two biggest wins, over SEC West powers Louisiana State and Alabama, respectively. The Seminoles and Longhorns have not won the CFP national championship (Texas hasn't made the four-team playoff field at all), so they'd feel like fresh blood.
Alabama, Clemson (after losing to Duke — Duke!) and LSU are going to have a hard time making their way back to the playoff, which is wild to say after week two.
Georgia's recent dominance and Ohio State's year-over-year consistency are potentially all that's standing in the way of the CFP crowning a new champion in the last year of the four-team playoff.
Cougar power
Washington State made quite the compelling case that it belongs at the top of the sport on Saturday, knocking off Wisconsin 31-22 in Pullman.
The Cougars already know it doesn't work like that. They beat the Badgers last year in Madison, too, which didn't matter one bit when the Pac-12's properties were being gobbled up by the Big Ten, the Big 12 and the ACC.
We should all enjoy rooting for Washington State and Oregon State this season and far into eternity.
Future Big Ten power rankings
1. Michigan
2. Ohio State
3. USC
4. Penn State
5. Washington
6. Oregon
7. UCLA
8. Iowa
9. Wisconsin
10. Purdue
11. Maryland
12. Minnesota
13. Michigan State
14. Rutgers
15. Indiana
16. Nebraska
17. Illinois
18. Northwestern