American Sean Strickland stunned Nigerian-born New Zealander Israel Adesanya to take the middleweight title by unanimous decision in the main event of UFC 293 in Sydney, the first UFC event in Australia's largest city in six years.
The 32-year-old Strickland (28-5), who caused a stir in the lead-up to the fight with sexist and misogynistic comments at a press conference promoting the bout, won a five-round decision with all three judges scoring it 49-46.
Backed by strong vocal support at Qudos Bank Arena, Adesanya (24-3) was a clear favorite to subdue his controversial American opponent and retain the title he won from Alex Pereira at UFC 281 in April.
But the 32-year-old Strickland's defensive, counterattacking style was brutally effective with the American landing the more telling shots throughout the fight with Adesanya struggling to find a way to respond.
After a patient start by both fighters which saw Adesanya probing Strickland's unusual defensive style, it was the American that found the first telling strike with a clean straight shot that felled Adesanya. Strickland quickly moved in on the 34-year-old New Zealander's back with a flurry of strikes to close out the first round in the American's favor.
Adesanya was the more assertive in the second and third rounds, finding his range with his kicks and right-hand shots but continued to leave himself open for Strickland to strike at Adesanya's body and head.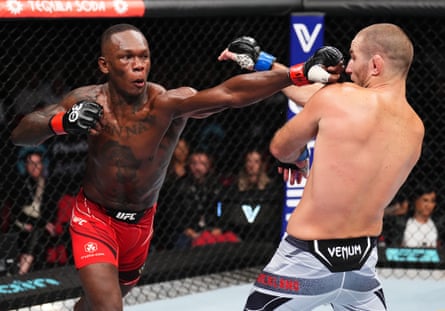 The final rounds saw Adesanya move more into his shell as the New Zealander struggled to make any imprint on the American's defense. Strickland sensed the opportunity to go after the champion and a flurry of punches and kicks in the final minute helped ensure the decision and the middleweight title.
The UFC fight made news in the New South Wales state legislature, where the leading government lawmaker was forced to defend his state's payment of about $10m to help ensure the UFC event came to Sydney, for the first time since 2017, after Strickland made sexist and misogynistic comments during a media conference this week, echoing comments he's made previously.
In the co-main event, Alexander Volkov (37-10) won his heavyweight bout by submission in the second round against 30-year-old Sydney-born Tai Tuivasa.
The 34-year-old Russian dominated the fight despite an injury to his front leg which Tuivasa had targeted earlier in the round, with a lopsided strike count as he landed hit after hit on the Australian before trapping him in a choke hold which forced Tuivasa to tap out.
Australian Tyson Pedro opened the main card knocking out Sweden's Anton Turkalj in the first round, before New Zealander Justin Tafa did the same to American Austen Lane in a heavyweight bout and Manel Kape beat Felipe dos Santos by a five-round unanimous decision in an entertaining flyweight match.