Lucas Giolito remembered the first time he pitched at Angel Stadium. It was in a showcase when he was in high school. Years later, he took that mound for the Chicago White Sox in 2018.
"I remember my first-ever start in Angel Stadium when I was a White Sox, that popped in my head," Giolito said this week. "Oh! Here I am pitching off the first big league mound I ever threw off of and here I am as a big leaguer doing it.
"It was even more so when I was actually an Angel."
Giolito was speaking from the visitors clubhouse, now a pitcher for the Cleveland Guardians, in town for his new team's four-game series in Anaheim. It had been about a week since his brief time with the Angels came to an end.
The Angels traded for Giolito, reliever Reynaldo López, outfielder Randal Grichuk, infielder C.J. Cron and reliever Dominic Leonein the days and minutes before the Aug. 1 trade deadline. But on Aug. 31, all of those players except Cron were put on waivers, along with outfielder Hunter Renfroe and reliever Matt Moore.
"It was weird," Giolito recalled. "We all kind of heard the news, like it came out on the internet. And we were hearing from our agents and stuff. And then I think [Angels manager Phil Nevin] heard about it, so he called us all in. I'm not trying to put anyone on blast here. He had a lot of things to say and a lot of really great things to say to us. I'm always going to admire Phil."
Added López, in Spanish: "The new system, I didn't know. I knew the old system, where the team puts you on waivers, if not you go to triple A. But this new system, I didn't know. Once they got us all in a room and told us what was happening, from there, I did my own homework, asked my lawyer and told me what it was."
By Sept. 1, Giolito, López and Moore were Guardians, while Leone was in Seattle and Renfroe was in Cincinnati.
The moves were not without cause. The Angels had made a push to end their now-nine-season playoff drought. Around the trade deadline, they were only a few games out of the final American League wild-card spot. There was reason to be optimistic. The reinforcements showed players how much the front office believed in them.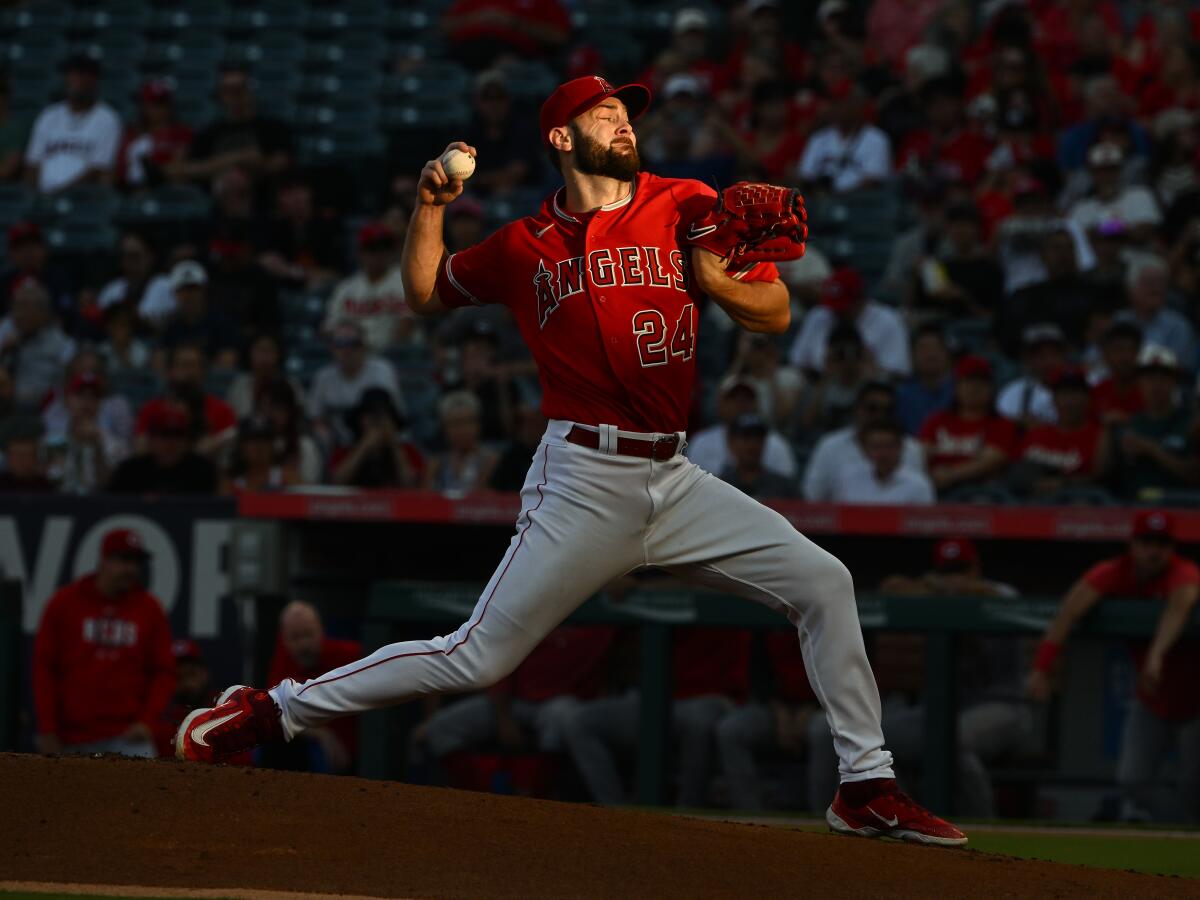 Then the Angels won only two series in August. Shohei Ohtani was shut down from pitching after tearing the ulnar collateral ligament in his right elbow. Mike Trout returned from the injured list, played one game and went back on it, and shortstop Zach Neto went back on it too. Young pitcher Chase Silseth accidentally was beaned on a cross-diamond throw in a game and went on the concussion list.
Putting those players on waivers was the Angels' first attempt at a salary dump to get under the luxury tax tier. Entering Saturday, they were 65-77 and six games from elimination in the AL West and eight from elimination in the wild-card picture.
"It was kind of tough because when I got there, the vibes in the clubhouse and everything were really fantastic," Giolito said. "They're coming off an amazing series [in Detroit]. That game Shohei threw a complete game, the next game he hit two home runs. And when I arrived it was 'Man, I'm gonna be a part of this. Crazy. We're gonna make this awesome run.'
"It just didn't come to fruition. … It's just the way the game goes sometimes. It's a game of failure. Unfortunately, we experienced a good amount of that my month there. Me, personally, as well."
It was a homecoming for Giolito, who's from Santa Monica, but his time with the Angels spanned just six starts. He had a 1-5 record , 6.89 earned-run average and .258 opponents batting average. He blamed himself for the underwhelming performances while crediting the Angels pitching, analytics and biomechanics staffs for helping him make quick adjustments that he said improved his velocity and the ride on his fastball.
"They did everything in their power to help me be as successful as possible," Giolito said. "I didn't get the job done. It's unfortunate how that played out, but it's part of the game. You move on and just try and stay present. Like right now, I'm here and I want to finish strong for [the Guardians] and do everything I can to help give us a chance to sneak into the playoffs."
The Guardians, 68-74 after Friday night's 6-3 win over the Angels, have a fighting chance to claim the AL Central title, given the way the division has played. The Guardians entered Saturday seven games behind the first-place Minnesota Twins.
Giolito's first outing with the Guardians did not go so well, as he gave up nine earned runs in three innings. His second start was scheduled for Saturday night against Tyler Anderson and the Angels.
"We loved having him here," Nevin said when asked about Giolito. "He's a great guy, good teammate. I know his first start with them didn't go well. Kind of hoping the next one doesn't either. Nah, I'm rooting for him too when [Cleveland] leaves here."
Moore is in a different role as a middle-innings reliever for Cleveland instead of pitching in the seventh or later, where the Angels had him. He gave up one run to the Angels on Thursday. López has had the most success, recording his fourth scoreless outing Friday against the Angels.
Reflecting on their time with the Angels, both López and Moore were appreciative, particularly of the clubhouse.
"Getting to know a group of players that are good," López said. "Ohtani, Trout, all of them. [Closer Carlos Estévez]. So many good baseball players. I have to say it was a very good experience."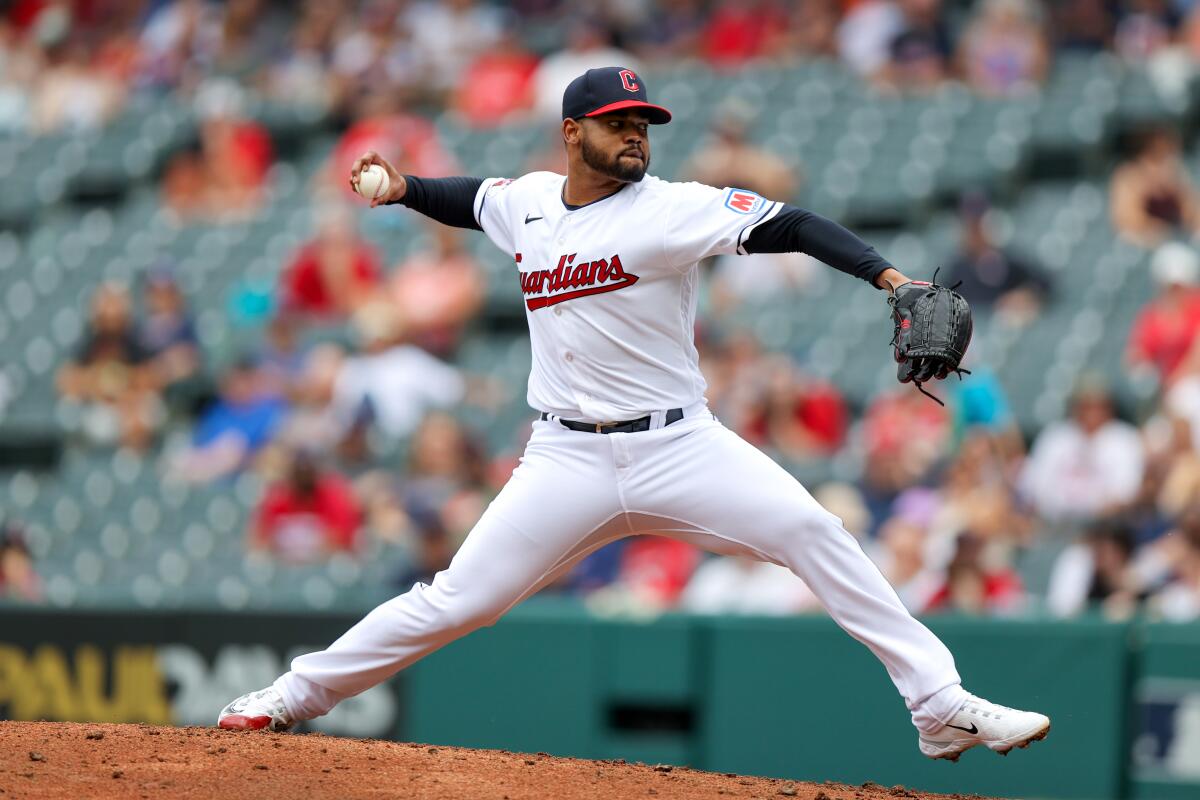 Added Moore, who signed with the Angels as a free agent during spring training: "It's one of my favorite clubhouses I've ever played in. There's a lot of veteran guys over there, so it kind of felt easy to jump in and, being my first year there, connect with a lot of those guys. I thought we had a lot of bad luck with injuries this year. And we still were able to show up and fight every day and that's something that I'm proud to be a part of."
Giolito also was appreciative of the connections he made with the Angels.
"I got to meet some players that I've admired for many years," Giolito said. "I got to reconnect with [infielder Mike Moustakas], who's a friend of mine from being back in L.A. … Trout and Ohtani for sure. Matt Moore … I remember when I was in high school, I played this game 'MLB The Show' and I always loved pitching with him, he was a Ray. … So it's cool that he was part of the package, us three, we get to do it over here."
Giolito is eligible for free agency after the World Series. Whether he would want to return to Anaheim or any other team that would bring him closer to home, he could not say, adding that free agency was the furthest thing from his mind.
"I've been through kind of a whirlwind over the last couple months," Giolito said. "If I'm sitting here and thinking about the future and free agency, I feel like that'll throw me off even more than I've been thrown off.
"Right now, my focus is solely day-to-day, getting my routine back, focusing on doing everything I can to put myself in a position to go out, be free and be successful on the mound."