Key events
First set: Medvedev 1-3 Djokovic* (*denotes next server)
Medvedev wins four of five points to hold and get on the board. It looks straightforward enough on the stat sheet but these are grueling rallies. Nothing is coming easy.
First set: *Medvedev 0-3 Djokovic (*denotes next server)
Medvedev hits a deft backhand winner at the net for love-15 to end a string of six straight points for Djokovic. He then follows with a forehand passing winner for love-30, already threatening to get the break right back. But Djokovic wins two quick points for 30-all, then gets the better of Medvedev over another 15-shot rally for game point. And he finishes it off with a 120mph ace down the middle to hold from love-30 down. Convincing.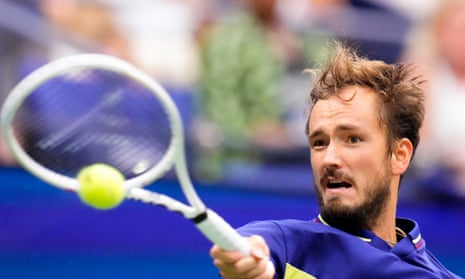 Djokovic breaks in second game of first set!
First set: Medvedev 0-2 Djokovic* (*denotes next server)
A rocky start for Medvedev. He makes a backhand error on the opening point, then a double fault for love-30. Another extended baseline exchange follows and Djokovic finishes it with a crisp forehand winner on the 16th shot for love-40 and three break points. And he needs only one of them when Medvedev sends a forehand sailing past the baseline early the rally. He's broken at love.
First set: *Medvedev 0-1 Djokovic (*denotes next server)
The first point is a 19-shot rally won by Djokovic. Medvedev wins a much shorter second point when Djokovic misfires on a backhand. The third is another punishing 23-shot exchange won by Djokovic on a backhand winner. Scintillating stuff from the word go! The crowd is really buzzing. Djokovic makes another backhand error for 30-all and he's got a hint of pressure on his serve. But he wraps up the hold in style, crunching back-to-back aces of 124mph and 123mph down the middle. What a start!
Hello and welcome to Arthur Ashe Stadium for today's blockbuster men's final between Daniil Medvedev and Novak Djokovic. For the second time in three years these heavyweights of the men's tour are meeting for the US Open title. In 2021, Medvedev defeated Djokovic 6-4, 6-4, 6-4 to prevent the Serbian star from winning the calendar grand glam. Today the third-seeded Medvedev will attempt to capture his second major title, while the second-seeded Djokovic will aim to earn his fourth US Open crown in his 10th final and increase his overall grand slam haul to 24. This is the first US Open final between two former champs since 2018 when Djokovic beat Juan Martin del Potro.
The players are on court and we should be under way any minute now.
Bryan will be here shortly. In the meantime here's Andrew Lawrence's look back at Coco Gauff's big win yesterday.