A brilliant rainbow poked through the clouds beyond the right-field pavilion in Chavez Ravine as Monday night's game between the Dodgers and San Diego Padres began, and at the end of it was a pot of coal for the Dodgers.
A collision between Dodgers left fielder Chris Taylor and center fielder James Outman led to a dropped ball to begin the ninth inning, and Juan Soto and Xander Bogaerts hit two balls that no outfielder could catch, Soto crushing a three-run homer and Bogaerts a solo shot to lift the Padres to an 11-8 victory before a crowd of 40,072.
The score was tied 7-7 entering the top of the ninth, which Trent Grisham opened with a fly ball to the warning track in left-center field off Dodgers closer Evan Phillips.
Taylor and Outman converged on the catchable ball, but when Taylor and Outman knocked each other's glove hands, the ball dropped for a two-base error that was charged to Taylor.
Grisham took third on Ha-Seong Kim's sacrifice bunt and held on Fernando Tatis Jr.'s infield single back to the mound. Soto then connected on an 86-mph sweeper and sent a towering three-run homer to right for a 10-7 lead, punctuating his tie-breaking shot with an epic bat flip. Bogaerts added a two-out homer to right to make it 11-7.
Josh Hader labored during a 43-pitch bottom of the ninth, giving up a two-out RBI single to J.D. Martinez and loading the bases with a walk to Kiké Hernández before Taylor hit a soft line drive to shortstop on a full-count pitch to end the game and keep the Dodgers' magic number for clinching their 10th National League West title in 11 years at seven.
The Dodgers appeared to break the game open with a five-run third inning that gave them a 7-2 lead, Max Muncy starting the rally with a 422-foot solo homer to right, his 35th of the season, J.D. Martinez (single), Jason Heyward (double) and Taylor (RBI single) adding hits and Mookie Betts ripping a three-run double to left-center.
But the Padres stormed back with two runs in the fourth, which featured Manny Machado's leadoff homer to left-center, Bogaerts' double to right and Luis Campusano's RBI groundout, and three in the sixth to tie the score 7-7.
Soto led off the sixth with a single to center off Dodgers starter Gavin Stone, and Machado lofted an opposite-field homer to right, his 28th of the season, to make it 7-6. Jurickson Profar and Campusano each singled with one out, and Matthew Batten greeted reliever Caleb Ferguson with an RBI double to center to make it 7-7.
The Padres still had runners on second and third with one out, but Ferguson got Grisham to line out to first base and struck out Kim with a 96-mph fastball.
Dodgers reliever Ryan Brasier struck out the heart of the Padres order — Tatis with a 97-mph fastball, Soto with an 85-mph slider and Machado with a 97-mph fastball — in the seventh, and Shelby Miller gave up a single in a scoreless eighth.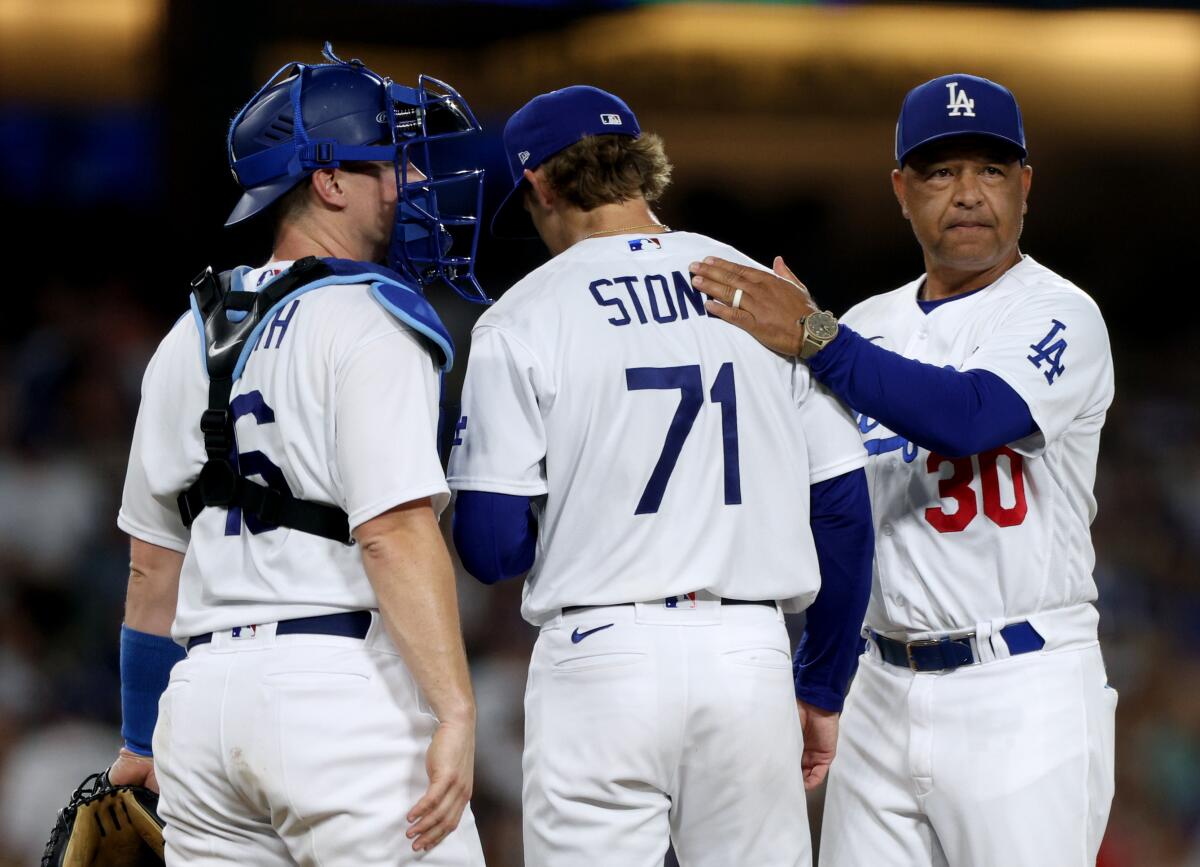 Stone, who was recalled from triple-A Oklahoma City on Monday for his fifth stint with the Dodgers, was charged with seven earned runs and nine hits in 5⅓ innings, striking out two and walking one.
The Dodgers, after racking up seven runs and seven hits through three innings, were held hitless by relievers Ray Kerr, Luis Garcia, Tom Cosgrove and Robert Suarez from the fourth through eighth innings.
Betts opened the bottom of the first with his 39th homer, driving an 0-and-2 changeup off the left-field foul pole for the 48th leadoff homer of his career and 12th this season, which is tied for second all-time with Alfonso Soriano (2007), Brady Anderson (1996) and George Springer (2018) and one behind Soriano's record 13 in 2003.
Miguel Rojas was hit by a pitch with one out and the bases loaded for a 2-1 Dodgers lead in the second, but Bogaerts made a leaping grab of Betts' 101.6-mph line drive to shortstop, and Freeman grounded out to second to end the inning.
San Diego tied the score 2-2 in the third when Batten walked, took third on Grisham's double to right-center and scored on Kim's grounder to second.
Short hops
Muncy has now homered at least 35 times in four seasons for the Dodgers. The only player in franchise history with more such seasons is Duke Snider, who had five. … Outfielder David Peralta, who left Sunday's game in Washington after injuring his right wrist on one swing and getting hit in the left elbow by the next pitch, was available to pinch-hit Monday night and is expected to return to the lineup Tuesday night. … Reliever Joe Kelly, sidelined for almost a month because of right forearm inflammation, is expected to be activated for Wednesday night's game. … Right-hander Wander Suero, who gave up one run on two hits in 1⅓ innings of Sunday's 7-3 win over the Nationals, was placed on the 15-day injured list because of lower-back tightness.