Richard Wesley turned 15 on Friday. He's a 6-foot-5, 235-pound freshman defensive end at Sierra Canyon High. It's scary to think what kind of football player he might be when he's 18 or even 21.
"Oh, man, just an impressive player," JSerra coach Victor Santa Cruz said after his team was the victim of three sacks by Wesley.
"I thought he was a great athlete and can really run," Oaks Christian coach Charlie Collins said after his team gave up three sacks to Wesley.
For those who know the story of Dr. Frankenstein, who created a monster in a laboratory, get ready for a new monster of the football field. Wesley wants to be a combination of Aaron Donald and Von Miller, two future Hall of Famers.
Get ready for the football monster named VonDonald.
"Richie is going to be one of the best in the country by his senior year," Sierra Canyon coach Jon Ellinghouse said.
Donald was at the Oaks Christian-Sierra Canyon game Aug. 25 watching.
Wearing jersey No. 99 (the same as Donald) and having entered high school with a 4.0 grade-point average, Wesley is well on his way to being one of the most sought-after college prospects. Sierra Canyon has sent eight students to the NBA with its basketball program, and Wesley could generate similar excitement in football.
"Being somebody who appreciates football, to see that kind of talent is impressive," Santa Cruz said.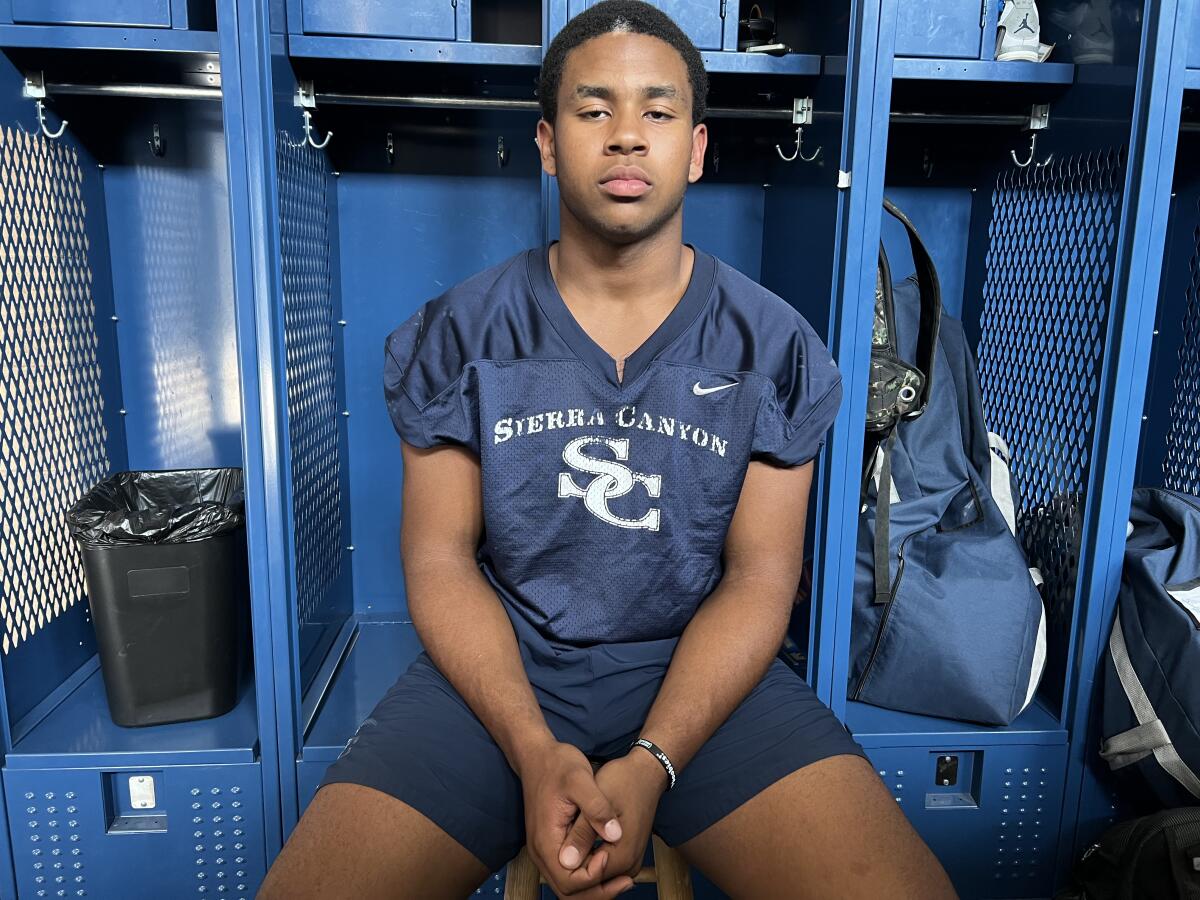 Sierra Canyon is 3-0 and faces its most difficult test of the season on Friday night against Trinity League power Orange Lutheran (3-1) at Orange Coast College. The game could have major implications for seeding in the Southern Section Division 1 playoffs.
Wesley is excited about the matchup.
"I like competition," he said. "Once I know we're playing a great team, it gets me even more pumped up to test myself and show why I belong."
Wesley lives in Sylmar. His father played basketball at Cal Poly Pomona and his mother played basketball at NYU. He started playing tackle football in seventh grade as a receiver and defensive lineman. He could have enrolled in high school last year as a 13-year-old but repeated eighth grade to be better prepared for the physical and mental challenges.
He handles interviews as if he were a senior, appearing confident and comfortable.
"I feel I'm an easy guy to talk to," he said. "I just keep it real with everybody. I don't like lying. I talk like I'll talk to my mother or father."
His agility combined with surprising strength for someone who just turned 15 helps explain his early success. He continues to work on leverage knowing it is what can separate good from great.
"I'm a tall guy and I'm working on my leverage," he said. "It's something I can improve on getting low. Nowadays, offensive linemen are pretty tall. Low man always wins. If you're low, everything is good. You're more explosive when you're low. Being low is a great thing."
Wesley has three more years of high school to learn what he likes to prepare for college. One thing he'd like to get better at is golf, so when he plays with his grandfather, he'll be ready.
"Golf looks way easier when other people play," he said. "I was trying to hit the ball and it was going that way, that way, that way. I can hit a ball but it might not be straight."
If anyone tells him to "stick to football," that's fine with him. He's got quite a future.