When Sean Payton called Nathaniel Hackett's 15-game stint with the Broncos "one of the worst coaching jobs in the history of the NFL," it sounded cruel and unnecessary. Now it sounds foolish. Hackett was 1-1 at this point last season in Denver. Payton's Broncos are 0-2 after giving up an 18-point lead to the Washington Commanders in a thriller that ended 35-33 after a failed Denver two-point conversion following a miraculous Hail Mary.
The game ended in controversy as Commanders cornerback Benjamin St-Juste was draped all over Courtland Sutton during that final two-point conversion. But none of that should take away from the fact that Denver should have been riding into Week 3 with a 1-1 record, thrilled with the direction of the Russell Wilson-Payton marriage.
The pairing was nearly perfect for most of the first half. Wilson slaughtered the Commanders' defense, and finally looked like the Wilson of old. He moved well, executed passes of various depths (including a beautiful bomb to Marvin Mims), and commanded a Payton playbook that kept Washington's defense in a state of confusion. Wilson ended the first half 6-8 with 154 yards and two touchdowns.
Then, in a repeat of Week 1's loss to the Raiders, the Broncos became dazed, confused, and just plain bad. Denver led 21-3 in the third quarter, but the Commanders then scored 32 of the next 35 points. Most of the second half was filled with miscues from Denver on both sides of the ball before their late rally almost sent the game into overtime. The defense operated with no urgency, the offense with no rhythm or mojo.
After the game, Payton addressed the team's lackluster second half.
"There was a number of drives where we're late with personnel, getting out of the huddle we took a while. That's got to change. We burned timeouts in the first half, and I'm not used to doing [that]. We've got to be better. I've got to be better, Russ has got to be sharper getting the play out," Payton said.
Payton also suggested that Wilson may need to wear a wristband, something the quarterback resisted under Pete Carroll at the Seattle Seahawks. Last November, Carroll lauded Geno Smith for wearing a wristband as Smith and the Seahawks were outperforming expectations. It was a bit of a dig at his former quarterback to which Wilson responded, "I didn't know winning or losing mattered if you wore a wristband or not."
It's undeniable that Wilson looks better under Payton than he did under Hackett. Not a hard feat. But games are four quarters, and falling apart in the second-half two weeks in a row is not acceptable. The Broncos second-half offense in Week 1 was too conservative; this week both sides of the ball were unable to adjust to the Commanders superior playcalling.
To be fair to Payton, the 2-0 Commanders are improved and have a lot of playmakers, particularly on defense. Eric Bieniemy, in his first season as Commanders' OC, seems to be doing wonders for his young quarterback, Sam Howell. But after the promises that Payton was going to change the Broncos, the Commanders are a team they should beat, as were the Raiders in Week 1. Good teams close out games. That's not happening in Denver.
It silly to make grand pronouncements about a team's season after only two weeks. It's possible the Payton-Wilson marriage ultimately works out. They'll certainly be tested facing the Dolphins and Jets' defenses soon.
But between the 0-2 start in games they should have won and the head coach calling out the quarterback, Denver may be heading for trouble.
MVP of the week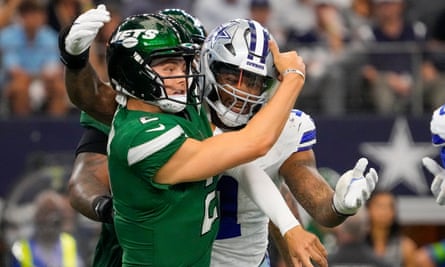 It's no surprise that the Dallas Cowboys' all-world linebacker Micah Parsons had an excellent game against the New York Jets, with their backup quarterback and feeble offensive line. But Parsons' absolute domination was something to behold in the Cowboys' 30-10 win. He was an absolute wrecking machine, terrorizing poor Jets LT Duane Brown and everyone else on his way to two sacks, three tackles for loss, one pass deflection, a forced fumble (where Parsons literally muscled the ball into his arms) and four quarterback hits. He also hurried Zach Wilson into an interception. Parsons' agility and speed for his size are exceptional. Worryingly for the Cowboys' opponents, Dallas's offense and special teams look solid too. Dak Prescott threw two touchdowns against a very good defense and former soccer player Brandon Aubrey kicked five field goals.
And how did Wilson do in his first full game after Aaron Rodgers's season-ending injury? He was up against one of the NFL's best defenses, and was protected by one of the league's iffiest offensive lines. Even with those excuses, he was pretty much the same quarterback we've seen for the last few seasons: rattled under pressure and capable of a few good throws but just as many bad ones. And he still holds on to the ball too long.
Stat of the week
0-7. That was Trevor Lawrence's completion rate in the red zone in his team's 17-9 loss to the Kansas City Chiefs. In contrast, his Jacksonville Jaguars were 3-for-3 last week in the red zone, scoring with ease. This week they faceplanted, failing to reach the end zone on all three red zone trips in a game they could and should have won. Jags offensive coordinator Press Taylor's playcalling was questionable at best. They were first-and-one on the Kansas City one-yard line and yet Taylor chose not to give goalline back Tank Bigsby the ball. Lawrence, meanwhile, was off target only hitting his receivers when they were out of bounds. It was an embarrassing performance considering that the Chiefs racked up almost 100 yards in penalties, turned the ball over three times and were held to 17 points.
Video of the week
Does Justin Fields like being sacked? Or did he bet the over on his sack total? Or did he just really wanted to get up close and personal with Vita Vea?
When your quarterback is sacked six times, as Fields was on Sunday, you usually point fingers at the offensive line. Sure, the Bears' unit has its issues, but Fields deserves much of the blame. His dropback is too slow, he can't process the field, and doesn't know when to throw the ball away. Not the trifecta you want from your franchise quarterback.
Elsewhere around the league …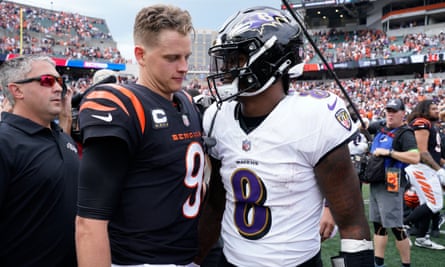 — Lamar Jackson continued his winning ways over the Bengals, upping his career record against Cincinnati to 7-1 after a 27-24 win for the Baltimore Ravens. Jackson was deft on his feet and showcased his often underrated arm with an incredible pass to Zay Flowers. As for the 0-2 Bengals …. yikes. The passing game showed a little progress – Tee Higgins notably came to life – but Joe Burrow still made too many errant throws and said he aggravated his calf injury in the fourth quarter. The Bengals defense only hit Jackson once (admittedly, not always an easy thing to do) and recorded zero sacks. Cincinnati advanced to the AFC Championship last season after starting 0-2. But starting 0-2 in the division this year, coupled with Burrow's injury, feels different.
— Yom Kippur, the Jewish high holiday also known as the Day of Atonement, is not until next Sunday but a few players got an early start. You can toss those Josh Allen eulogies written after the Week 1 loss to the Jets in the trash. Allen was nearly flawless in the Buffalo Bills' 38-10 beatdown of the Las Vegas Raiders. He put up 274 yards and 3 TDs, with a major assist from the Bills' boosted running attack. As Allen told NFL Network's Stacey Dales: "One day you feel like absolute crap … the good thing is you get to put the pads on six days later, come out here, and get to feel like this."
— The Miami Dolphins are the only unbeaten team in the AFC East after their 24-17 victory over the New England Patriots in Sunday's late game. On the last significant play of the game, the Pats thought they had a first down in Miami territory when Cole Strange rumbled forward after a lateral. But he was ruled short of the marker on review and the Dolphins kneeled to run out the clock.
— The New York Giants had a miserable opening week, when they were humiliated 40-0 by the Cowboys. But at least the Cowboys are Super Bowl contenders. On Sunday they were 28-7 down in the third quarter against the Arizona Cardinals, whose main hope this season is getting the No 1 overall pick in the 2024 draft. But then Daniel Jones and Saquon Barkley, who picked up an ankle injury, finally woke up and led a 31-28 comeback win that was settled by Graham Gano's last-minute winning field goal. Exciting stuff – it was the Giants' largest comeback since 1949 – but their fans won't be happy they struggled to beat a team like the Cardinals.
— The Detroit Lions stunned the Super Bowl champs in the season opener. This being the Lions, crushing disappointment was sure to follow. They lost in overtime to the Seattle Seahawks despite a 10-point comeback in the fourth quarter. Jared Goff was picked off for his first interception in 383 attempts, just 30 shy of the NFL record.
— How are the Tampa Bay Buccaneers doing post-Tom Brady? Not too badly at all. Baker Mayfield still doesn't look like a former No 1 overall pick, but he is doing a good impression of a competent NFL starter. As discussed above, the Bears aren't the toughest opponents but Mayfield was interception free again and threw for 317 yards, a touchdown and completed 76.5% of his passes in his team's 27-17 victory. The Bucs are 2-0 to start the season and contenders in a weak NFC South. Next up are the Philadelphia Eagles, a real test of how good this team is.
— Anthony Richardson continues to look like he belongs in the NFL, and had the Indianapolis Colts 14-0 up early against the Houston Texans with two rushing touchdowns. He had to leave the game with a concussion but was ably relieved by everyone's favorite backup, Gardner Minshew, who threw for 171 yards and a touchdown (maybe the Jets should see what the Colts want for him?) in his team's 31-20 win. As for the Texans, CJ Stroud threw for nearly 400 yards in just his second NFL game.