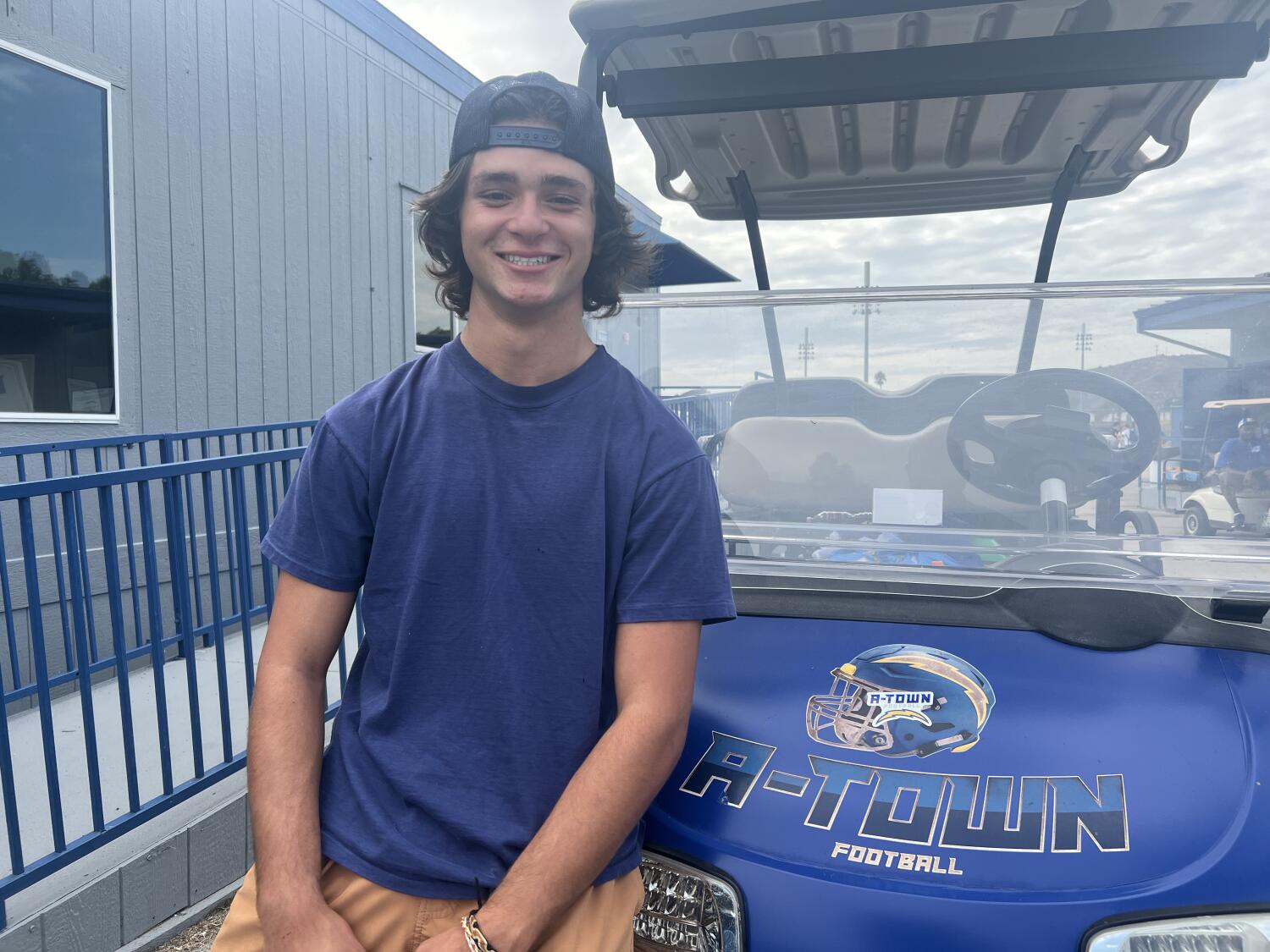 Jeff Spicoli is alive and well, playing quarterback for Agoura High.
Wearing his baseball cap backward atop his long hair and possessing a vocabulary that includes saying "dude" multiple times, Harrison Novak could be the stunt double for Sean Penn, who played the lead character in the 1982 movie classic "Fast Times at Ridgemont High."
"I definitely look the part of the stereotype," Novak said.
Novak confirms he is a surfer dude but so much more.
"I'm the big opposite of the stereotype," he said.
With a 4.1 grade-point average, Novak is the star quarterback for Agoura's unbeaten football team despite being 5 feet 7 and 150 pounds. He also starts for the soccer team and is a key member for the defending Southern Section Division 3 champion golf team.
"Three crazy different sports," he said.
On Sept. 8, he put up Tom Brady-like numbers by completing 26 of 30 passes for 394 yards and six touchdowns in Agoura' 54-53 overtime win over rival Calabasas. Afterward, when the Coyotes missed a conversion kick to end the game and Agoura's student section charged the field, Novak was the center of attention.
"My helmet has never been hit so many times," he said. "It was a mosh pit around me. I would grab my face and they were slapping me on my head, on my pads."
This season is all about having fun for Novak. He has no intention of playing college football. He's that rare high school quarterback not worrying about star rankings from talent evaluators. When the season ends, his football career will be over.
"This is my last year of playing football and I'm just playing with my best friends," he said. "They're the people who convinced me to play. I love football and I love playing for them and playing with them."
Agoura, which was 1-9 last season, is 5-0 this season with Novak and his friends united.
Coach Dustin Croick said, "He's been with me for four years learning this offense. He's going out with a bang in his mind. He's got five more guaranteed games."
Novak has known some of his teammates since they were 5 years old playing basketball games together. There are no transfers. They know their roster lacks future Division I college athletes but much is being accomplished by best friends determined to be united and focused. On Thursday night, they knocked off Camarillo 34-27 on Novak's two-yard touchdown run with 14 seconds left.
"We all believe in each other and love playing for each other," Novak said. "Every Friday night, I get to go out there and play football with my best friends. Nothing is better."
Novak also finds time to go surfing on weekends when his body has not been battered.
"I do surf during the season depending on how the body feels," he said.
So how did a 5-7 surfer boy get convinced to try football?
"Dude, you have to try tackle football," his friends told him.
"I never really thought I was going to play football in high school," he said. "I wanted to play varsity soccer as a freshman. Soccer was my sport. Then I'm playing football, 'Wait, this is really fun.' I've always enjoyed contact. In soccer, I'm way too physical. Football, here I am getting to be physical. I love it."
Asked how he can see over his offensive line at 5-7, Novak said, "You just have to find the windows."
His head coach drives around in a golf cart, something Novak isn't allowed to do during golf season, when he has to carry his bag at competitions. But Croick provided motivation for Novak with a promise that any more 394-yard passing performances and "I'll give him the key."
As surfers say, awesome dude.