Stacy Lewis, the US captain, has bemoaned the "massive missed opportunity" of golf not promoting back-to-back Solheim and Ryder Cups together. A frustrated Lewis has revealed her pleas for a collective approach between the team events fell on deaf ears.
Europe host the US in the Solheim Cup from Friday in Spain. Next weekend will see the same entities face off in Rome for the Ryder Cup. The competitions, though, have no visible link at all. Scheduling issues created by the pandemic meant this unusual 2023 scenario.
Asked if the approach from governing bodies should have been different, Lewis said: "1,000%, yes. I thought this could have been marketed together as two weeks in Europe, two cups for play. I think it was a missed opportunity for the sport of golf.
"I wish that people could get the sponsorship things out of their head and figure out how we can work together because this may not ever happen again, of the two cups being in the same year.
"So I thought it was a massive missed opportunity. We tried to do a little bit with the guys and just weren't really able to move things along the way I would have liked. I just would like to see it for the good of the game. It's not to further women's golf, let's further the game of golf in general."
The Solheim Cup is the domain of the Ladies European Tour and LPGA Tour. The Ryder Cup is presided over by the DP World Tour and PGA of America. "I tried," added Lewis on her conversations. "I tried really hard, actually. I probably spent more time on it than I should have. But whether it was timing or it was too late in the process, I don't know. To really market it correctly, this probably had to happen two years ago. So it's something that, going forward, I think the game of golf needs to get on the same page and do better with."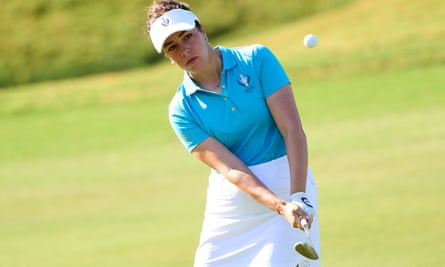 Lewis believes the US are underdogs against a European side which has won the last two stagings of the Solheim Cup. Suzann Pettersen, Europe's captain, is in no mood to play down the hosts' prospects. "If you look on paper, we have the strongest team that I have ever been a part of and that's based on great performances over the last few years from all the players," the Norwegian said. "So with good results, there's also expectations but these girls are so up for it so we can't wait."
England's Georgia Hall agrees with her captain. "I think this is the strongest team we've ever had on paper, for sure," Hall said. "There's not one weak player on our team. I think you can put out any of us at any time and I think we'll perform well. So I think that makes it a little bit easier when picking players to go out and pairings for Suzann. We are very confident going into this."