Lionel Messi returned to Inter Miami's lineup on Wednesday night. It was a short-lived comeback, and his team rallied after he departed.
Messi was subbed off in the 37th minute of Inter Miami's match against Toronto, after spending a few minutes laboring with what appeared to be a leg issue. Miami came up big without him, winning 4-0 to move within five points of the final playoff spot in Major League Soccer's Eastern Conference.
Robert Taylor, who came on for Messi, had two goals and an assist. But Messi's status overshadowed all that.
The 36-year-old Messi had missed two matches – one for club, the other for country – in recent days, after sitting out Argentina's World Cup qualifying win at Bolivia on 12 September, and Inter Miami's 5-2 loss at Atlanta United this past Saturday.
Fatigue was cited in both cases, but now it would appear the seven-time Ballon d'Or winner has some kind of injury. The game was scoreless when Messi was subbed out and he left for the locker room before halftime after spending a few minutes in the bench area.
It was the second big injury blow for Inter Miami on Wednesday. Jordi Alba – another celebrated midseason addition – had to leave in the 34th minute, shortly before Messi's night was over. Coach Gerardo 'Tata' Martino told Apple TV's broadcast before leaving the field for half-time that the team will evaluate both players over the next few days, but offered no specifics.
Facundo Farias and second-half sub Benjamin Cremaschi had the other goals.
Messi had a couple of chances Wednesday, and appeared to stop running somewhat abruptly after carrying the ball deep into the Toronto box in the 33rd minute. He was barely engaged after that, leaning forward at one point as if to stretch the back of his legs, then eventually took off his captain's armband – actually trying a long pass while holding the armband – before waiting for play to stop so he could depart.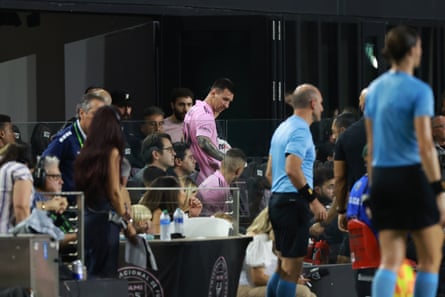 He didn't even wait to come off the field before unlacing his cleats, lowering his socks and removing his shin guards. He placed the captain's band onto the arm of DeAndre Yedlin – who was Inter Miami's captain before Messi began his stint with the team in July – and now it's anyone's guess when Messi will wear it again.
Wednesday's match was the first of what will be six for Inter Miami in a span of 17 days. The team next plays at Orlando on Sunday, then will host Houston in the US Open Cup final on 27 September. That will be followed by three more MLS matches in short order: against New York City FC on 30 September, at Chicago on 4 October and playing host to Cincinnati on 7 October.
The daunting stretch will be even tougher if Messi isn't around. Miami entered Wednesday seven points behind DC United for the final playoff spot in the East, with two matches in hand. DC United picked up a point by tying Atlanta on Wednesday, so Inter Miami's three points for their win cut the deficit to five.
Despite their place in the standings, Inter Miami now control their postseason destiny. Win out, and a team that was at the bottom of MLS before Messi arrived will be in the playoffs.
The Atlanta game halted what had been a 12-match unbeaten streak for Inter Miami since Messi debuted for the team against Mexican side Cruz Azul in the Leagues Cup on 21 July. Inter Miami had gone 8-0-4 in those 12 matches, with three of those games that ended as ties being outcomes for the team to celebrate after advancing on penalty kicks – two in the Leagues Cup, including the final against Nashville for the Miami club's first-ever trophy, and another in the US Open Cup semi-finals.
Messi has now appeared in 12 matches over two months for Miami, most of them in Leagues Cup and US Open Cup competition. He had 11 goals and eight assists in those appearances, and one goal with two assists in four MLS matches.