Suzann Pettersen's Solheim Cup experiences suggest her captaincy is unlikely to prove dull. At Finca Cortesin, Pettersen leads a European side who are seeking to create history by winning the transatlantic joust three times in a row for the first time. The Norwegian exudes a level of confidence that will come back to bite her should those in stars and stripes turn tables. Interestingly, this bullish approach from the hosts is largely fuelled by the success of their players on the United States-based LPGA Tour. Legitimate questions remain over the strength of the Ladies European Tour, which has recently been quietly enhanced by Saudi Arabian riches.
Onlookers should prepare for theatre. Pettersen spent the Sunday evening of the 2015 Solheim Cup crying in her hotel room after involvement in a rules debacle. At Gleneagles four years later, Pettersen slammed home the winning putt for Europe immediately before declaring she was retiring from professional golf. She has been true to her word; Pettersen assisted Catriona Matthew in 2021 but otherwise has kept her distance from the front line of this sport. Her status is such that nobody begrudged her that.
"I know everything about these players, probably more than they know themselves," said Pettersen. She feels no need to tell her 12 golfers that a three-timer is unheard of.
"I don't really have to tell the players what we're up for," Europe's captain added. "I think the players are really on it. I think it's always great to have a possible dream to chase. That's great. But there is so much golf to be played from where we sit here today to the end of Sunday that this is not something that I'm pushing on the players at all. We'll see how every session goes and we'll try and adjust from there." Indeed, fine margins tend to determine Solheim Cup outcomes.
In Stacy Lewis, Pettersen has a formidable opponent. Both captains are known for their ferociously competitive spirit. Each is a two-time major champion. They are also different in approach; Lewis appears far more focused on statistics than Pettersen. Lewis used numbers to defend her opening session selection of Lexi Thompson, who has been struggling for individual form.
"We started the week and I had a couple people within our team, between caddies and helpers, come up to me and just say: 'She is hitting it really good,'" said Lewis of Thompson. "Every day there has been more and more people telling me this. With the data and the analytics that we have, I actually have their strokes gained from the practice over the last two days and she is off the charts right now."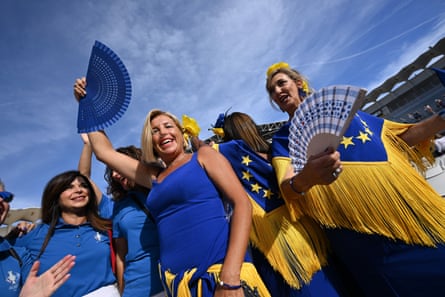 Ludvig Åberg will experience a Solheim Cup before a Ryder Cup. The Swede is expected on the first tee here on Friday morning to show his support for Team Europe – including close friends Linn Grant and Maja Stark – before heading to Rome for the men's equivalent.
The venue itself will present challenges. The mountains of Andalucía provide a stunning backdrop but an estimated 10,000 spectators per day will find it tricky to navigate the course on foot. If umpteen matches run close to 18 holes, there will be a genuine question over finishing during daylight. Tournament officials have a guide time for fourballs of a staggering – and deflating – five and a half hours.
Åberg will watch Grant and Stark lead Europe off in the foursomes. "They were asking for this so here we go," said Pettersen, in a nod towards player power. The Swedes will face Thompson and Megan Khang. Céline Boutier and Georgia Hall take on Danielle Kang and Andrea Lee. Leona Maguire, who excelled in Ohio two years ago, will partner Anna Nordqvist against Nelly Korda and Allisen Corpuz. In game four Charley Hull and Emily Pedersen will play Ally Ewing and Cheyenne Knight. Hull has been troubled by a neck injury but insists she is fit enough to play. "I told the girls these pairings on Monday night so they have had all week to prepare," said Pettersen. It is just as well, therefore, that Hull has declared herself up to the task.
Lilia Vu, a two time major winner in 2023 and the world No 2, will surprisingly sit out the opening day foursomes for the US. So, too, will the emerging star Rose Zhang. "I don't see anybody playing all five sessions," Lewis said. The US, in the unusual position of the underdog, could do with a flying start.