It took 12 hours of this Solheim Cup for the European team to discover a pulse. Time will tell whether the ignominy they suffered during a bruising morning in Andalusia fatally undermines hopes of winning the trophy for a third time in succession.
The United States routed their hosts 4-0 in the foursomes. The half-point secured by Gemma Dryburgh and Madelene Sagström against Rose Zhang and Megan Khang in the fourballs placed blue on the board for the first time. Yet Suzann Pettersen and her European team needed more. Much more. They were gasping desperately for air.
Enter Leona Maguire. Who else? The star of Europe's 2021 victory over the US looked in slight trouble having watched her third shot to the par five 18th roll off the green. The US pairing of Lexi Thompson and Lilia Vu sensed a significant victory. Maguire had other ideas. During an extraordinary few moments in fading light, the Irishwoman chipped in for a four. Thompson, prone to wobbles under pressure, shanked her shot from greenside rough. Europe not only had a full point but an element of momentum, which was increased as Carlota Ciganda and Linn Grant comfortably defeated Angel Yin and Ally Ewing.
Jennifer Kupcho and Allisen Corpuz reached the 18th green all square with Emily Pedersen and Maja Stark. Pedersen's hole-in-one at the 12th was just the second in Solheim Cup history. Corpuz calmly converted from 15ft at the last for a four. Stark followed the American in. The European fightback meant they won the afternoon 3-1. The US lead 5-3 heading into day two. A procession has, thankfully, turned into a proper contest.
"It was a tough start," said Pettersen. "I am immensely proud of the way the entire team fought back in the afternoon. It is not easy knowing you are down by four. Hats off to all my players, they showed their character. You get knocked down, you stand up and you try again. That's what I told the girls. We are not even halfway through and we are right in this."
Pettersen and her players lay battered and bruised after the foursomes. José María Olazábal had addressed the European team on Thursday night. This felt appropriate; something akin to the Miracle of Medinah, overseen by Olazábal in the 2012 Ryder Cup, would have been needed but for an afternoon response. Charley Hull and Pedersen slipped to a 5&4 loss to Ewing and Cheyenne Knight. There may be wider ramifications there; Hull had spoken of a neck injury in the buildup to the tournament and did not play in the fourballs. "Charley is fine," insisted Pettersen. "She felt good sitting [out] this afternoon."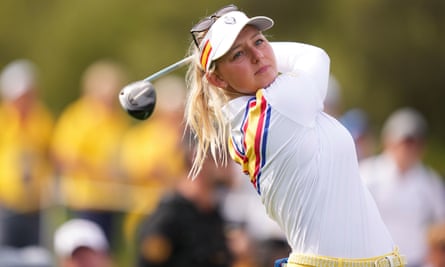 The other matches were tight. Thompson and Danielle Kang took the opening game, 2&1 over Stark and Grant. Kang and Andrea Lee emerged 1up against Georgia Hall and Céline Boutier. Maguire and Anna Nordqvist were ahead after two holes in their joust with Corpuz and Nelly Korda but the Americans later secured a single-hole victory.
"I don't think we did an awful lot wrong this morning," said Maguire. "We just had to go out and fight in the afternoon and show what we are capable of. I am really proud of the entire team for fighting." The US captain, Stacy Lewis, called the foursomes whitewash "unexpected".
Elements of Pettersen's captaincy are already open to scrutiny. Hull had made public on Wednesday that she was battling a neck problem, estimating at that point that her swing was only at 80% strength. With this in mind, it is curious that Pettersen told the team of her opening pairing decisions on Monday evening. Delaying plans because of an injury doubt would have been more sensible. Pettersen's "fine" assertion was intriguing given Hull's earlier sentiment.
Leaving Ciganda, a home favourite, out of the foursomes was strange. "I am just trying to keep her grounded," said Pettersen. So, too, was the deployment of a rookie duo – Grant and Stark – at the head of proceedings. Pettersen picked Caroline Hedwall for this Solheim Cup, a bold call in itself, but then chose not to pick her at all on day one. Hedwall was in fact the only player out of 24 not to feature. Boutier was arguably Europe's best performer during the foursome ignominy but found herself sitting on the sidelines for the fourballs.
These matters will prove irrelevant if the Europeans continue what belatedly became a stirring comeback. Lewis, from looking on Easy Street, has cause to look in her rear view mirror.