Clayton Kershaw has made seven starts since returning from a shoulder injury Aug. 10, the Dodgers left-hander's fastball so diminished he has induced just four swinging strikes on the 169 four-seamers he has thrown in those games.
But what Kershaw lacks in stuff, he makes up for in guts and guile.
Kershaw blanked the San Francisco Giants on two hits over five innings of Saturday night's 7-0 win before a sold-out crowd of 52,704 in Chavez Ravine for his 210th career victory, moving him ahead of Don Drysdale and into second place behind Don Sutton (233) on the franchise's win list.
In what could be his last regular-season start in Dodger Stadium, Kershaw escaped a two-on, no-out jam in the fifth inning, striking out Tyler Fitzgerald with an 86-mph slider and getting Patrick Bailey to ground out to third.
Austin Slater followed with a sinking line drive to left field, but David Peralta made a nice lunging catch to end the inning, preserve a 3-0 lead and keep Kershaw in line for a win that improved the three-time National League Cy Young Award winner to 3-0 with a 2.03 ERA — and the Dodgers to 6-1 — in his last seven starts.
"It's adapt or die — you have to," Kershaw said of his ability to compensate for his velocity dip. "At the end of the day, you just have to execute pitches regardless of what your velocity is or how the stuff's moving. It's as simple as that.
"Obviously, you'd like to be at your peak, but to be able to put pitches where you want and execute your off-speed pitches, ultimately, you can guys out that way."
Joe Kelly retired the side in order with two strikeouts in the sixth, Michael Grove struck out three and walked one in the seventh and eighth innings, and Caleb Ferguson added a scoreless ninth to complete the shutout for the NL West-champion Dodgers (95-59).
Designated hitter J.D. Martinez provided a big chunk of the offense with a solo homer to center, his 31st, in the second inning and a two-out, two-run double to right in the third. He's batting .365 (19 for 52) with six homers, two doubles and 20 RBIs in 14 September games.
Freddie Freeman drove in a run with his major league-leading 57th double in the fifth inning and needs three in the final eight games to produce the first 60-double season since World War II. Max Muncy followed Freeman's hit with an RBI single to center for a 5-0 lead.
Mookie Betts walked and scored in the third and fifth innings, doubled in the seventh and roped a two-run double to left-center in the eighth for a 7-0 lead. Betts has driven in 105 runs in the leadoff spot, the most in a season in major league history.
"It seems like every night we're eclipsing milestones as individuals, and Mookie's season is dang near unprecedented from the leadoff spot," manager Dave Roberts said of Betts, who is batting .309 with a 1.004 on-base-plus-slugging percentage, 39 homers, 40 doubles and 125 runs.
"There's been a lot of great leadoff hitters, and for him to be number one is pretty remarkable. And then you layer in the defense and what he does [in right field and at second base], and how he wouldn't be at the top of the [most valuable player] conversation is besides me."
Kershaw missed six weeks from late June to early August because of shoulder soreness and returned with less zip on his fastball, which dipped from its usual 91-mph range to an average of 88.2 in a Sept. 5 start at Miami and 88.7 in his start at Seattle on Sept. 16.
The Dodgers skipped Kershaw in the rotation in early September and gave him six days' rest before Saturday night's start. His fastball averaged 88.7 mph again, but he kept the Giants off the board by mixing the pitch with his 85-mph slider and looping, 72-mph curveball.
"Yeah I'm on the college schedule — I'm the Saturday starter," Kershaw joked. "We're doing everything for a reason around here. Take the extra rest when you can, try to get right for the playoffs and all that stuff. It's a different routine, but where I'm at right now, it makes sense. I'm taking advantage of it."
Roberts marveled at Kershaw's ability to pitch so effectively with diminished stuff before the game, saying, "It's remarkable, it really is." Saturday night's start, in which Kershaw struck out five, walked two and threw 46 of his 76 pitches for strikes, only reinforced that assessment.
"He had really good command from the outset, and he and Austin [Barnes, Dodgers catcher] worked really well together," Roberts said. "I thought the sequencing was great. He used all quadrants, used his curveball, the slider was good, there were some changeups in there.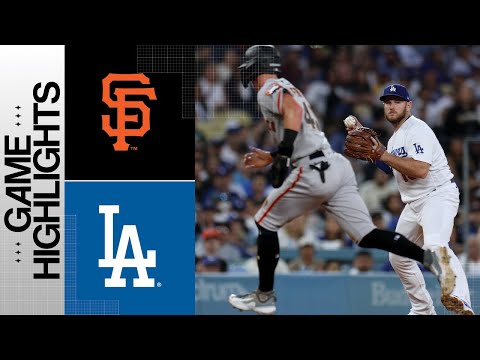 "He just kept those guys off balance all night and was really efficient. I couldn't have asked for anything more from Clayton, and to see him get through that fifth inning with a little bit of stress was good to see as well."
Kershaw, who improved to 13-4 with a 2.42 ERA this season and 26-15 with a 1.99 ERA in 58 career games against the Giants, said he feels like he is "trending in the right direction" since that Miami start.
But he winced a bit when asked if he felt "proud" of what he's doing now as opposed to when he was in peak form from 2008-2016, when his fastball averaged 93-94 mph and he was one of the most dominant pitchers in the game.
"I don't know if 'proud' is the right word," Kershaw said. "I'd much rather just be good the whole time … throw as hard as I possibly could … and be able to pitch the way I used to. It's no fun to have to figure stuff out."
Kershaw may not overwhelm opposing batters like he did for much of his 16-year career, but Roberts said he is good enough to start one of the team's first two games in the NL Division Series.
"I think the most important thing is to be good, and I thought tonight he was good," Roberts said. "Good is relative to how you get there, and I think in his mind, good is being able to bully guys with what he's always done.
"But I would argue that good is getting major league hitters out. It doesn't matter how you get there, but I certainly applaud him for going about it in a different way and getting the same result."
Short hops
Outfielder Jason Heyward is the winner of the Roy Campanella Award, given annually to the player who best exemplifies the spirit and leadership of the Hall of Fame catcher and voted upon by uniformed Dodgers personnel. Heyward was presented with the award before Saturday night's game by Campanella's daughter, Joni Campanella Roan, and his grandson, Malcolm Campanella.