What Suzann Pettersen would have given for this position after the opening session of the 18th Solheim Cup. Knives were being sharpened in respect of Pettersen's captaincy as Europe were trounced, 4-0 in the Friday foursomes.
What a difference a day and a half makes. Pettersen's European team will head into the singles, seeking a third victory in a row for the first time, tied 8-8 with a wobbling United States. Europe have hauled themselves off the canvas in stirring fashion. A 3-1 win in the Saturday afternoon fourballs has given Europe a level of momentum Pettersen must cherish.
"I am so proud but we are not there yet," said Pettersen. "We just have to go into fifth gear and keep going. There are 12 points still available. We will be ready to go in the morning."
Charley Hull and Leona Maguire set the tone at the head of affairs, courtesy of a 4&3 dismissal of Nelly Korda and Ally Ewing. Madelene Sagström and Emily Pedersen emerged, 2&1 against Rose Zhang and Andrea Lee. Carlota Ciganda, the home hero in sun-kissed Spain, combined with Linn Grant to defeat Danielle Kang and Lilia Vu on the 17th green. The better-ball score of Grant and Ciganda was nine under par, which supplies a nod to the standards on show. That Cheyenne Knight and Angel Yin saw off Anna Nordqvist and Caroline Hedwall, 2 up, barely resonated as cries of "olé, olé, olé" filled the Andalucian air.
Hull's return and return to form was such a welcome sight for Pettersen. The 27-year-old Englishwoman had complained of injury early in Solheim Cup week, with Hull well short of her best during her one appearance on Friday. She sat out Saturday morning's foursomes but returned in fine fettle as Nelly Korda and Ally Ewing were swatted aside. Hull and Maguire were four up after eight and never looked back. The margin of victory was 4&3.
Thereafter, Hull expanded on her fitness problems. "It is called a facet sprain," she said. "I actually picked up my bag last week and that kind of started it, then from sleeping on the plane over here as well.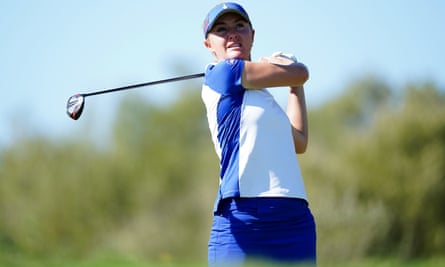 "It has been pretty sore. I kind of had to change my swing a little bit to kind of account for it. It's probably about 70 or 80% now but hopefully I'm good for tomorrow." This was curious, given Pettersen had asserted Hull during media duties on Friday that was "not injured".
The teams had shared the four points available from day two's foursomes. Emily Pedersen and Carlota Ciganda defeated Lilia Vu and Jennifer Kupcho, 2&1. The US responded in the next two matches. Lexi Thompson combined with Megan Khang for a single hole victory over Maguire and Anna Nordqvist. Thompson recovered admirably from a grisly ending to Friday, in which she shanked a chip alongside the 18th green and bizarrely claimed she "didn't need to comment" on the episode when later questioned.
Korda and Allisen Corpuz excelled during a 5&3 win over Georgia Hall and Céline Boutier. Neither Hall nor Boutier took a spot in the post-lunch fourballs. Europe ensured session parity from the final game, Grant and Maja Stark sealing a 1 up success over Kang and Lee. Stark's converted putt for a birdie two at the 17th gave the Swedish pair an advantage they clung on to. The future looks seriously bright for both.
The Ladies European Tour, meanwhile, has responded after social media lit up with complaints about the spectator experience at this venue. Members of the gallery claimed there was a woeful shortage of food and drinks on day one of the tournament, a situation rendered even more stark by searing temperatures and undulating terrain.
A statement from the LET said: "On Friday, there was a delay in replenishing some of the food and beverage outlets, which has been addressed with the tournament organiser, Deporte & Business. We have resolved the situation, ensuring the availability of food and water around the course. The fans are the heart and soul of the Solheim Cup and we are dedicated to giving them the best possible experience." At least the offering inside the ropes have been worth an element of hassle.