Turns out Colorado wasn't quite ready for Oregon's version of prime time.
Bo Nix threw three touchdown passes and the No 10 Ducks emphatically slammed the brakes on Deion Sanders' "Cinderella story", routing the 19th-ranked Buffaloes 42-6 on Saturday.
The Ducks (4-0, 1-0 Pac-12) were up 35-0 half after coach Dan Lanning sent them into the matchup of unbeatens with a fiery pregame speech that took direct aim at the star-studded, hype machine that has followed Coach Prime's team for the first three weeks of the season.
"They're fighting for clicks, we're fighting for wins," Lanning said in the locker room before the Ducks took the field against Colorado. "There's a difference."
"This game ain't gonna be played in Hollywood, it's being played on grass," he added.
A clip of the speech aired on the nationally televised broadcast during the second quarter when Oregon had already opened a significant lead over the Buffaloes.
"I think that team's heading in the right direction. I think that coach is doing a phenomenal job," Lanning said after the statement win. "I get a little passionate at times. I need to humble myself a little bit. This is one game."
Sanders turned around a Colorado program that won just one game last year, bringing aboard 67 new scholarship players and opening the season with wins over TCU, Nebraska and last weekend's double-overtime thriller against Colorado State.
He got a nice welcome to Autzen Stadium before the game from Nike co-founder Phil Knight, the patriarch of Oregon sports. And former NFL star Terrell Owens made the trip to see his friend coach.
Oregon's duck mascot came out on the field wearing a cowboy hat and sunglasses, copying Sanders' style.
It was a big-game atmosphere, but the Buffs (3-1, 0-1) were no match for the Ducks.
"Good old-fashioned butt-kicking," Sanders said afterward. "No excuses, no nothing."
Nix completed his first 11 passes and 28 of 33 before he was pulled to start the fourth quarter. He also ran for an 11-yard TD. One fan held a sign that said: "This is Nix Country."
Coach Prime's son Shedeur Sanders went into Saturday averaging 417.0 passing yards per game, with 10 touchdowns against one interception. He completed 23 of 33 passes for 159 yards and a late touchdown against the Ducks. He was sacked seven times.
Oregon fans chanted "Overrated!" in the final moments.
"I don't think there's a target on our back," coach Sanders said.
He also bristled at the notion that the Buffaloes needed a dose of reality amid all the hype.
"People around the country would say, 'This is what they needed to humble themselves.' We weren't arrogant or whatever, we're confident people," he said. "If our confidence offends your insecurity, that's a problem with you, it's not us."
Oregon scores touchdowns on its first three possessions, two on Nix's passes.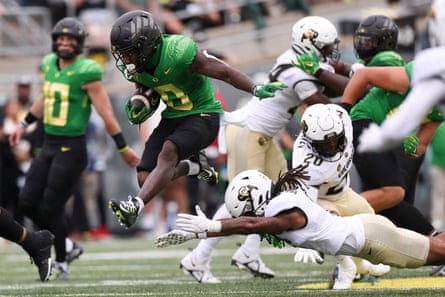 Nix was intercepted for the first time this season in the second quarter. It was also Oregon's first turnover of the year. But the Ducks' defense sacked Shedeur Sanders on third down, pushing him back 16 years, and Colorado again was forced to punt.
Franklin was wide open running into the end zone for a 36-yard touchdown from Nix, and Nix ran for another TD to cap the first half onslaught.
It was Colorado's first game without two-way standout Travis Hunter, who was sent to the hospital with a lacerated liver from a late hit in the game last weekend against Colorado State,
Hunter had nine tackles, two pass breakups and an interception and also had 16 catches for 213 yards on offense.
"Travis is always going to be missed. He's the best darn football player in college football," Sanders said. "It's just like you writing an article and your pen is missing."