The Miami Dolphins broke out the cheat code on Sunday. Before half-time.
Some NBA teams struggle to score 70 points in a game. But here we are in the NFL, and Mike McDaniel's state-of-the-art offensive machine were putting up 35 before the third quarter arrived, then kept cranking out video game numbers in a surreal 70-20 scorching of the Denver Broncos.
Sean Payton's new team didn't stand a chance. Poor Russell Wilson – who wasn't terrible on Sunday and put up 300 yards for the second week in succession – couldn't compete when matched up against Tua Tagovailoa, who doesn't have to worry about how to fall when the Dolphins play like this.
Miami's entire offense was brilliant, totaling 726 offensive yards while collecting 30 first downs, going a perfect 6-for-6 in the red zone and reminding Payton that coaching in the NFL isn't as easy as it appears from the safety of a TV studio.
It's easy to forget how impressive Tagovailoa was before concussions, hard hits and stiffened hands began to define his career. Here was a reminder. Tagovailoa was the definition of quarterback efficiency in a victory that defined lopsided: 23-of-26 passing for 309 yards, four touchdowns and a 155.8 rating. He was also calm, sleek, cool and everything Miami were hoping for when they stood behind a fourth-year QB that some teams already would have moved on from.
Tyreek Hill was again almost unguardable with nine catches for 157 yards and a touchdown. Then there was running back Raheem Mostert, who totalled 142 offensive yards and four TDs. And rookie running back De'Von Achane, who galloped for 203 yards on just 18 carries – that's a ridiculous 11.3 average if you're counting at home – and also added two scores. It wasn't just the starters enjoying themselves: backup QB Mike White – who the Jets may now wish they had hung on to – was also perfect (2-of-2 for 67 yards and a TD) on a day when everything went right in Miami. Robbie Chosen scored with a 68-yard touchdown reception on his only touch of the game.
Miami scored 14 points in the first quarter, 21 in the second, 14 in the third and 21 in the fourth. Even the scoring was poetry for McDaniel's crew as Miami kept flirting with NFL history and making the head coach on the other sideline appear dangerously behind the times.
There was an era not that long ago when Payton was viewed as an offensive genius and defenses dreaded facing New Orleans and Drew Brees with Payton calling all the shots. McDaniel is the cool one now and the envy of high school and college coaches across America with the arsenal at his disposal. The Dolphins are only the second team in history to put up more than 700 yards of offense in a single game – the last team to do it were the Rams in 1951. And Sunday was hardly a one-off: Miami's 130 points are the second most over a team's first three games in a season in NFL history (the 1968 Dallas Cowboys hold the record with 132.)
How many points would Miami have scored if Hill had sprinted on to the field with a healthy Jaylen Waddle, the Dolphins' usual No 2 wide receiver, by his side? Closer to 100? As it was, Miami scored 10 touchdowns against the Broncos, which included a fourth-down score, a brilliant no-look shovel pass, a 90-yard drive and a 67-yard TD run.
It was actually worse for Denver than the final score made it appear. The Broncos' final touchdown was via a fourth-quarter kickoff return, which was barely noticed while NFL fans were still calculating how many fantasy points Achane had racked up for them. Miami also pulled most of their starters in the fourth quarter and opted against a field goal that would have broken the scoring record.
How much of this is Tagovailoa and how much is McDaniel? The boring answer is a bit of both: but neither man would be able to shine quite as much as they have without their brilliant supporting cast, which has been constructed via smart trades, star free agent pickups such as Hill and shrewd use of draft capital (we'll keep quiet about the Tom Brady debacle for now).
Still, Miami must win the AFC East and overpower Buffalo for those 70 points to truly mean anything. But what's already clear after three weeks of a new season is that the Dolphins are a different and more dangerous team when Miami's franchise quarterback is consistently paired with the Dolphins' highly creative head coach.
McDaniel is 3-0 reunited with Tagovailoa and the Dolphins have collected 130 points while leaping on top of their division.
Miami play Buffalo next week: the Bills may want to look for a cheat code of their own.
MVP of the week
Matt Gay wasn't drafted until the fifth round in 2019 and is already on his fourth NFL teams. On Sunday, he attempted five field goals, was successful on all of them, added in an extra point and ended his day with 16 points.
Gay drilled a 53-yarder in overtime, handing a gutsy Indianapolis Colts squad a 22-19 road victory over Lamar Jackson and the Baltimore Ravens. Gardner Minshew also continued to confirm his status as one of the best backups in the NFL, throwing for a touchdown and 227 yards. On a day when Miami hit 70, Gay was his own one-man scoring show.
Stat of the week
4: There are 32 teams in the biggest sports league in America. After three weeks, only four remain undefeated: Miami, Philadelphia, San Francisco and Tampa Bay. A league known for parity and sudden turnarounds has been very week-to-week through three games.
The flipside: Kansas City versus Miami could be an AFC Championship game on 10 cups of coffee and feature 120 combined points. And the winner of that one may have to figure out how to contain Christian McCaffrey in the big game.
Video of the week
It's early in the 2023 season, but it's already safe to say this will probably be the play of the year for the Houston Texans.
Things were already going well for DeMeco Ryans and Co before a little-known fullback named Andrew Beck ran a kickoff back 85 yards for a touchdown in their 37-17 victory over the reigning AFC South champions, the Jacksonville Jaguars.
Wait.
A fullback ran a kickoff back 85 yards for a TD? Beck initially struggled to gather the ball before breaking multiple tackles on his way to the touchdown. It was an instant social-media highlight and a much-needed breakthrough for a franchise that has been on the wrong side of jokes for years.
Elsewhere around the league …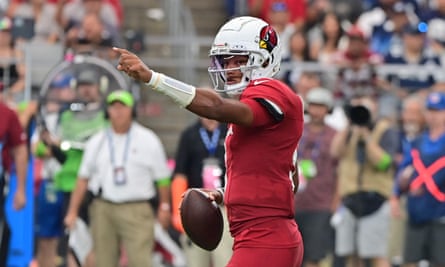 — The Jaguars are Jaguaring again. The NFL's most unpredictable – and often most disappointing franchise – should have improved to 2-1 with an easy win over the Texans and taken early command of their division.
Instead, they responded with a field goal that was blocked, that kickoff to Beck and a depressing defeat to the previously winless Texans. Trevor Lawrence looked average – again – and Doug Pederson didn't have his roster ready against an opponent they should have blown out.
— Quarterback play often decides Sunday and Week 3 was no exception. Kirk Cousins wasn't good enough and Minnesota fell to 0-3 after a 28-24 loss to the Chargers. Texans rookie CJ Stroud continued to impress – he has four touchdowns and zero interceptions over his first three NFL games – outplaying Lawrence and handing Ryans his first coaching win with the team he once played for.
Zach Wilson still isn't the answer for the Jets and New York lost yet again to New England mostly because Aaron Rodgers' replacement was a forgettable 18-of-36 for 157 yards and no touchdowns, although, if we're looking for positives, he appears to have finally learned to throw the ball away when no receiver is available rather than chucking it to the opposition. The rest of his game though? Nope.
Then there was super sharp Justin Herbert, who completed 40-of-47 attempts for 405 yards and three TDs as the Chargers claimed a victory that coach Brandon Staley nearly threw away when he went for it on fourth-and-one on his own 24-yard line, giving the Vikings possession with 1:47 left. Minnesota came up short when the noise from their own fans made it hard to hear play calls and Cousins threw an interception.
— With a sparkling 2-0 start, Super Bowl chatter was already beginning to surround the Dallas Cowboys. So much for that. The Arizona Cardinals didn't pick their starting QB until just before the season started and Josh Dobbs isn't making Dak Prescott money, which made Dallas's 28-16 loss on Sunday to a team expected to prop up the league this season even worse.
The Cowboys have made an art out of failing to meet outsized expectations. Throw in Prescott's late interception in the red zone and the big questions will return for Mike McCarthy's team.
"Just couldn't hear [head coach Kevin O'Connell] with the noise," Cousins said. "Just ended up calling a play, and the play I called was the same play he was trying to get to."
— Miami aren't the only team that can score 30-plus points before half-time. Andy Reid, Patrick Mahomes and the Kansas City Chiefs – remember them? – were up 34-0 against the Chicago Bears in a game where Taylor Swift drew more attention than the Chiefs' opponents. After losing the season opener at home and only averaging 18.5 points through two games, there was some silly talk that Kansas City's offense was off. In Sunday's 41-10 win over the Chicago Bears, the Chiefs again commanded the field like champions and the rest of the league was reminded that the Super Bowl still runs through Kansas City.
— After a week in which Chicago QB Justin Fields blamed his coaches, then backtracked and didn't blame his coaches, the Bears' mounting dysfunction reached another level against the Chiefs. The Bears now have QB, coaching and front-office issues. They're also 0-3 in one of the league's most unsettled divisions. If this keeps up, new names and faces are guaranteed in Chicago.
— Deshaun Watson who had been awful this season – and for much of 2022 as well – finally managed to resemble a $230m quarterback on Sunday, throwing for 289 yards and two touchdowns in Cleveland's 27-3 victory over the Tennessee Titans. For all his struggles, Watson leads a team with a 2-1 record and a formidable defense that restricted the Titans to just 94 yards of offense. If he can replicate something close to Sunday's performance consistently – and that's not out of the question since his struggles don't appear to be down to physical problems – the Browns could be a playoff team, even without the injured Nick Chubb.