There were drops. There were drive-killing penalties. But most important for USC, there was still Caleb Williams.
When little was going right in USC's passing game in a sloppy matchup against Arizona State on Saturday, the Heisman-winning quarterback rescued the Trojans with deep-ball fireworks that have become the signature of this season's USC offense.
Williams has tossed eight touchdown passes traveling 20 or more yards in the air this season, according to Pro Football Focus. Of Williams' 15 touchdown passes, 11 (73.3%) were on passes 10 or more yards compared to last year when the Heisman winner threw 17 of his 42 (40.5%) touchdown passes farther than 10 yards.
It's tangible progress in Williams' goal to improve in every aspect even after winning college football's highest individual honor. The coaching staff made it a point to work on expanding the intermediate and deep passing game to make opponents "respect the whole area of the field," receivers coach Dennis Simmons said.
"I for sure worked on it," Williams said Saturday night after USC's 42-28 win over Arizona State. "I thought I was pretty efficient last year, but this year … when you have those moments, and you have those big plays that come up, you want to be able to execute and capitalize in those moments. And we've been able to do that so far."
In possibly the best collection of quarterbacks ever in a single conference, Williams stands out for his efficiency. Colorado quarterback Shedeur Sanders, Williams' counterpart in Saturday's highly anticipated game between the Trojans and Buffaloes in Boulder, is second in the country in passing yards per game, trailing only Washington's Michael Penix Jr., who also leads the nation in passing touchdowns.
But Williams is the nation's most efficient passer, especially after improving his accuracy on passes in the intermediate and deep range. Williams has completed 81.8% of his passes between 10 and 19 yards this season, according to Pro Football Focus, a jump from 55.7% last year. His deep throws connect 57.4% of the time compared to last season's mark of 41.8%.
Part of the key might have been Williams accepting that deep throws can't always be perfect, coach Lincoln Riley said. Instead of over-thinking a wide-open receiver then missing him by a foot, Riley said Williams has adopted a mentality to at least give his teammates a chance to make the play. Many of his receivers have stepped up to the challenge.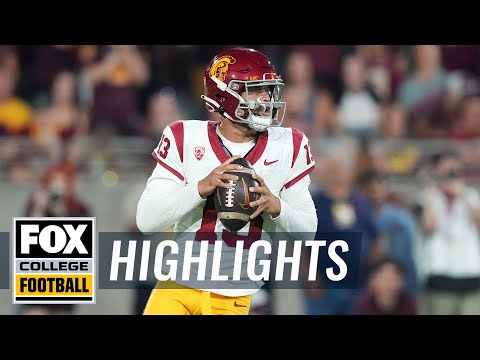 "It's some of the trust that's been built in," Riley said. "How we want to attack people down the field and in the intermediate part and the guys really buying into it and taking it from meeting room to practice field to game field."
Moments like Brenden Rice's 43-yard touchdown catch in the first quarter against Arizona State get replayed on TV and shared on social media, but it's the time away from the spotlight that made the play happen, Rice said. The Trojans practiced the situation often in practice before the game. They knew the middle of the field was going to be open. All Rice had to do was attack the defender with a five-step post, then burn him to the middle of the field.
For a 210-pound receiver who proudly recalled his best 100-meter sprint time of 10.78 seconds, it was easy work.
Rice finished with a career-high seven catches against Arizona State for 133 yards and has five touchdowns on the season, eclipsing his total of four from last year when he and Williams joined the Trojans out of the transfer portal. Williams followed his Oklahoma head coach to USC while Rice jumped from Colorado.
Adjusting to the new environment and new teammates was "a little rocky," Rice said, because "we were just in such a hurry." But this year, he has made it a point to connect with his quarterback outside of the field. They watch NFL games together on Sundays and order wings.
"It really translates," Rice said. "And then you go ahead and put in the work that we get after practice with all the other receivers and that's why all the other receivers are able to go and dominate and that's why I feel like this group is No. 1 in the nation."
USC's receiving corps can make a case as the best in the country because of its depth. Rice leads the team with five touchdown catches while freshman Zachariah Branch leads in catches (13) and Tahj Washington leads with 278 receiving yards.
With Rice's breakthrough, Washington was almost a non-factor for most of Saturday's game. He wasn't targeted with a pass until early in the fourth quarter, finishing with only one catch. But he made that moment count.
Washington sealed USC's win on a 45-yard touchdown catch with 7:17 remaining. It was the same type of play that he might have struggled to execute earlier in his career.
Simmons called patience one of Washington's "Achilles heels" when the coaching staff first inherited the Memphis transfer who joined the Trojans during Clay Helton's tenure. Washington struggled on deep passes because of the lack of concentration. He now leads USC with four touchdown catches of 20 or more yards from scrimmage.
"A lot of times when that ball is in the air as a receiver, you want it to get down to you so you can get your hands on it," Simmons said last week. "[It's about] just kind of relaxing yourself, relaxing your mind, especially if someone's hanging on to you."
Staying relaxed feels easier when "Superman" has the ball in his hands. While Williams was casually spinning 360 degrees in the pocket on first-and-10 early in the fourth quarter Saturday, Rice had little doubt his quarterback could find him. Instead, the receiver told himself to slow down as he charged toward the sideline. Although he already shook free from a defender, Rice still needed to stay in bounds while mirroring Williams' scramble path.
Watching Williams scramble is like joining in on a song, Rice said, and the receivers have learned to pick up on his rhythm.
"You kind of just have to stay active," Rice said, "because you're looking at the art of what a QB can really do."