It started in January in Abu Dhabi. At the all-European Hero Cup, an early precursor to the Ryder Cup, Luke Donald put some messaging in place. Three of Donald's predecessors as Europe's captain, Thomas Bjørn, José María Olazábal and Paul McGinley, delivered impassioned speeches to players. Olazábal focused on the spirit of Seve Ballesteros. Bjørn talked of the importance of the traditions handed down by European teams of old. McGinley, whose 2014 captaincy was lauded by all who encountered it, carefully outlined what it takes to prevail against the United States. Players were said to be spellbound by the trio.
Donald is not the tub-thumping, rabble-rousing type. There is no chance he will rampage around the locker room at the Marco Simone club outside Rome in the coming week, screaming in the face of Europe's contingent. Yet there must be subtle and consistent messaging towards a team who are looking to reclaim the trophy after being embarrassed in Wisconsin two years ago.
What is the cause? What does representing Europe mean? The camaraderie generated within the European Ryder Cup camp is famous, which is intriguing given golfers are playing under a banner which, in theory at least, means nothing to them for 103 out of every 104 weeks. Americans, in contrast, are permanently American.
"It struck me the week before I played," explains Nicolas Colsaerts, who played for Europe in the 2012 Miracle of Medinah and is one of Donald's vice-captains. "I had gone to Spain to prepare and I came across Germans, French, Scandinavians, Spanish who all told me they were backing me. That was like a revelation to me, you realise the whole of Europe is behind you. Even beyond that, actually; South Africans, Australians tend to back us. The 24-handicapper from Germany, the scratch player from the UK. The demographic supporting you is a lot broader than I had ever thought.
"You get to the opening ceremony. You see this flag going up with something on it that we didn't really grow up with. Then you realise: 'Hang on. Every two years there's 12 dumb guys like me sitting on these chairs, watching this flag go up and that is what we represent.' You are part of a small club. It reaches a deep level in you, nothing else gets close."
Colsaerts is only half-joking when he says golfers from different nations within Europe have no tendency to be friendly during individual tour life. "Then you put the jersey on and everybody gets along together by pure magic."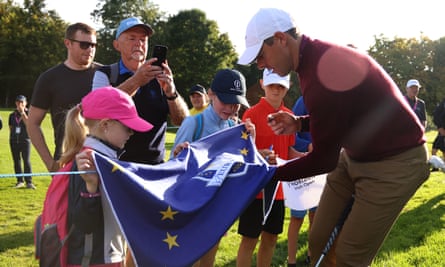 Ask Shane Lowry if he feels European and the answer is emphatic. "Oh yeah," says the 2019 Open champion. "Growing up in Ireland with the Ryder Cup, you are European. I'm a very patriotic person. I always love playing for Ireland, that's the way I am. Shamrocks everywhere, I travel with my Ireland jersey. But for these weeks I am European and very proud of that."
The Ryder Cup has, of course, evolved. The United States always provided opposition but it did so for Great Britain then GB and Ireland before the contest became so one-sided that further adaptation was required. Linked to the European Tour – which was rebranded as the DP World Tour in 2021 – golfers have played under a continental flag since 1979. By the 1980s, the utter disdain Ballesteros had for all things American drove Europe on.
Tommy Fleetwood is typical in the sense that he represented a county and a country before flying through the professional ranks. "If planet Earth played Mars, I am sure we would all be able to believe we are representing Earth," Fleetwood adds. So does the flag actually have any relevance? Fleetwood insists it does. "We are all very proud Europeans," he says. "When you get the opportunity to play in this event, of course you are thinking of yourself as a European.
"There are a lot of different meanings. First of all, you are playing for everybody that is part of the team. That is a huge thing, being there for your teammates. You are playing for the Tour, of course.
"I also think Team Europe has such a legacy, legends of the European game have all been there. They have inspired us through Ryder Cup moments and it is very apparent when you are there that it is part of your role to do that legacy proud and continue it." This is why Ballesteros, Langer, Woosnam, Faldo et al adorn the walls of European team rooms.
Bjørn is hugely invested in the DP World Tour. He looked on with pride as all 12 of Donald's team turned out at Wentworth for the recent PGA Championship. Players must retain membership of the Tour – and play in a requisite number of events – to be eligible for the Ryder Cup.
Without that connection, there is every likelihood the likes of Rory McIlroy would spend their entire time in the more lucrative and star-studded environment of the PGA Tour. Donald has never said it publicly but this time Europe may look to prove a point towards illustrious names who fled towards LIV Golf.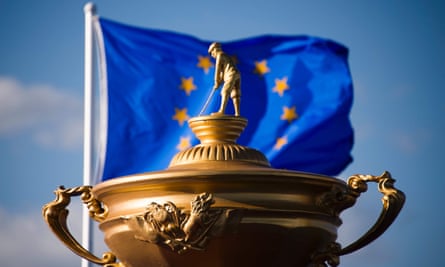 "It is Europe as a continent but it is also about the Tour," says Bjørn of why the Ryder Cup matters. "If you are on this Tour, so much focus is on the Ryder Cup. I think it is right that you have to be a member of this Tour, I have no second thoughts on that. Because as the world of golf has moved, if we did not have the Ryder Cup, if guys did not have to play here, it would be tough to compete with the other things that are out there."
Bjørn, a Dane living in London, also sees the broader picture. "When I came on Tour I realised how European I was," he says. "When you are growing up, the world is so big, I was just Danish in my way of thinking. Different generations have had different times with the Ryder Cup but for my own, making the first team in the mid-90s, going to the States was really hard. Theirs wasn't a very welcoming Tour at the time, so through the Ryder Cup and our European-ness, we created bonds."
Fleetwood now lives in Dubai. McIlroy and several others have homes in Florida. Donald took his team to Rome for a scouting mission immediately after the Wentworth event finished. The captain's method feels sound. "You came away from that trip thinking: 'We are a team,'" says Lowry. "That is a great feeling, a few weeks out from the tournament. I do feel like I am representing a continent, I feel like I am representing Ireland, representing my family and friends. I think everybody on this Tour has our backs and will be shouting for us." This overwhelming sense of a uniting force, the Ryder Cup, in a fractured world is actually hugely endearing.
Of those involved in the Hero Cup, Fleetwood, Lowry, Tyrrell Hatton, Robert MacIntyre, Sepp Straka and Nicolai Højgaard will tee it up in Rome from Friday. Themes from the Middle East inevitably remain in their thoughts.