Let's say you're going about your business and get whacked in the head. Blood is pouring from a wound above one of your eyes. You stop what you're doing and go to the hospital to get stitched up, right?
Not if your business is fighting. If you're a professional boxer, you're likely to be told "it's only blood." And then you continue to get hit.
When a fighter is cut, his cutman has 60 seconds to stem the flow of blood and ready his charge for the next round. The procedure is standard. Wipe away the Vaseline that fighters put on their face; swab adrenalin into the wound; apply pressure until the adrenalin causes blood vessels to constrict and small clots to form; then reapply Vaseline to the affected area. It's a science and an art.
"The ring is the most unlikely operating room that I can imagine," Flip Homansky, former medical director for the Nevada State Athletic Commission, once said. "And a medical degree is no guarantee that its holder knows much about jagged lacerations that are acutely bleeding. I've seen I don't know how many fights that were stopped because no one in the corner knew how to prevent a simple cut from getting worse."
Adam Pollack has written a series of biographies about boxing's early gloved heavyweight champions. "First blood was a big betting point during the days of John L Sullivan," Pollack recounts. "A lot of money changed hands based on which fighter was cut first. But fights weren't stopped because of cuts back then. No matter how bad a cut was, it was thought of as a wound that the fighter just had to deal with. Stopping fights on cuts didn't become accepted practice until the Jack Dempsey era."
But long after Dempsey, fighters were (and still are) called upon to fight through horrific cuts. Rocky Marciano's September 1954 title defense against former heavyweight champion Ezzard Charles is a classic example.
Marciano was dominating the fight. Then, in round six, he came out of a clinch with a gash on his left nostril that split his nose and cut it to the bone. Charles later said that the wound came from a punch. Marciano claimed that it was caused by an elbow. Films of the fight are inconclusive. Either way, blood was spurting everywhere.
"I knew something was wrong because the blood was running like from a faucet," Marciano said afterward.
His cutman, Freddie Brown, couldn't stop the flow of blood. "He looked like he's got two noses, both bleeding," Brown told reporters. "I never saw a cut like that before."
The damage to Marciano's nose was on the verge of forcing an end to the fight. Marciano was in greater danger of losing than ever before in his ring career. He ended that threat in round eight, when he knocked Charles out.
Fighters in all weight classes get cut. But heavyweights have traditionally constituted boxing's flagship division. And there are plenty of notable cuts in heavyweight boxing lore.
Sir Henry Cooper is Exhibit A for the proposition that some fighters cut more easily than others. "If you gave Henry a rough towel," journalist Hugh McIlvanney noted, "you needed a basin to catch the blood."
On 18 June 1963, Cooper fought a young heavyweight contender named Cassius Clay, who would change his name to Muhammad Ali the following year. Fifty-five thousand fans were in attendance at Wembley Stadium, mindful of Ali's prediction that Cooper would fall in round five. Ali controlled the action from the opening bell. By round three, Cooper was bloodied and hurt. But each time Cooper seemed ready to fall, his opponent stepped back. He wanted to make good on his prediction of a fifth-round knockout. In round four, Cooper looked to be defenseless. Blood was cascading from a cut above his left eye and then …
BOOM!!!
With five seconds left in the fourth stanza, Cooper unleashed a left hook that landed flush on his opponent's jaw. Ali went down, staggered to his feet, and was saved by the bell.
But the cuts that Cooper sustained ended matters in round five. Describing the carnage, Robert Daley wrote, "Clay, on dream street 60 seconds before, sprang into the center of the ring and laced into Cooper. The first jab snapped Cooper's head back and opened the eye as a cleaver would have. Blood was everywhere. It now was gushing out of Cooper's wounds. People were screaming, 'Stop the fight!'"
Finally, referee Tommy Little stepped in and ended the bout.
Ali sometimes twisted his fist at the moment of impact. As boxing writer Mort Sharnik observed, that had "the effect of a pretty sharp knife."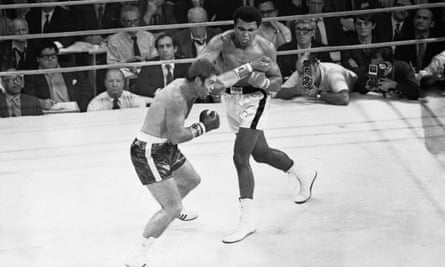 Sharnik was at ringside for the next fight involving Ali, still known then as Clay, when he challenged Sonny Liston for the heavyweight championship of the world. "In the third round," Mort later reminisced, "Cassius went after Liston. Up until that moment, Sonny Liston had seemed indestructible. But Cassius hit Liston with a one-two combination; a jab followed by a straight right. And it was like the armor plate on a battleship being pierced. Cassius pulled his jab back, and there was a mouse underneath Sonny's right eye. Then he pulled his right hand back, and there was a gash underneath the other eye. Liston's skin had seemed so thick, I didn't think it could possibly burst like that. And I said to myself, 'My God! Cassius Clay is winning this fight.'"
Ali's "knife" slashed again when he fought Jerry Quarry in Atlanta on 26 October 1970, after being exiled from boxing for 43 months as a consequence of refusing induction into the United States Army during the war in Vietnam. Tony Perez, who refereed Ali-Quarry I, told the tale.
"The first round was all Ali," Perez said. "He came out throwing punches and landed almost everything he threw. Then, in round two, he started to slow down. Quarry hit him with a big hook to the body, and I said to myself, 'Maybe we have an upset.' By round three, Ali wasn't on his toes. Quarry was getting confident. And then – it came out of nowhere – Ali opened a huge cut over Quarry's eye. I'd never seen a cut like that before. You could see the bone. After the round, there was no doctor in Quarry's corner. I had to make a decision alone. Quarry wanted to keep going. He was screaming, 'No, no, Tony. Don't stop the fight!' But I had to stop it. The eye was so bad, I couldn't let it go on."
After the fight, Quarry accepted his defeat with grace. "It wasn't a butt," he said of the blow that caused the gash. "And I don't want anybody saying it was. It was a right hand."
Two years later, in November 1972, it was Ali who bled when he fought light-heavyweight champion Bob Foster in Stateline, Nevada. Outweighed by 41lbs, Foster was knocked down seven times before being counted out in the eighth round. But in round five, he did something that no one had done before. He cut Ali, inflicting a wound beneath his left eyebrow that needed five stitches to close.
"Busting him up is what I remember most about the fight," Foster said years later. "It wasn't one punch. It was a lot of jabs that got the skin raw and finally cut him. I like to think that back then I had the hardest jab in boxing. I stopped a lot of guys with it by ripping them open in three or four rounds."
Not all fighters fight through cuts. In 1984, James "Bonecrusher" Smith challenged Larry Holmes in Las Vegas for the heavyweight crown. As the bout progressed, Smith suffered a gash and grotesque swelling around his left eye. Midway through round 12 (of a scheduled 15), referee Davey Pearl called time and sent Holmes to a neutral corner. Then ring doctor Donald Romeo examined the cut, told Smith it was bad, and asked, "Do you want to stop?" Smith nodded his assent.
That was a far cry from Vitali Klitschko's reaction when "Dr Iron Fist" challenged reigning heavyweight king Lennox Lewis at Staples Center in Los Angeles in 2003. After six rounds, Klitschko was leading 58-56 on all three judges' scorecards. But two horrific cuts around his left eye led ring doctor Paul Wallace to stop the bout. Klitschko's anguished cry of "NO!" reverberates to this day. But the cuts required 60 stitches to close, and Klitschko might have permanently lost use of the eye if the fight had been allowed to continue.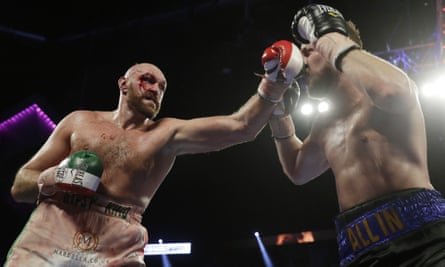 Tyson Fury narrowly escaped Klitschko's fate when he fought Otto Wallin in Las Vegas in September 2019. In round three, a looping left by Wallin opened a deep gash along Fury's right eyebrow. The cut gave the fight high drama. There was a real chance that it would worsen to the point where there was no alternative to stopping the bout. Blood streamed from the wound for the rest of the fight. Knowing that he was in danger, Fury abandoned what he likes to think of as finesse boxing and began to brawl. He won a unanimous decision but needed 47 stitches to close the wound.
"I was happy that he was cut," Wallin said afterward. "But I wish I could of capitalized a little more on it."
There's also the matter of Evander Holyfield's ear which was chewed open by Mike Tyson in June 1997. But that was a different kind of cut.
Meanwhile, any recitation of cuts in heavyweight boxing lore would be incomplete without a word on Chuck Wepner.
Wepner was known as "The Bayonne Bleeder" in reference to his propensity to cut and his hometown in New Jersey. Fighting from 1964 through 1978, he compiled a 36-14-2 record with 17 knockouts and 9 KOs by. Almost all of the "KOs by" were occasioned by cuts.
Wepner is the only man to have fought Ali (KO by 15), Liston (KO by 9), and George Foreman (KO by 3). An unemployed actor named Sylvester Stallone watched Ali-Wepner on closed-circuit TV and was so moved by the Bayonne Bleeder's courage that he sat down and wrote a screenplay titled Rocky.
"You came to the right guy," Wepner said when we spoke last month. "I'm the world's foremost authority on cuts. I had 328 stitches around my eyes and 23 more inside my mouth. That's 351 stitches. [Former middleweight champion] Vito Antuofermo said once that he had two more stitches than me so I told Al [manager Al Braverman] that I wanted to come out of retirement and have one more fight so I could get the record back. But then it turned out that Vito had counted wrong and I already had him beat."
"The fight with Sonny Liston was when I got the most stitches," Wepner continued. "There's different numbers out there but the real number was 72 stitches for that fight. Foreman was second. I needed 53 stitches after that one. George caught me just right. The cut went down to the bone. Ali was only 23."
After Liston-Wepner, Sonny was asked if Wepner was the bravest man he'd ever fought. "No," Liston answered, "His manager is."
"The cuts never bothered me during a fight," Wepner noted. "They bothered the referee and doctors more than me. They'd sting when they happened, the moment when I actually got cut. But during a fight, you're so hyped up that you don't feel it. When I cooled down in the dressing room after a fight was when it started to hurt. That's when I'd look at myself in the mirror and say 'Omigod!'"
Thomas Hauser's most recent book – The Universal Sport: Two Years Inside Boxing – was published by the University of Arkansas Press. In 2019, he was inducted into the International Boxing Hall of Fame.