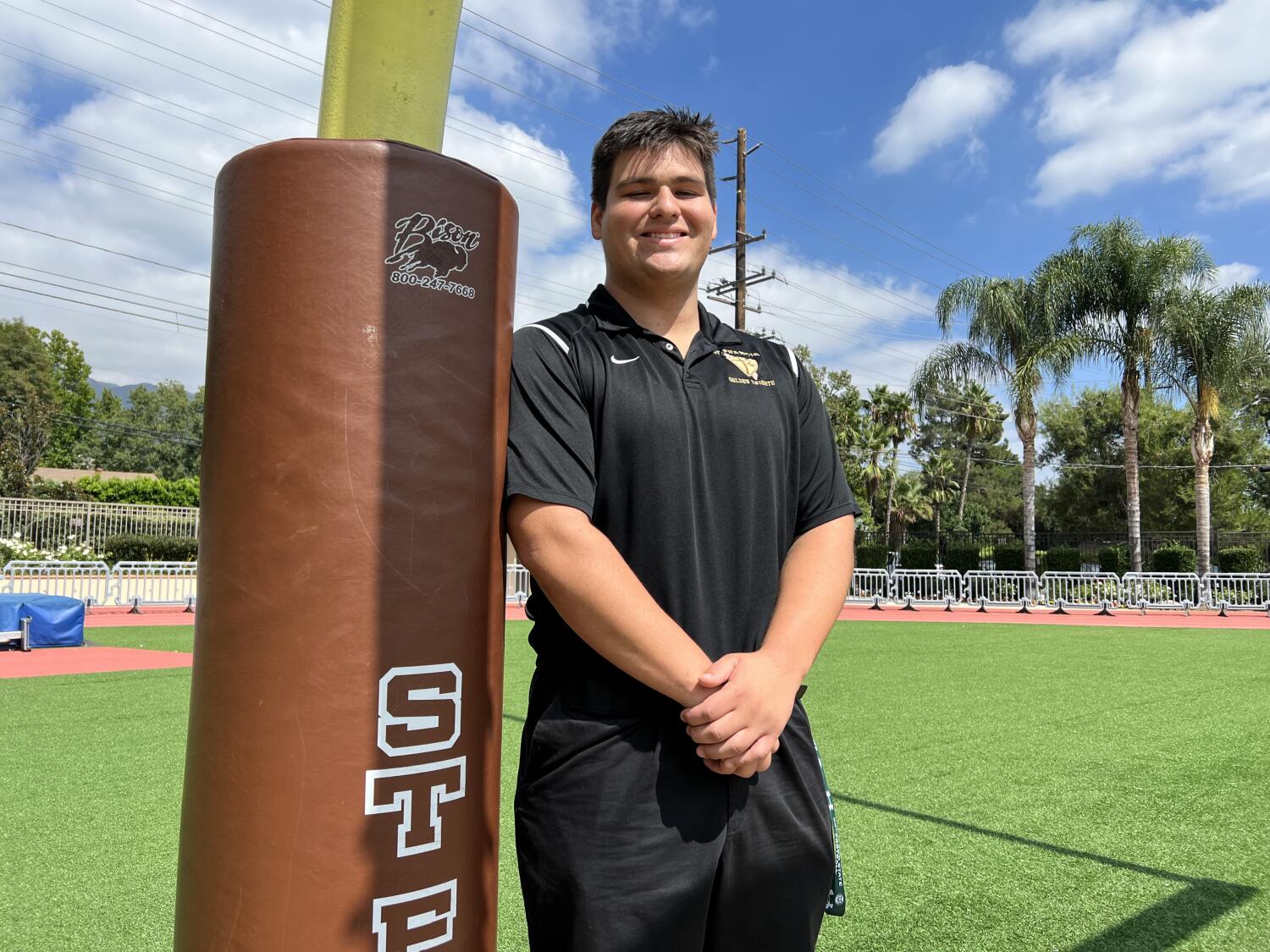 Phillip Ocon's weight had ballooned to 350 pounds during his sophomore year at St. Francis High. It was 325 when he was a junior. He still was an effective offensive linemen, but the extra weight was holding him back, affecting his quickness and stamina.
That's when defensive line coach Bill Stewart mentioned he was a black belt in jiujitsu and said the martial art could help Ocon get into top shape.
Ocon found a jiujitsu gym in Eagle Rock and began a journey that has left him at 6 feet 3, 287 pounds and starting at left offensive tackle and nose tackle for St. Francis while earning a scholarship to Colorado State.
"You look at last year's games and he looks like a different player," coach Dean Herrington said. "His stamina is a lot higher. He's so much thinner."
Said Ocon: "The weight came off easy once I started doing it with football because it was simple: Go to jiujitsu class, go to practice."
Practicing juijitsu for 90 minutes a day with lots of sweating, Ocon lost weight and got into shape. He also ate less.
"I'm playing both ways. It was a big deal losing that weight," he said.
There are similarities bewteen jiujitsu and wrestling, though Ocon said, "There's a lot more chokes and submissions that you don't do in wrestling."
Ocon has been starting for the Golden Knights since he was a freshman, his first year of tackle football. His size and physicality always made him someone to put on the field, but all the lessons he learned by his senior year make him wonder what could have been.
"If I could go back four years with the knowledge I have now, that would be a blessing because I have learned an enormous amount about the game and how I can be physically ready," he said.
As his senior year unfolds, he was asked what has been his most memorable moment over these four seasons.
"We were playing Steele Canyon my sophomore year," he said. "It was an overtime game. They had the ball at the seven-yard line and I helped make the tackle two yards before the goal line for the win. I was so tired I couldn't even celebrate. I looked at our outside linebacker. We gave each other a big hug. I gave it all for that game."
Earlier this month when the college football world was mesmerized by the overtime game between Colorado State and Colorado, Ocon watched it all from his TV while texting other Colorado State commits.
"It was fun," he said. "It was an emotional roller coaster. That's a game I really look forward to playing in. I love playing in big football games with all those fans. Those are my dreams."
St. Francis is 4-1 going into Friday's Angelus League opener against Loyola (1-4) that could decide the league title. It's also a game that might decide which team moves to the tougher Mission League next season when a scheduled realignment takes place.
St. Francis has been playing well behind junior quarterback John Sanders, whose passing and running skills have given the Golden Knights' offense a big boost.
Having a big, determined lineman with jiujitsu skills doesn't hurt. To see him move so well as the lead blocker is a glimpse into the future of what he might become with continued development physically and mentally on and off the field.
He has learned much.
"You fall down seven times, you get up eight times," Ocon said. "I want to take the journey as long as I can and hopefully get my black belt."