Seve close to the heart
In the Eternal City, the spirit of Seve Ballesteros lives on. Luke Donald's chosen tribute to the European Ryder Cup legend is a subtle one. On the inside of the shirts donned by Europe's players this week, on the reverse of the Ryder Cup badge and therefore against the heart, is an unmistakable motif of Ballesteros. The Spanish golfer died in 2011, aged 54, but has been a constant source of reference for Ryder Cup captains. Ballesteros's compatriot and longtime Ryder Cup partner José María Olazábal is one of Donald's vice-captains here.
Tommy who?
A moment of mild amusement arrived on Tuesday afternoon as Tommy Fleetwood, who had been signing autographs for fans by the side of the 15th green, was briefly halted from striding towards the next hole by an overeager steward. Rory McIlroy, Shane Lowry and Sepp Straka were already waiting on the 16th tee. Fleetwood and McIlroy were taking on Lowry and Straka in a friendly match. Fleetwood offered only a smile. "He's a player, man!" shouted an onlooker as the security official immediately realised the error of his ways. The Englishman duly knocked his tee shot to 15ft at the par four. A player, indeed.
Donald and the Ferret
Those associated with LIV Golf are not entirely absent from the European Ryder Cup scene in Rome. Henrik Stenson was removed as the captain while Lee Westwood, Ian Poulter and Sergio García are notable absentees after their switch to the rebel circuit. There is, however, a place for Christian Donald. The brother of Luke Donald, who is the bag man for Brendan Steele on the LIV tour, is deputy caddie master for the European team here. Christian has been a regular in the Ryder Cup environment when Luke has been involved. In Italy, he is operating under the European caddie master; Justin "the Ferret" Phillips. He has been in that role since 1997.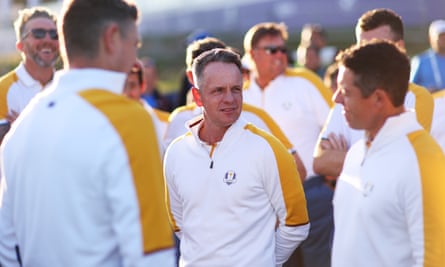 Netflix navigates choppy waters
Netflix hoped to have an abundance of behind-the-scenes Ryder Cup footage in series two of their acclaimed golf documentary, Full Swing. Reports surfaced earlier this month that the US captain, Zach Johnson, had made it plain there would be no such access given by the visiting team in Rome. There has, however, been an element of cooperation from Johnson and particularly players who were perfectly happy with the way they were presented during series one. With Europe and the US based in the same Rome hotel, producers will have to carefully navigate what may or may not be off limits over the coming days.
Cantlay plays down Koepka criticism
Golf historians should give Patrick Cantlay a wide berth. When asked the perfectly valid question of what represents his first Ryder Cup memory from watching on television, the world No 5 replied: "I don't know if I have one. I don't know if I have any early Ryder Cup memories." Cantlay shrugged off any team-room issue with Brooks Koepka. At the Masters, Koepka appeared to take aim at Cantlay for slow play. "Looking back at his comments, it was in general about it being slow," Cantlay said. "So no, not a big deal at all, and I'm his biggest fan this week." Well, the Masters is but a memory.