The stud arrived in the press tent at 4.30pm, led by a rush of sweaty and dishevelled sports journalists, and followed, a few seconds later, by a camera crew, who are trailing him for the Netflix documentary Full Swing. Square-jawed, square-shouldered, straight-backed, slim and 6ft-plenty, he arranged himself at the top table, flicked his pale grey eyes up from under the brim of his cap, and shot a brilliant white smile around the room. It was, he explained, "cool" to be here, "really cool". There was a crash at the back. Maybe somebody had fainted.
Most players here pull crowds because of what they've done in the majors. Ludvig Åberg does because of what he hasn't. He is 23, four months out of college, and hasn't even started a major yet. It is an extraordinary story. But then he is, they say, an extraordinary player. Åberg is only the second in history, after Jon Rahm, to win two Ben Hogan awards for the best college player in the USA. Europe's captain, Luke Donald, has repeatedly described him as "a generational talent". His decision to make him a rookie pick ought to be a risk, but no one in the game believes it is.
"Ludvig came on to my radar at the beginning of the year in Dubai. He was paired with Edoardo Molinari, one of my vice captains, and Edoardo was like, 'we need to keep an eye on this guy'," Donald explained. "When you play with certain players, you can tell. They have a certain talent that you see them hit golf balls and you're blown away, just by the different strike, the sound, the trajectory. How he can drive a golf ball is very, very impressive." Donald played with him in Detroit later in the year, and Åberg was nine under through 16, "which was pretty impressive when he knew I was watching him".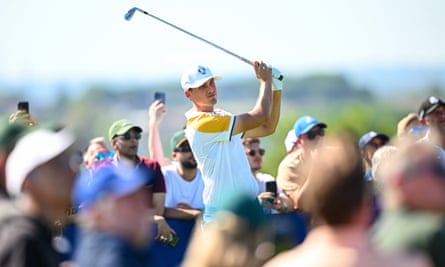 It was still, Donald felt, a long shot. "But every week he just kept getting better and better. He had a chance to win the John Deere, then he came over to Europe, with a couple weeks to go, and had a very strong finish in the Czech Masters, and obviously went on to win at the European Masters in Crans. Then he was two shots ahead after three rounds in our biggest event in Europe at Wentworth. Whenever he was asked to play well under scrutiny, he seemed to perform at a very high level." Suddenly, Donald's decision was easy.
Åberg carries himself with the easy certainty of a young man who can strike the ball 376 yards straight down the middle, and who hasn't failed at anything worth losing sleep over yet. Asked when he began to believe he might make the team, he answered "well, it wasn't when I was in school" and it was only when he started to laugh that everyone figured out he wasn't being serious. It was Justin Rose who called him "a stud", golfer's slang for any young gun in college golf, with Åberg, though, the nickname's stuck.
"I mean, it's very flattering for sure," Åberg said when he was pressed on it. "To be fair," he said, drolly, "I haven't thought about it much since we spoke the last time." Next, Åberg was asked to rank himself somewhere among Swedish celebrities, "Abba, Henrik Stenson, Zlatan Ibrahimovic, Björn Borg … " the journalist suggested. Åberg smiled, and said he wouldn't put himself in the same sentence as Abba. He didn't mention the rest of them. "All I try to do is play golf and I try to hit as few shots as I can every tournament I play in."
He is, those who know him say, entirely unfazed by any of it – the crowds, the attention, the questions, the expectations. The European team dressing room, which includes five major champions, was, he reckoned, pretty similar to some of the ones he had played in on the college circuit, only "the level of golf is a bit better". Challenged to name a single thing that flusters him, he was unable to come up with anything at all. He's so unstressed he gave up meditation because it got too boring for him. "I'm a pretty calm guy. I don't get too high."
This is, by a distance, the biggest week of his life. His plan is to enjoy himself, and let the golf take care of itself. "I feel like if you get too stuck in the past, it's going to affect you. If you get too stuck in the future, it's also going to affect you. It's all about staying in the moment." I mean, he's 23, and the world is at his feet, why wouldn't he?