Europe's players were left in tears from motivational videos designed to inspire them to Ryder Cup glory, Jon Rahm has revealed, as he urged his teammates to keep their unbeaten record at home going into a 30th year.
The Spaniard is expected to be one of Europe's big hitters this week, having won two majors already in his career, but he insisted that he would be happy to lose all five of his matches if it meant his teammates reclaimed the trophy.
"The greatest thing about the Ryder Cup, apart from winning, obviously, is going in that team room and seeing all these great golfers come together and have a really special, unique bond," Rahm said. "I can go 0-5 and if the team wins I'll be really happy. As long as we win, I don't care. As long as we get to 14½ points, what I do doesn't really matter."
Asked about those team bonding sessions, Rahm replied: "We had some individual videos and some collective videos. There were very few players not shedding a few tears on Monday afternoon. I can say that. A lot of it was family-related and the reason why all of us are here. I don't want to say too much more than that. But if you guys were to watch it, it would make you feel a lot of the same emotions we felt."
The Americans have not won a Ryder Cup in Europe since 1993 and Rahm said that his team were determined to keep the sequence alive. "It's a big deal. You want to stretch the streak as much as possible. Hopefully we can get into the 30s of years of Europe being undefeated here at home."
Meanwhile Tommy Fleetwood has warned his teammates that the rough at the Marco Simone is "penal" – but denied the course had been set up to give Europe's players a big advantage.
"The rough is thick," Fleetwood said. "It's pretty penal, particularly on a few dogleg holes, and there's a lot of doglegs on the golf course. It's easy to try and be very aggressive, or find yourself being aggressive, and you're not going to get away with it every shot. You might get lucky once, but wide shots – or shots that are just a little bit errant – are always going to be punished in a potentially pretty harsh way."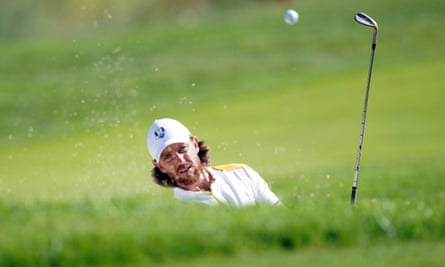 That was evident on the 1st tee as Fleetwood's playing partner Rory McIlroy hit a drive into the rough that took several minutes to find. However Fleetwood played down suggestions the thick rough and slow greens would significantly help the home side. "I always find it difficult to say courses have a certain advantage for either team," he said.
"You look at the strength of both teams, it's obviously very difficult to find advantages here and there. But of course, the home side will always look for those things in particular that will help them.
"The course is not going to give you many favours and it's not going to give you much luck. But it's just a demanding tee-to-green course, it really is. I think we all enjoy the setup. It's very fair. I just think you have to manage your way around a lot."
Rahm, meanwhile, also revealed that he had spoken to his Spanish compatriot Sergio García on Monday, as well as fellow LIV Golf rebel Ian Poulter, for advice. "I did have a little bit of a chat with Sergio, and with Poulter as well. Not that it's going to be easy to take on the role that those two had both on and off the golf course, but just to hear them talk about what they thought and what they felt is obviously invaluable information."