MacIntyre gets lost in translation
The organisers may have laid on a translation service for the Italian journalists here, but sadly no one thought to provide one for the rest of us during Robert MacIntyre's press conference. The left-hander, from Oban, baffled the press with a series of references to his enthusiasm for teuchter music, which he likes to sing in the shower, and shinty, which he insists taught him everything he knows about team sport. His father is a coach and MacIntyre, 27, says there are plenty of parallels. "Shinty is such a man-on-man sport, if there's a breakaway, obviously you've got to cover him, but the majority of the time it's one v one, so you stop your man and it helps the team," he explained. We nodded as if we knew what he was talking about, while we Googled the rules on our phones.
Tyrrell 1up in swearing competition
Tyrrell Hatton, on the other hand, needed a censor for his press session, which was also given largely in dialect, albeit a more universal one. "I would probably win in a swear-off," Hatton explained, when talking about his temper on the course and whether he was more foul-mouthed than Jon Rahm. "I've got everyone covered when it comes to that." He was, he explained merrily, a compulsive swearer, "any time of day, anywhere. Doesn't matter what we're doing, I'm swearing," and then, to emphasise his point, he added a cheery "fuck off" and left.
Lowry makes rookie error with Åberg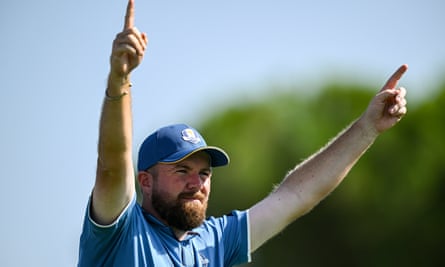 It wasn't Hatton who was turning the air blue out on the 16th in the afternoon, but his partner in the fourballs, Shane Lowry. The two of them were playing a practice round against Ludvig Åberg and MacIntyre, with $200 (£165) a man on it, just to keep things interesting. Lowry and Hatton were losing so badly that when they made it to the par-four 16th Lowry offered Åberg double or quits. "Sure," Åberg told him, then hit a high fade that finished up right by the pin, and left him a 10ft putt for eagle. "For fuck's sake," said Lowry, with a smile, then told the rookie he should put the money towards buying that new car he's after.
Ryder Cup profits smell so good
The tented village at the Ryder Cup is a golfapalooza, Glastonbury for hackers. There's a place to practise your long putting, another for your chipping, a place where PGA technicians will analyse your swing for you and, of course, the merchandise palace. In there, among the ranks of hats and gallimaufry of shirts and slacks, a bottle of Ryder Cup Salento Tormaresca rosé goes for €23 (£20), a Ryder Cup bathrobe €60, a gold-plated Ryder Cup tie slide €70, and a flask of Ryder Cup "Green Swing" scent for men a full €100. Spend enough time there and the entire tournament begins to feel like an elaborate way of flogging clobber.