Brooks Koepka doesn't like you. Perhaps Brooks Koepka doesn't strictly know you yet, but for a man of Koepka's unbendable principles this point would be a mere formality. Perhaps at this early stage of your enmity it is more correct to say he disapproves of you. You are the autograph hunter hassling him after practice. You are the person who left the irritating comment on Instagram. You are the driver who cut him up on I-95. Maybe not you specifically, but someone like you. And let's be real, it probably will be you one day. Best give him a wide berth just to be safe.
You don't even need to interact directly with Koepka to get on his wrong side. Earlier this year Koepka was at a Florida Panthers ice hockey game when he became exasperated at one of the home team's defenders. "Ekblad, you suck!" Koepka shouted from the stands in a video that was lighting up the internet within minutes. "Fucking traffic cone!"
In fact, you don't even need to be an animate being. After missing the cut at last year's Masters, a furious Koepka went back to his Mercedes and tried to punch one of the windows out. The window failed to yield. Koepka tried again. Again, the window held firm. To date, nobody has yet had the guts to suggest to Koepka's face that Bryson DeChambeau would probably have smashed the window to pieces.
Perhaps you might conclude from all this that Koepka is a guy with a few unresolved anger issues, the kind who might benefit from some quality time on a therapist's couch. In fact, most of the time the five-fold major winner is a largely subdued and laconic character, a natural introvert with all the money in the world and none of the filters. He rarely socialises with other golfers on tour, has no time for the sport's pomp and ceremony, and sees the world as essentially a solo pursuit into which other people occasionally and unhelpfully attempt to intercede. The prickliness that is so often characterised as self-confidence is more accurately described as self-reliance. Koepka is not immune to the doubts and demons that assail so many of us. What marks him out is his utter determination to deal with them himself.
That sense of apartness was apparent long before the United States Ryder Cup team flew to Europe from Atlanta with 11 players and 11 players' wives posing winsomely for photos on the steps of the aircraft. Koepka was in Chicago, where he had been playing in the latest LIV Golf tournament, and travelled to Europe alone. He is the only LIV player to have been selected for this year's cup on either side. All of which feeds into a wider question: what happens when you throw golf's ultimate lone wolf into its ultimate team event?
Certainly there were few clues in the sketchy, largely filter-free answers he drawled out to the assembled media on Wednesday. "Very few," he replied when asked how many of the 24 players would genuinely want to play the decisive match with the cup on the line. There was also a barb at his fellow LIV players – such as DeChambeau or Dustin Johnson – who had failed to make Zach Johnson's team. "Play better," he said. "That's always the answer. I had the same opportunity as every other LIV player, and I'm here."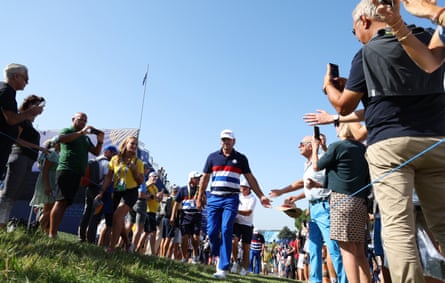 And yet for a player of Koepka's undoubted genius, his Ryder Cup record remains contested, with six wins and five defeats. At Whistling Straits two years ago he lost his cool in the second of two losses to Jon Rahm and Sergio García, railing at a rules official who failed to offer him relief when his ball rolled near to a drain. That coiled anger makes him a volatile force in team play, and perhaps explains why he is far more comfortable in the singles, where he has two wins and a half from three matches. For captain Johnson, the ability to successfully harness the idiosyncratic talents of Koepka will go a long way towards deciding whether the United States can retain the cup.
But for the neutral – insofar as such a thing even exists at the Ryder Cup – Koepka is pure box office, the fly in the ointment, a welcome antidote to the often cloying sense of choreographed bonhomie that seems to plague the event these days. For a sport in turmoil and transition, he is one of its few genuine luminaries, a walking riddle whose coiled magnetism will always draw eyeballs, whether you want him to win or whether you want him to fall flat on his face. Villain, heel, X-factor, LIV rebel: Koepka fits all of these masks and none. He may not be the star the Ryder Cup wants. But right now he may just be the star the Ryder Cup needs.