The walk into Marco Simone Golf and Country Club takes you past a series of giant posters of the European team's greatest moments: Darren Clarke's chip at the 16th to beat Tiger Woods and Jim Furyk in the fourballs at the K Club in 2006, Jamie Donaldson in the seconds after Keegan Bradley had conceded on the Sunday at Gleneagles in 2014, Tommy Fleetwood and Francesco Molinari hugging after winning their fourth point together at Le Golf National. It's a long way, and they run on and on and on, Seve at the Belfry, Woosie at Muirfield, Ollie tearing up in the aftermath of the Miracle at Medinah.
There are, you'll eventually twig, three people who are very conspicuously missing from the gallery. You'll have to walk a lot longer again before you find any photos of Sergio García, Lee Westwood and Ian Poulter, the three men who have come to be most closely associated with the European team in this century. In fact, if you're looking for one you can walk right across the course's 350 acres and carry on going off it back into the city again.
Which is quite a bit of editing by whoever was in charge of putting the display together. No one has played in more matches than Westwood in Ryder Cup history, García has won more points than anyone else in Ryder Cup history, Poulter has, of course, provided some of its most indelible memories. Between the three of them, they've played 117 matches and won 68.5 points. For perspective, the 12 men on the team this week have played 84 and won 42 between them.
But then four of this dozen weren't even born the last time a European team turned out without at least one of these three, at Oak Hill in 1995, and most of the rest were still learning to walk. At least two of Westwood, Poulter and García have been part of every Ryder Cup this century. They are the thread that ties the team that won in Paris in 2018 to the one that won at Valderrama in 1997, where a rookie Westwood partnered Nick Faldo, and the team that lost at Whistling Straits in 2021 to the one that was defeated at Brookline in '99, where García played with Jesper Parnevik.
The gap is even more conspicuous given that the Europeans make so much of their history. They even have Ballesteros's polo shirt hanging up in their locker room. The idea is that the significance of playing for their team is something that has to be passed on from one generation to the next, especially now, in the years after the thrashing they took at Whistling Straits. They are, as Rory McIlroy keeps repeating, a team in transition, which is why they've brought four young rookies here. "Nicolai, Ludvig, Bob, that's the future of our team," McIlroy said, "and the future of the Ryder Cup."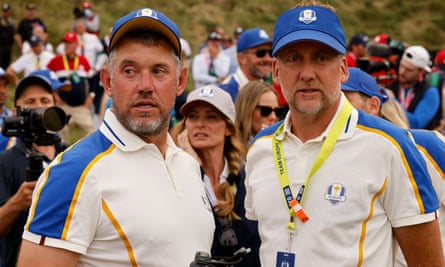 If García, Westwood and Poulter hadn't signed to LIV Golf you can bet all three of them would have been here this week, as vice-captains, or even, in García case, as a captain's pick, so they could steer the rookies through it. Instead, while McIlroy and the rest were posing for photos at the opening ceremony, Poulter's and Westwood's people were putting out a press release announcing the launch of the new online chatshow they've made with Henrik Stenson. Stenson, of course, was supposed to be the captain this week, until he was stripped of the honour. These days he's co-captaining LIV's Majesticks GC team instead.
So the stories they were supposed to be sharing in the locker room, and over the team dinner, ended instead being peddled for clicks on YouTube.
García's involvement stretches as far as a couple of phone calls with Jon Rahm, the last of them on Tuesday. He says he has been speaking to Poulter, too. Rahm, McIlroy and Justin Rose are the senior members of the team now; Rose and McIlroy account for more than half of the team's 84 matches between them, and the three of them have taken on the roles that García and Poulter would usually do. "Not that it's going to be easy to take on the role that those two had, both on and off the golf course," Rahm said. He said the conversations had been "invaluable" to him.
McIlroy's take on it all was pithy and pitiless: "I think they are going to miss being here more than we're missing them."
For him, at least, the wound is still a little too raw. You have to hope it heals soon. Their pictures deserve to be there up alongside Seve and the rest at Adare Manor in 2027.