Americans call them road games. The label might as well be pain games. Three decades have elapsed since a United States team lifted the Ryder Cup in Europe. Paul Azinger, Fred Couples, Tom Kite, Lee Janzen, Corey Pavin, Payne Stewart, John Cook, Davis Love, Chip Beck, Jim Gallagher, Raymond Floyd, Lanny Wadkins; a decent enough collective but unlikely history makers.
Success for the United States in the last Ryder Cup was so emphatic that giddy onlookers pointed towards a decade of dominance. Since Europe retained the trophy at The Belfry in 1989, the US have only actually prevailed half a dozen times. Bold predictions about reducing Europe – and, in fact, the Ryder Cup itself – to an irrelevance were precisely that. Timing can be everything in this competition; in 2021, it was an undeniable fact that umpteen European golfers arrived at Whistling Straits in questionable form.
This was of course temporary. Struggles for highly rated US teams upon crossing the Atlantic have felt permanent. Zach Johnson and his class of 2023 are seeking to break the mould. If they do, not only will they have etched their names into golfing folklore but they will actually have boosted the competitive appeal of this event by altering the "home win, home win" sequence. Europe's record in the United States is hardly impressive, hence 2012 at Medinah stands out.
"The teams of the past are teams of the past," Johnson insisted. "This is a new team with a new opportunity." He is perfectly right of course. Nothing should link 2006 at the K Club with 17 years later in the Roman countryside. Yet this dismal record will appear until the US can alter it. "I said it at Whistling Straits," recalled Jordan Spieth. "I said that this is really nice but until we win one over there, nobody can talk about a change in the Ryder Cup or the US or anything like that." As ever, Spieth's analysis was and is apposite.
Johnson's approach to captaincy has been interesting. Some players have taken on nine-hole warm-up sessions, some played 18. The sight of Brooks Koepka, alone on the range on Tuesday morning, played into the narrative of a lone wolf but the theme is actually a broader one. Johnson clearly wants his team to be as comfortable as they ordinarily would be in an individual environment while part of a team. Johnson's scene is noticeably free from regulation and interference. "Guys know what they are doing," said the US captain. They are professional golfers and they are the best players in the world." In his own words, the two-time major winner has sought to "remove the clutter." There is plenty of that about; this is a sporting contest that takes itself extremely seriously.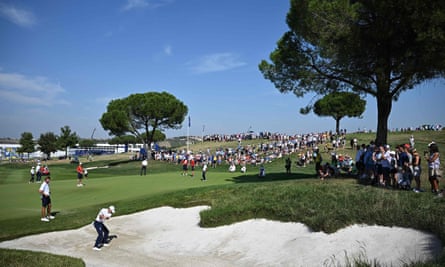 But why such troubles outside the US? The answer has to be multi-faceted. The Tiger Woods factor over umpteen stagings of the Ryder Cup played a part. It is amusing to see Woods as a go-to guy for American captains now, given he was the conundrum none of them could work out for years on end. European captains have a tendency to insist on slow-ish greens and thick rough; both are uncommon on the PGA Tour. Nonetheless, all but two of this European team ply their trade in that American domain. The ferocity of a home crowd? Probably a factor but one that is routinely overstated. Golf fans can be irritating but they are generally a placid lot. Players should hardly be reduced to quivering wrecks.
Johnson can call on Koepka, the US PGA champion, Wyndham Clark, the US Open winner, and Brian Harman, who claimed the Claret Jug at rain-lashed Royal Liverpool. There are seven major champions in the US team. Luke Donald, by comparison, has five. What the visitors lack is Dustin Johnson, who was imperious while winning a quintet of points two years ago. If the absence of Johnson and, to a lesser extent, Bryson DeChambeau is keenly felt by the US here then LIV Golf has materially affected Ryder Cup outcomes. Europeans looking on after their switch to the rebel circuit were unlikely to play at Marco Simone.
Rather than build his team towards frenzy, Donald used emotive and motivational language early in Ryder Cup week. The remainder has been spent keeping his players calm. There has been huge excitement within the European team room about the form of Ludvig Åberg. Rory McIlroy appears in fine spirits. If McIlroy, Jon Rahm, Viktor Hovland and Tyrrell Hatton click, the US will find themselves behind the eight ball. Intriguingly, Johnson has left Spieth and Justin Thomas out of session one. Two of those major holders, Koepka and Clark, will also only be observers. These are bold calls.
Mariah Carey's 'Dreamlover' topped the charts the last time a US team boarded their homebound flight with the Ryder Cup as part of their hand luggage. Their current captain is undoubtedly steely, knowledgeable and has the deep respect of his players. Travel sickness merely suggests Johnson needs something more, something exceptional.
In the Eternal City, hope springs for Johnson and his team. History dictates it can only be that.