Robert Garrett is looking svelte after dropping 50 pounds. He's even smiling these days as his Crenshaw football program shows signs of a resurgence after not having enough players to compete in the City Section playoffs two years ago during the pandemic.
The Cougars have an 18-player junior varsity team playing games for the first time since 2017. The varsity has 25 players and improved to 5-1 on Thursday night by winning its Coliseum League opener, 28-6 over King/Drew, as senior cornerback Dion Odom contributed two interceptions and senior quarterback Donce' Lewis threw for a touchdown and ran for one.
"It feels great," Lewis said. "Everyone doubted us. Now they love us."
Garrett has been Crenshaw's coach since 1988. He's known as G Man. He has helped so many players and students by preaching and pleading that one fan said, "They should build a statue of Garrett in front of the school."
Garrett was Coach Prime before there was a Coach Prime. When he had De'Anthony Thomas, the Cougars were playing De La Salle in the 2009 state championship game. Dwindling enrollment, the rise of charter schools and changing demographics have left Garrett trying to hold on despite large obstacles on and off the field.
But players like senior Darnell Horton keep him coaching. Horton, a starter at linebacker, left offensive tackle and long snapper, is the last of the players who showed up in the spring of 2021 to a football meeting that numbered less than 15 as the pandemic left people wondering if the Cougars would even have a team.
"The last two years has been very fun," Horton said. "I have met a bunch of new people through football."
Said Garrett: "He's been through the hard times. He's one of the few that hung in there with COVID. What I admire about him is he's a hard worker with a great attitude and nothing shakes him. Any coach would have him because he's a team leader. He's never missed a practice in all these years."
Crenshaw has put itself in position to perhaps battle it out with Dymally for the Coliseum League title. Lewis has exceptional speed at quarterback. Odom has six interceptions. Roberto Salazar is a talented receiver and punter.
Garrett has been aided by a group of dedicated, determined assistant coaches, most of whom played for the Cougars. The players tackle well, don't commit lots of penalties and appear to be having fun.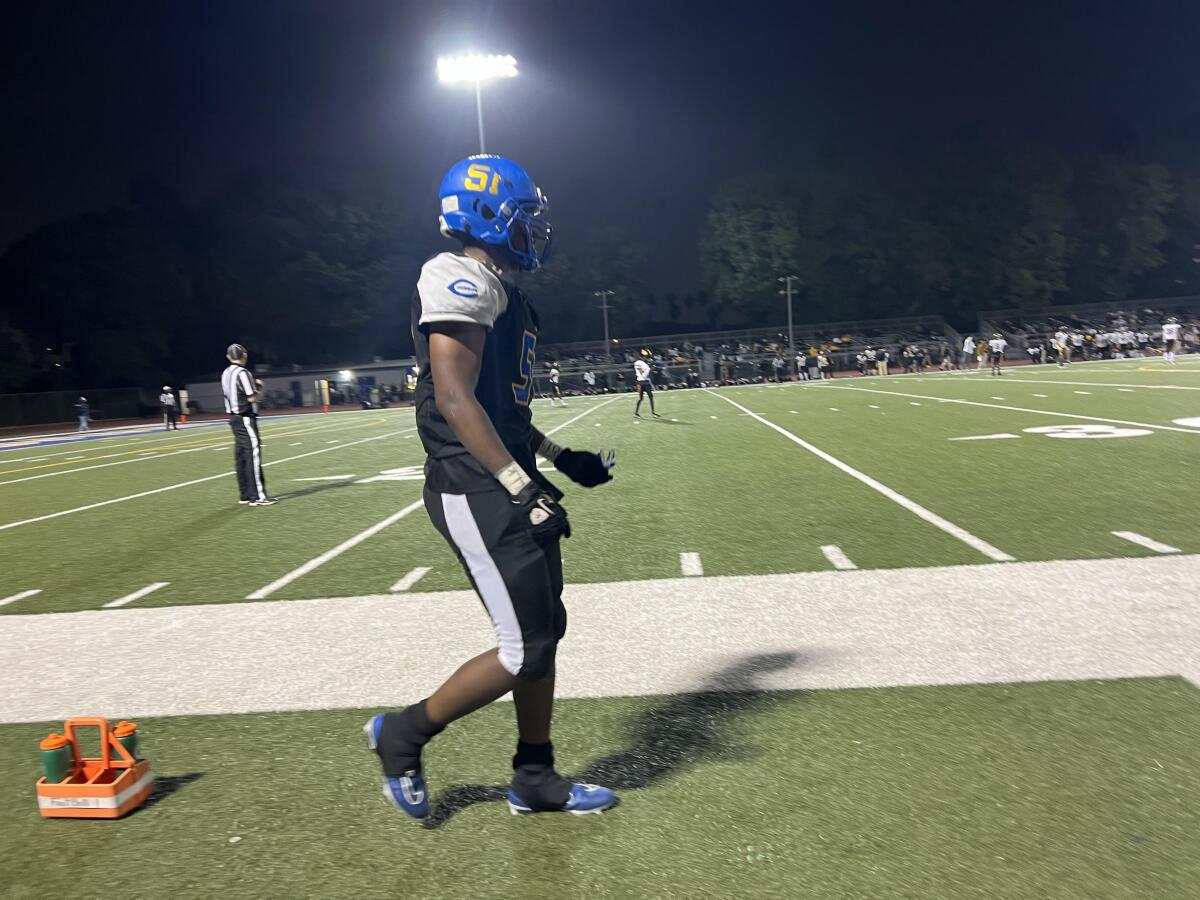 Horton explained what he's learned at Crenshaw.
"I've learned how to be a leader and how to work through challenging situations and learned how to stay consistent," he said. "Garrett is the type of coach who brings out the best in you. He's going to let you know what to do to get better and if you don't do it, I don't know what you're doing."
King/Drew dropped to 0-6 as injuries have prevented the Golden Eagles from fulfilling preseason expectations.
As for Crenshaw, things are getting better.
"I don't know if people are coming back or not," Garrett said. "But kids are showing more interest in wanting to play."