Beneath the sweet smell of cut grass, hot coffee and olive wood you could catch the faint trace of something fetid in the air at Marco Simone on Saturday morning. And if you turned your nose into the wind you might, eventually, have followed it all the way to the US locker room, where their hopes and dreams of winning in Europe for the first time since 1993 lay in a messy heap, decomposing in the heat.
"It's done," said the US captain, Zach Johnson, when his team were five points down on Friday night. And it really was, just not in the way Johnson meant, since he was talking about their bad play that day.
"We are leaving it here," Johnson insisted. Well, they picked it right back up again on Saturday, when he sent out his alpha males to play the morning foursomes, Justin Thomas and Jordan Spieth, followed by Brooks Koepka and Scottie Scheffler. They have 11 majors between them, more than the entire European team. But within an hour, Thomas and Spieth were three-down through four against Rory McIlroy and Tommy Fleetwood, and one hole behind, Koepka and Scheffler were trailing by the same to Viktor Hovland and Ludvig Åberg.
The US performance posed the interesting question of whether you can hold a post-mortem on something that is, theoretically at least, still living. Koepka, who has won more majors than anyone else in his generation, and Scheffler, the world's No 1, went together like nuts and gum. They started double bogey, bogey, double bogey, and ended up ping-ponging around the front nine in 40, from bunker to gallery to rough. Hovland and Åberg won it nine-up with seven to play. Which was a Ryder Cup record, the single heaviest defeat in 96 years of competition.
Koepka, who had complained on Friday that Jon Rahm had been "acting like a child", disappeared, leaving Scheffler to choke up, crying behind him. In the end, then, the 11th green at Marco Simone was watered with the tears of the world's top golfer, which wasn't quite the plan laid out in the morning pep talk. The crowd fell quiet, as you might when observing last rites. Scheffler, who had made great play of playing along with the fans on the 1st tee, cupping his ear and urging them to boo him, had to endure something much worse than their scorn, their pity.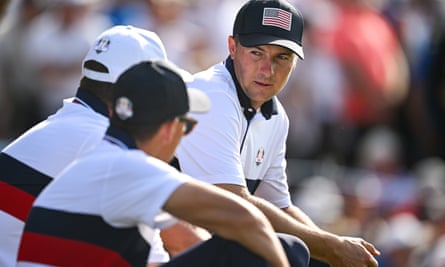 Neither Koepka nor Scheffler played in the afternoon fourballs. Johnson, too, seemed to be retreating from view as the day wore on. He always wears a wide-brim baseball cap, but the peak seemed to be pulled down especially lower now, as he slumped inside his shirt and pulled his head into his collar like a worried tortoise. He has made mistakes, every captain does, but unfortunately for him it's only the losing one who has them picked out, pored over and preserved for posterity.
Like every losing captain, his pairings were all wrong, although given the way they played on Saturday the decision to leave Spieth and Koepka out of Friday morning's foursomes might have been smarter than it seemed. And he also made himself look silly on Friday evening by getting into an excuse about how his team were suffering from a mystery illness (no, not travel sickness, but "congestion") while insisting that he didn't "want to get into it" and wasn't going to use it as "an excuse". The one thing missing from the unravelling calamity was a scandal about rifts in the team.
Enter Patrick Cantlay, stage right. Cantlay had been refusing to wear the team hat all week despite the blinding sunshine, and rumours started to fly that he was doing it as a protest that the team weren't being paid to play. The USA were forced to deny it before the afternoon fourballs. They pointed out that he hadn't worn a hat at Whistling Straits in 2021 either, which, given his ability to hold a grudge, and that he's known to have strong feelings on how the sport's profits are divvied out, doesn't prove anything much.
Johnson's real problem, though, had less to do with the semiotics of Cantlay's wardrobe choices than the fact that the rest of his team were playing so damn badly. During the first three rounds it seemed every time you looked up at the big screens you would see a US player topping a drive, or chunking a chip, or dunking a ball in the water. Between them, they made just 11 birdies in 63 holes in the foursomes on Friday, and while they got better as the tournament went on, there were still only 36 in 138 in the fourballs that afternoon. You don't need a team of data analysts or a sports psychologist to figure out the reasons for it.
They were right there in the form book. Nine of the 12 men on the US team hadn't played a competitive round in a month. Two of the exceptions were their best players, Max Homa and Thomas. The Europeans, on the other hand, had been playing right through September, at Wentworth, Crans and the K Club. There are plenty of ways to get your game in shape for the 1st tee when you're playing away in the Ryder Cup, but taking a month off isn't one of them. Especially when it's all starting with the most awkward foursomes format. Their preparation seems to have left them a team who were underpaid, underdressed, undercooked, and over here. Till Sunday, anyway.