There was a moment, early in Ryder Cup week, when a journalist dared to suggest to Jon Rahm that his win percentage in this competition was a measly 56% – less than players such as Colin Montgomerie, Ian Poulter and Luke Donald. "That's sort of implying I haven't stepped up," he retorted, bristling as if his entire manhood had been questioned.
On a thrilling first day, he stepped up, all right. And then some. From his very first shot, in the opening foursomes at 7.35am the Spaniard fed off the crowd's cries of "Rahmbo! Rahmbo!", their energy fuelling his intense fire.
Rahm and his foursomes partner, Tyrrell Hatton, had been billed as Team Combustible. Instead they kept their cool to draw first blood by beating Scottie Scheffler and Sam Burns 4&3. Then on an afternoon of molten temperatures and cascading emotions, Rahm performed a miracle at the Marco Simone – with two eagles in the final three holes – to tie with Scheffler and Brooks Koepka.
Across the day, Rahm chipped in from off the green three times, and made multiple birdies and three eagles. But it was his extraordinary 40-footer on the 18th, late in the day, that will linger longest. As that putt climbed over a steep bank, Rahm and his playing partner Nicolai Højgaard watched it clank into the hole, jump and pirouette into the air, before disappearing. Even the Spaniard couldn't believe it. But at a stroke Europe had fended off the crimson tide to lead 6½–1½ overnight.
Ryder Cups are never entirely won on the opening day. But they can certainly be lost. And Europe now have a record-equalling first-day lead.
"I've got to give Nicolai props because over here on 18, he gave me the freedom to basically go at it, and he told me to hit a putt, try to make it," said Rahm. "And he said: 'What would Seve do, right? Do it for Seve.' I don't know if he would have quite made it like that, but I'm sure glad that it went in."
Not everyone was as impressed. Afterwards Koepka accused Rahm of acting like a child, and of having "pouted" and "hit a board". But the American also added: "We birdied 14 through 18. And lost with two eagles. Nothing you can do."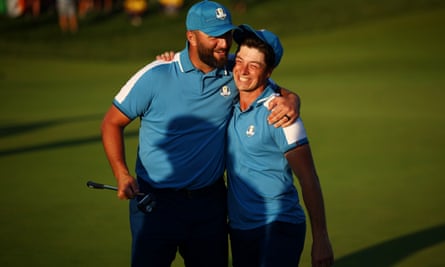 After sending his opening tee shot of the foursomes into the rough, Rahm started Europe's charge by rolling in a long horseshoe putt on the 2nd. A tiddler on the 5th – set up by Hatton's feathered chip – put Europe two up and flying.
"When one of us misses a shot, we know what's going on in the other player's mind," Rahm explained afterwards, emphasising his special bond with Hatton. "We might vocalise it differently, but at the end of the day it's the same process. It's like being in the same brain."
At times Rahm resembled a prowling bear. On other occasions, a teddy bear. Whenever Hatton strayed off course, or missed a putt that he felt was in range, he found the Spaniard squeezing his shoulders or whispering a word of encouragement in his ears. It clearly worked. On that 5th hole, Hatton had been briefly startled by someone talking in the crowd. And while he turned around and glared, he quickly gathered his composure.
"Be angry Tyrrell!" shouted an American fan after one poor shot. But the Englishman wasn't biting. When a spectator wandered on the course, delaying his tee shot, he smiled.
Briefly the US team threatened a fightback with a birdie on 6. But then Rahm went into another gear. First he nearly made a hole in one on the par-three 7th – it thumped against the flag and was conceded by the US team – and then, with Europe struggling at the 10th chipped in.
With Burns looking shaky, and flaying drives right and left but not centre, Europe soon pressed home their advantage. Rahm drove the par-four 11th to increase the lead while another stunning approach from the Spaniard on the par-five 12th set up an eagle putt and put Europe four up.
"I've had a good feeling about Tyrrell all along," said Rahm. "Last time we played together it really felt good, and it was good to come out here and perform the way we did. It was an incredible foursomes match and we played as confident as two people can play, and it was a beautiful one. "I told Tyrrell, usually the feelings you have down the stretch in a tournament I had hitting my first warm-up putt at 6.20 in the morning in the dark, and it increasingly got higher until we hit that tee shot on the first hole. It's a different feeling, but if you embrace and enjoy it, you can play some pretty good rounds of golf like we did today."
Was it a surprise that in the afternoon the Spaniard wasn't initially so effective? After all, the heat was now into the high 80s and he already had hours of Marco Simone's hills in his legs. But when Europe needed him to deliver he did again – and how.