Key events
Europe are relentless. Scottie Scheffler and Viktor Hovland send their tee shots at 6 to ten feet or so. Brooks Koepka leaves his up on the high side; Ludvig Aberg walks his into the centre of the cup. Five up after six holes: this is some debut for the 23-year-old Swede. Bogey for Lowry and Straka at 5, though, and there's a much-needed dash of red on the board again.
3UP McIlroy/Fleetwood v Thomas/Spieth (6)
5UP Hovland/Aberg v Scheffler/Koepka (6)
Lowry/Straka v Homa/Harman 1UP (5)
1UP Rahm/Hatton v Cantlay/Schauffele (2)
Spieth can't do anything right at the moment, and he leaves his long, long, long must-make bogey putt short. The hole's conceded, handed straight back to Europe. While that kerfuffle was developing, Shane Lowry knocked his approach at 3 to eight feet, and Sepp Straka walked in the birdie putt to tie up match three. In match two, the short par-four 5th was tied in birdie. And in the anchor match, par is enough for Europe to hit the lead in that one too. So much for USA's fast start.
3UP McIlroy/Fleetwood v Thomas/Spieth (6)
4UP Hovland/Aberg v Scheffler/Koepka (5)
Lowry/Straka A/S Homa/Harman (4)
1UP Rahm/Hatton v Cantlay/Schauffele (2)
"Can we get a second opinion, please?" Jordan Spieth isn't happy with the referee. Having sent his tee shot into greenside junk at 6, he's claiming an embedded lie. Doesn't look as though he's going to get the decision he wants. The debate continues. Eventually JT hacks through the thick rough … and doesn't get the ball out. He stumbles and accidentally kicks it. He immediately informs the referee, but they play on anyway. They eventually reach the green in an as yet unconfirmed number of shots – the official scoring currently claims four – but it's almost certainly moot anyway because Europe are on in two. Thomas and Spieth are properly rattled; they're all over the shop.
… and there's another huge moment as the astonishing Aberg nearly aces the par-three 4th! An arrow at the flag that stops maybe one or two turns short. That's given. Scheffler has to make the straight eight-foot birdie putt that Koepka leaves him with … but he leaves it short!
2UP McIlroy/Fleetwood v Thomas/Spieth (5)
4UP Hovland/Aberg v Scheffler/Koepka (4)
Lowry/Straka v Homa/Harman 1UP (2)
Rahm/Hatton A/S Cantlay/Schauffele (1)
A big matchplay moment on 5. Fleetwood hits the flagstick with his chip, then Spieth only just finds the fringe from a similar position. He complains that someone was taking photographs when they really shouldn't have been. Team USA look rattled. Or at least Spieth does. JT isn't having a bar of anyone's nonsense, and rams home a birdie putt from the fringe. That in turn rattles McIlroy, who pulls weakly left from three feet. Europe were so close to a four-hole lead; now it's just the two.
A catalogue of errors on 3. Aberg misses the green from the centre of the fairway, then Hovland fails to get up from the swale. Advantage USA, but then Scottie Scheffler makes exactly the same mistake from the bottom of the bank! Aberg chips up to three feet, Koepka blades his effort, and when Scheffler fails to make his long putt, Europe win the hole with bogey. Scheffler and Koepka have started 6-5-6. The coldest of starts, and they're all over the place.
Thomas and Spieth stop the bleeding on the par-three 4th. Par earns them a half. Meanwhile the USA finally get on the board this morning, Homa aiming a dart with his approach into 2, Harman walking in the birdie putt. The Open champion looks like he means business this morning.
3UP McIlroy/Fleetwood v Thomas/Spieth (4)
2UP Hovland/Aberg v Scheffler/Koepka (2)
Lowry/Straka v Homa/Harman 1UP (2)
Rahm/Hatton v Cantlay/Schauffele
Zach Johnson tells Sky that a "small portion" of his team have been suffering with an unspecified health issue. "Some guys have not been feeling the best … they responded very well to the antibiotics … it's not an excuse, let me get that straight … Luke and his team played awesome."
Some good news for Team USA: they find the 1st fairway at last. Hats off to Patrick Cantlay for that. Baby steps. Jon Rahm splits the fairway too, and the last match is off and out. Meanwhile up on 2, Ludvig Aberg chips up to three feet, and with the Americans out of position, Viktor Hovland tidies up for par and the win. What a start this is by Team Europe. It's exactly what Team USA wanted, it's what they needed. A response desperately required. Already.
3UP McIlroy/Fleetwood v Thomas/Spieth (3)
2UP Hovland/Aberg v Scheffler/Koepka (2)
Lowry/Straka A/S Homa/Harman (1)
Rahm/Hatton v Cantlay/Schauffele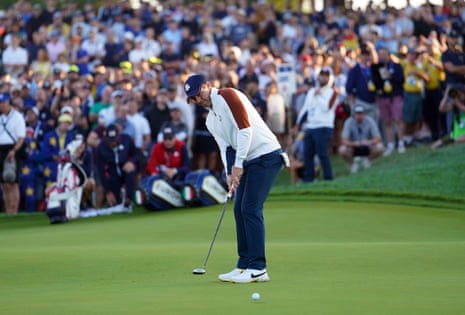 Team Homa/Harman get up and down from the front of the green at 1, and that's the USA's first par of the morning. Up on 3, JT gives Spieth half a chance of scrambling par, doing pretty well to chip up to eight feet, but Spieth's putt is always missing on the right, and he wanders off looking extremely pensive. His approach handed that hole to Europe, and given the manner in which he struggled yesterday afternoon – his wedge into the water on 18 said it all – it's hard to see him turning this round any time soon. He's woefully out of sorts, and needs to find a solution quicksmart.
Jordan Spieth is a three-time major winner, but he's struggling right now. From the centre of the 3rd fairway, he pulls his approach down a bank back-left of the green. Good luck from there. Tommy Fleetwood keeps up the pressure by sticking his second pin high. A very similar unforced mistake by Scottie Scheffler on 2, as well; Viktor Hovland lets him off the hook a bit by finding the thick greenside rough himself.
The third match begins like the other two: Team USA sending their opening tee shot into the deep rough down the right, Europe finding the short stuff. The visitors could do with hitting some fairways here, because the rough at Marco Simone is punitive to say the least.
There's more muscling going on up on 2. JT does extremely well to find the fringe after Jordan Spieth's drive ends up in the second cut down the left. Spieth makes up for his mistake by lagging close to secure par. All good, on a difficult hole … except Tommy Fleetwood, whose putter took some time to warm up yesterday, drains a straight 35-footer for birdie. Meanwhile back on 1, Brooks Koepka rolls America's long par putt to four feet, only for Scottie Scheffler to pull the bogey putt wide left. The USA really wanted a fast start today. They haven't had one.
2UP McIlroy/Fleetwood v Thomas/Spieth (2)
1UP Hovland/Aberg v Scheffler/Koepka (1)
Lowry/Straka v Homa/Harman
Scrub what I told you about the USA's lie. Brooks Koepka is a fine physical specimen, yet even he can only advance the ball further up the rough. He leaves his partner Scottie Scheffler half-snookered behind a tree, and even though the reigning Players champion is able to punch the ball up on to the green, he can't take a line anywhere near the flag. The US will have a long two-putt for bogey, while Europe are inside them sitting two.
For the benefit of folk who fancy getting up on the downswing this weekend but don't always follow the greatest sport in the world, we usually cut and paste the following explainer. Hey, if it's worth reading once, it's worth reading a dozen times. Here we go …
The Ryder Cup is a matchplay event. Each match is worth a point. There are 28 points available over the three days, so the first team to get to 14.5 points will win the Cup. Should the scores be tied at 14 points apiece, the USA will retain the trophy as current holders.
Match-play explained for those dipping their toe into the murky world of golf for the first time: In common-or-garden championship golf, such as the Masters or the Open, tournaments are scored using the stroke-play system. Whoever takes the fewest shots over all four rounds in a championship wins. All shots count and are added up for a cumulative total. So if, say, in next year's Masters, Jon Rahm shoots 63-63-63-63 and Scottie Scheffler shoots 87-87-87-87, Rahmbo will have taken 252 strokes, and beaten the best player in the world by 96 shots. (Good luck if you bet large on this exact outcome.)
Anyway, in match play, each player or team wins a hole for every hole they better their opponents. So if Scottie takes five shots at the 1st, but Rahm needs only three, Rahm goes 1up. If Rahm wins the next hole too, he's 2up. If the pair share the same number of shots on the 3rd, the hole is halved, and Rahm remains 2up. It doesn't matter if Scheffler took 13 shots on her way to losing the 2nd, by the way; a bit like the unwritten rule of visits to wallet-sewer-interface-venue Las Vegas, what happens on each hole stays on each hole. There is no knock-on effect.
So let's say Rahm wins the first nine holes of our make-believe match. With nine played, and nine remaining, he is 9up. Scottie can only tie at best; Rahm can't lose. This is known as dormie. (And more specifically, in this slightly ludicrous example, as dormie nine.) If Scheffler wins the next nine, the game will end all square, and each team will get half a point to their overall total. But if Rahm wins the 10th, he's 10up with eight holes to play. He has won 10&8. If the 10th hole is halved, Rahm would be 9up with eight to play. She's won 9&8. Similarly Scheffler can be said to have lost 9&8. Europe would add a point to their overall total. I've probably made this sound way more complicated than it needs to be, but there it is anyway.
There will be three types of match: foursomes (teams of two players use one ball, taking alternate shots); fourballs (teams of two players play a ball each and take the best score, known as the better ball); and singles (this is when it gets quite wild and everyone across two continents starts with the shallow breathing and chest clutching). And these matches are arranged in a schedule like this:
Yesterday: four matches of morning foursomes; four matches of afternoon fourballs.
Today: four matches of morning foursomes; four matches of afternoon fourballs.
Tomorrow: 12 singles matches.
Spieth puts a good roll on his par putt, but it shaves the left lip. He can't believe it didn't drop. Two putts for Europe and that's a fast start for Europe. Meanwhile Scottie Scheffler hoicks his opening tee shot into the rough down the right – the lie doesn't look too bad at first sight – but Viktor Hovland cracks one down the middle. The second match is up and running.
1UP McIlroy/Fleetwood v Thomas/Spieth (1)
Hovland/Aberg v Scheffler/Koepka
JT wedges into the green. Just. Later in the day, his ball would surely topple back off the false front. But the morning dew ensures it sticks. Both teams will have putts from 20 feet or so, but Europe are sitting two and the US have already taken three. Back on the tee, there's more bedlam as Viktor Hovland, Ludvig Aberg, Scottie Scheffler and Brooks Koepka get ready to rumble.
"Forever in our hearts." It's tifo time, as the Italian fans in the stand at the first tee unfurl a spectacular large flag depicting the great Severiano Ballesteros. A touching moment. There's another smaller handmade banner: "Do it for Seve." Up the hole, Europe try their best to follow orders. Jordan Spieth can only lay up from out of the rough, while Tommy Fleetwood sends his second into the heart of the green. Justin Thomas needs to get close with his chip if he's to put any pressure on Rory's putt.
"HÚH! HÚH! HÚH!" Luke Donald leads the masses in a thunderous clap, then the players emerge from the tunnel. Wild cheers from Fleetwood Mc – they make golfing fun, after all – and pantomime boos for Justin Thomas and Jordan Spieth. Friendly handshakes and smiles, though when the pleasantries are over, there's a definite look of steely determination in JT's eyes. Perhaps a little bit of apprehension in there, too, because the USA really need to hit their straps hard this morning. It shows in his opening drive, which disappears into the thick rough down the right. Advantage Europe? Yes, but only because Rory McIlroy's tee shot, sent towards the rough down the left, somehow sits up nicely. A big break for the home side.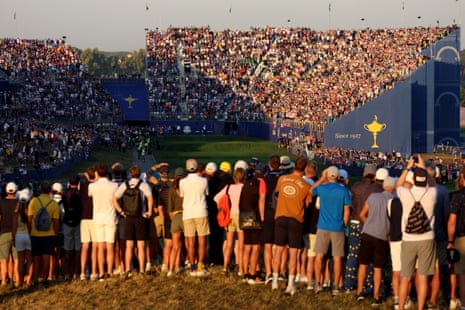 Europe go into the second day of the 2023 Ryder Cup leading 6½-1½. They've only built such a lead on the opening day once before in tournament history, in 2004, and went on to win by a European record score of 18½-9½. The only time the USA have ever built such an opening-day lead, they went on to win 21-11 in 1975. So the predicament the Americans find themselves in isn't unprecedented, but the omens don't look good either. They've got the quality to fight their way out of this hole, of course … though Europe also have the quality to put more hurt on the holders. So much depends on this Saturday morning foursomes session, and here are the tee times for it (Europe first, all times BST).
6.35am: Rory McIlroy and Tommy Fleetwood v Justin Thomas and Jordan Spieth
6.50am: Viktor Hovland and Ludvig Aberg v Scottie Scheffler and Brooks Koepka
7.05am: Shane Lowry and Sepp Straka v Max Homa and Brian Harman
7.20am: Jon Rahm and Tyrrell Hatton v Patrick Cantlay and Xander Schauffele
Once they're out on the course, we'll be about our business. It's on!