Under the bright lights of the gridiron, Travis Kelce plays the part of a particular kind of NFL leading man – a touchdown-scoring party bro whom fans in middle America can rally around. Yet until a few weeks ago, anyone who didn't closely follow American football would struggle to recognize Kelce, even though the 33-year-old has had top billing in three of the last four Super Bowls, having featured prominently in national ad campaigns for Bud Light and Covid vaccinations and hosted Saturday Night Live this year. Indeed, NFL fans discovered how famous Kelce wasn't once he started to date Taylor Swift.
The pair's involvement, hotly rumored for weeks, was seemingly confirmed last Sunday when Swift turned up at Kansas City's Arrowhead Stadium for the home team's game against the Chicago Bears. If Swift's colour palette – red lips and nails to match a Kansas City jacket – didn't make her favored team clear, her seat in the stadium suite next to Kelce's mother, Donna, surely did. When Kelce scored in the third quarter, the Fox cameras cut to Swift banging on the suite glass, chest-bumping a neighbor and apparently shouting, "Let's fucking go!". Patrick Mahomes, the quarterback who facilitated the touchdown, said afterwards: "I knew I had to get it to Trav … I think he wanted to get in the end zone just as much as all the Swifties wanted him to."
Quickly, Kelce got his taste of fame's next echelon. On Sunday, "Travis Kelce" was the top Google search term, with more than 5m queries. Sales of his No 87 jersey are up 400%. The actual game, a 41-10 blowout against the league's worst team, was the week's most-watched game, with more than 24 million viewers – and Roku TV data showed the game saw a 63% increase in female viewers age 18-49 from Kansas City's last game. On X (formerly Twitter), Swifties discussed football rules.
For decades, the NFL styled itself as a game of beauty and violence for red-blooded American men. It's only in the last few decades that the league has made more concerted efforts to appeal to women. But more often than not, that's meant taking them for simpletons and selling breast cancer awareness merchandise while sweeping sexual assault and domestic violence incidents under the rug. Since Swift touched down in Kansas City, the NFL has been eating up the attention, posting about Swift on their official accounts. The New Yorker pronounced Swift and Kelce "a dream pairing" for the league.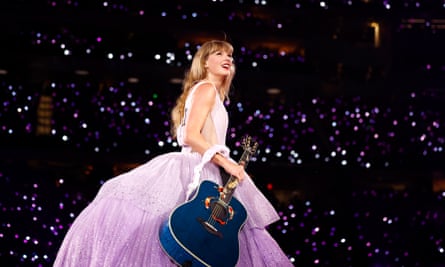 As with all of Swift's relationships, some have accused the singer of being more interested in publicity than love. Certainly the couple's origin story is almost too saccharine to be believed. Kelce said he first attempted to approach the pop star back in July when she played Arrowhead Stadium for her Eras tour, adding that he made her a friendship bracelet he hoped to give her personally – a ritual ripped from the lyrics to her song You're on Your Own, Kid. It's not clear whether that was the moment they became close, but months later Swift was at his game.
Power couples of this scale aren't a new feature in US sports. Before Gisele Bündchen and Tom Brady were American football's Posh and Becks and the Kardashians made sport of leveling up with Black athletes, Marilyn Monroe and the New York Yankees baseball immortal Joe DiMaggio became the blueprint for the all-American relationship – athletic brawn and the Hollywood bombshell. Madonna reframed the relationship as one of rock star excess when she dated Dennis Rodman during his Chicago Bulls heyday.
In most cases, the couple became more famous together than they were apart, but in this instance it really is more Swift putting Kelce on the map (however impossible that might be for gridiron purists to even remotely entertain).
Kelce has made no secret of his desire for a post-playing career in Hollywood, signing with the high-powered agency CAA earlier this year. On SNL, he flashed a keen wit and physical comedy chops while sending up female-focused NFL charity drives and gay-straight male relationships. His desire for fame away from the field goes back to 2016, when he starred in an E! Network reality TV dating series called Catching Kelce, where women from each of the 50 states competed to be "his perfect teammate".
The dating show also helped establish Kelce's clear embrace of Black culture. At the time, Kelce cut his hair in a faded Caesar style straight from the Black barbershop, hung diamonds on his ears, showed up for work in streetwear and celebrated touchdowns by breaking into the stanky leg. He dated mostly Black women, including the Access Hollywood correspondent Zuri Hall and the journalist and model Kayla Nicole, and posed for the hip-hop culture magazine Complex. Kelce's embrace of Black culture differentiated him from his older brother, Jason – a standout on the NFL's Philadelphia Eagles – who is more like your friendly neighborhood lumberjack.
Things looked and felt very different on Sunday, however. Kelce is now sporting a crew cut and 70s mustache, looking for all the world like a Missouri sheriff's deputy. ("Went from 'yo bro' to 'do you know why I stopped ya'," one X user wrote on Sunday).
"We thought he was comfortable being sort of in between worlds in the way that he was," said Kristen Warner, a Cornell University media studies professor. "But this is his beautillion, to borrow Black fraternity language, his reintroduction into a society that he was not able to participate in because he had made an alliance, it seemed, with Black folks."
Still, it's not as if Kelce hasn't offered Swift a publicity boost. Although her star has never been bigger, before the link to Kelce, Swift was rumored to be involved with Matty Healy, the 1975 frontman with a well-documented history of racist and sexist comments, most notably offending the rapper Ice Spice. Swift's fans demanded an explanation; when it didn't materialize, they doubled down by canceling purchase orders of Swift albums and tour tickets. Healy was eventually compelled to apologize for his remarks, while Swift avoided comment altogether before announcing a collaboration with Ice Spice.
So there is a mutual benefit to what seems like the hottest new relationship in the US. It might just be for a few months, until the next break-up song gets written, but Kelce and Swift are for now America's newest power couple. And the biggest winner is the sport of American football. For as long as announcers can keep making sly references to Swift songs when Kelce scores, the NFL will delight in the fact that millions of women and girls are now following this football meet-cute.