American hopes of retaining the Ryder Cup lay in Roman ruins after Europe delivered a clean sweep in the opening session for the first time. As shadows lengthened, hopes grew for those in United States colours. But the combined actions of Viktor Hovland, Jon Rahm and Justin Rose kept Zach Johnson's beleaguered team at arm's length.
Europe will head into day two of the 44th Ryder Cup with a 6½–1½ advantage; not insurmountable but enough to trigger mild panic in the US locker room. Optimism had turned to despair. History is on Europe's side; 10 of the 12 teams who have led by three or more after day one have lifted the Ryder Cup.
Europe's foursomes specialism is such that 4-0 in the morning could not be classed as a huge shock. The fourball element was considerably tighter. Gripping, in fact, with all but one match reaching the 18th hole. Europe's attitude ultimately shone through.
The canter was produced by Rory McIlroy and a partner, Matt Fitzpatrick, who morphed into Matt Fitzmagic. The Yorkshireman had not won a Ryder Cup point prior to arrival at Marco Simone and duly played like a man possessed. With Fitzpatrick holing putts from different postcodes, Europe rampaged to six up after seven holes. McIlroy's score had only counted once in that run. Collin Morikawa and Xander Schauffele subsequently proved a minor annoyance to the Europeans but a 5&3 outcome was reflective of the gulf between pairings.
High drama arrived elsewhere. When Justin Thomas and Jordan Spieth moved one up on Hovland and Tyrrell Hatton, it was the first time the Americans had led a match in this event. This was at 2pm; the first tee time was 7.35am. As Thomas and Spieth moved two up after 13, the US had a pulse. Europe won the 14th and 16th – where Thomas missed from close range – before Hovland curled in a wonderful, 20ft putt at the last. Halved match.
Enter Rahm. He and Nicolai Højgaard were two up on Brooks Koepka and Scottie Scheffler after eight but the Americans jabbed back. Rahm squared the match by chipping in for an eagle two on the 16th. Scheffler's birdie on the penultimate hole restored the US leeway. Rahm saved the best until last, the Masters champion leaping with joy after converting from the front of the 18th green for another eagle. The US had taken just half a point from another game they seemed sure to win.
Johnson had cause to place his faith in Wyndham Clark and Max Homa. They were two up on Rose and Robert MacIntyre with as many holes to play. Rose, the most experienced man on the European team, finished birdie-birdie to break US hearts. With eight matches of this Ryder Cup completed, the visiting team is still to win one of them.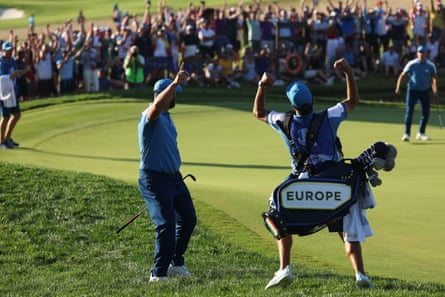 The morning pace was set by Rahm and Hatton. They were two up on Scheffler and Sam Burns by the turn. A birdie at the 11th and eagle on the 12th handed Europe a margin for error they never looked likely to need. Rahm and Hatton closed out a 4&3 win to place the first point on the board.
Hovland and Ludvig Åberg triumphed over Homa and Brian Harman in a match that was only marginally more competitive. Europe won four of the first six holes – and lost the other two – to sit two up. Hovland set the tone by chipping in at the first. "Not bad for a guy they say can't chip," said Shane Lowry. The 4th was to prove the last hole the Americans would claim. By the halved 15th, hands were shaken.
There had been some rumbles of discontent over the wildcard selection of Lowry. The Irishman therefore arrived in Italy with a point to prove. So far, so good; Lowry and the debutant Sepp Straka were 2&1 winners over Rickie Fowler and Morikawa. "The crowd got on our side fairly quickly," Lowry said. "You could hear the roars just echoing around the course and it was a very special morning of golf."
Fleetwood Mac completed the whitewash. Pre-tournament whispers of this pairing proved more than a rumour. McIlroy and Tommy Fleetwood had obvious chemistry as well as a compatible golf games on the way to seeing off Schauffele and Patrick Cantlay, 2&1. McIlroy's laser-like iron shot to tap in range from the 17th tee completed the job. "Without being cheesy, think it's a dream to play with Rory McIlroy in front of so many people," said Fleetwood. "Going out there with him in a Ryder Cup is very, very cool.
"We played well together. It is a very high pressure situation but having someone that you have known for so long, that you're close to and that it's easy with makes a huge difference." The obvious message from Donald: don't stop. For the first time in his career, McIlroy has two Friday victories in a Ryder Cup.
This foursomes rout left Johnson with questions to ponder. He was inevitably criticised for leaving Koepka, Thomas, Spieth and Clark out of the morning session. The bigger picture was perhaps the more pertinent one. Most of the US players had not sampled competitive golf between the conclusion of the Tour Championship on 27 August and this Ryder Cup. Rustiness felt inevitable.
The winner of this great sporting spectacle currently feels that way. But only currently. The studious Donald will know only too well.