Beer money
There has been plenty of talk about the plight of caddies this past week, heaving heavy bags up, down, and around its hilly 18 holes in 30C heat, but spare a thought for the poor beer vendors who have to do a similar thing with 50 Peronis strapped to their backs in cooler bags.
The difference is that unlike the caddies, they do not keep their tips, let alone drink one of the icy-cold cans they are carrying. The only way to get through it is to flog them off as quick as possible to lighten the load.
Which means they are what an estate agent could describe as "motivated sellers". And that buying one of them can be justified as an act of kindness.
Standing room only
The most popular drinking spot on the course is down by the 16th, where the banks form a natural amphitheatre around the green and its big screen. You can sit in the shade cast by the marquees either side and watch the carp try to catch the dragonflies that skim across the top of the pond.
The only problem with it on Saturday morning was the group of US fans who had staked out a spot right by the ropes. Since they insisted on standing up to watch, they were blocking the view for the couple of hundred Europeans behind them.
After an hour of this, they were treated to a raucous chant of "Sit. Sit. Sit." The Americans resisted stoically, their resolve stiffer than the team they were cheering.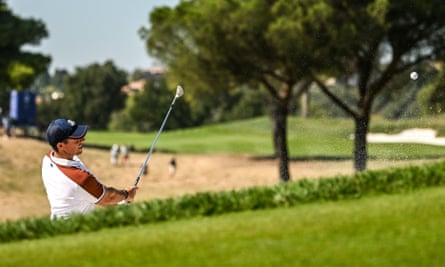 Family matters
Over on the 6th, one Irish fan was so incensed by the number of people who came swarming around the green when Rory McIlroy arrived there in the morning's foursomes that he could not help but shout out at the man squatting in front of him: "Hey. Sit all the way down will you. I've been waiting here all morning to watch Rory play this shot. It means a lot."
He might have realised it meant a fair bit to the man he was heckling, McIlroy's dad, Gerry, who gave him short shrift.