After the misery of cheering from the stands as her opponents took the medals she was there to win, Simone Biles's Tokyo Olympics in 2021 ended on an unforgettable note of defiance. She had suffered throughout the competition with the twisties, a severe mental block that causes a gymnast to lose air awareness when twisting, but Biles returned on the final day and demonstrated her resilience by winning bronze on the balance beam. She described the medal as more meaningful than her countless golds.
For almost two years, it was unclear whether that would be her final as an elite gymnast. But she returned and on Sunday at the Artistic Gymnastics World Championships in Antwerp the American will take part at a major competition for the first time since the Olympics, the next step in an already remarkable comeback that has added another layer to her story.
During her indefinite leave from the strict regimen and training hours, the 26-year-old took holidays, married her fiance, Jonathan Owens, and she lived. It would have been unsurprising and reasonable if, having won everything she could hope to win in such a gruelling sport that has taken her to hell and back, she decided it was time to move on.
For a long time, she was uncertain: "I'm still taking time for myself just to work on myself, mentally and physically," she said last September.
Gossip tends to spread quickly outside gymnastics halls and major moves in the sport are usually preceded by ample rumours, yet when she did fully commit to a return, Biles somehow managed to keep her intentions quiet. In early July, her name appeared on the list for the US's monthly team camp, the first signal of her intention to return. It was still hard to know what to expect for this year; gymnasts often ease their way back in after long layoffs, initially competing routines with lower difficulty. Not Biles. A few days later, she won the all-around competition at that camp by three and a half points.
Since then, things have returned to normal at warp speed. In her first competition back, the US Classic in early August, Biles won the event by five points. A few weeks later, she won a record eighth all-around title at the national championships. Even after an uncharacteristically nervous, error-strewn day during the world team selection camp, she won again to book her place at the world championships. Biles has recorded the three highest all-around scores of the year and she returns as clearly the best in the world.
The philosophy behind the comeback has been as striking as her immediate success. Biles believed one of the numerous reasons for the emergence of her twisties was the pressure imposed on her by others, including US Gymnastics, before Tokyo.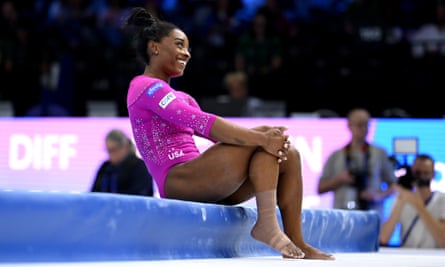 Goal-setting is a central part of gymnastics, with athletes constantly aiming to peak in time for the Olympics, but Biles has addressed the pressure by staying in the moment and focusing on her work. Even as her training ramped up and singular skills morphed into full routines, she made no explicit plan to compete this year until, suddenly, she was ready.
"A couple of weeks before classics, we were like: 'OK, we need a leo[tard], because we're competing,'" she said after the US selection camp. "And I think that's how the year has gone. 'OK, you've been selected for worlds camp;' 'You're going to worlds now.' I really don't think it was set in stone how far I was going to go this year. So I think it's a surprise and a shock to all of us."
Working through the twisties and regaining her skills of old has been a difficult process that is far from complete. She is still not competing her most difficult twisting skills, including her eponymous triple-double on floor. But in some ways, she is even better. It is a reflection of her staggering talent that instead of her usual Amanar vault, which contains two and a half twists, Biles has again taken on the most difficult women's vault of all, the Yurchenko double pike.
While Biles introduced it effectively in 2021, even before her bout of twisties it was not clear if she would risk competing in the vault in Tokyo. As she returned this year, it seemed reasonable to assume the vault would not resurface until 2024, if ever.
It is not only back, but it has been her main vault since that first national team camp in July. She has completed it consistently throughout the summer, doing so with sublime execution. If she lands it in Antwerp, the skill will be her fifth eponymous element.
Ten years ago, Biles emerged for her world championship debut in Antwerp as a 16-year-old. Having arrived in the city thinking she would finish somewhere among the top six, she tore through the competition, winning two golds and four medals in total. At 26, she returns to the same arena seeking her sixth world all-around title having established such incredible longevity in a career that has lasted 10 years and, thankfully, still counting.
In 2013, Antwerp also marked the debut world championships for Max Whitlock, now Great Britain's greatest gymnast. After taking a break following his Olympic gold on pommel horse in Tokyo, this event is also the venue for his comeback. On Saturday, he returned to major competition with a strong 15.233 on pommel horse that should be enough for a place in the event final next Saturday.