Rory McIlroy went to bed on Saturday night in one hell of a strop. He'd lost his fourball match that afternoon, but that wasn't the real issue. The Americans had celebrated by exuberantly waving their caps in solidarity with Patrick Cantlay, but that wasn't the problem either.
What had really enraged him was the antics of Cantlay's caddie Joe LaCava, getting in McIlroy's face and whipping up the crowd just as he was about to line up a match‑saving putt. McIlroy left that 18th green angrier than he had ever been on a golf course and he was still in a blind rage when he returned to his chauffeured transport a little while later.
From some dark and inscrutable place, he had been possessed with the idea of storming into the American locker room and telling them exactly what he thought of them. Spotting Justin Thomas's caddie in the park, he unleashed a tirade, advancing on him before being dragged back by Shane Lowry. The footage was on social media within minutes. And so when McIlroy arose on Sunday morning he decided – as you do – to spend a few moments with the choice wisdom of the Roman philosopher-emperor Marcus Aurelius. "I needed to calm myself down," he said later. "Because I could have let it bring me down the wrong path, but I didn't."
In the final book of his celebrated Meditations, Aurelius writes: "First, do nothing inconsiderately, nor without a purpose. Second, make thy acts refer to nothing else than to a social end." Alas, Aurelius neglects to mention anything about starting a ruck in a car park. Perhaps that bit got cut out of the first draft. Indeed, McIlroy's rationale raised an intriguing question: if offering out Bones Mackay is the right path, then what exactly would the wrong one have been?
Within a few holes of his singles match against Sam Burns, we got a little closer to discovering the answer. The European fans serenaded him with their now‑familiar rendition of Zombie by the Cranberries: "He's in your head, in your head, Rory, Rory, Rory‑ry‑ry …" Meanwhile, the world No 2 had locked himself away inside his own head. Even as the red blocks began to assemble on the scoreboards, he kept his gaze fixed straight ahead, on the ball and the target that he intended to attack directly.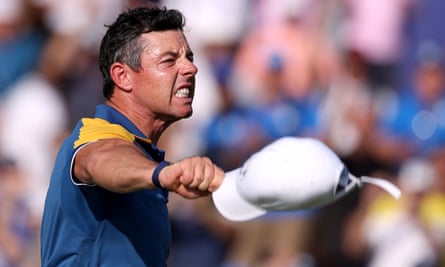 There is a devastating simplicity to McIlroy's golf at its most aggressive. It is as if he can barely see the green at all: everything else beyond that billowing flag may as well be irrelevance. Already 1up going into the 3rd, he fired his approach high and straight, landing just 8ft from the cup and stroking the slippery birdie putt down the hill with all the assurance of a man catching a grape in his mouth. By the 7th hole he was 3up, and on a day when Europe could afford to endure a few bumps in the road, McIlroy was resolute that he would not be one of them.
A perfect approach to the par‑three 17th sealed the deal. There were embraces, sighs, even a few tears as he reflected on what this all meant. For McIlroy has been harbouring a different kind of resentment for the last two years. At Whistling Straits in 2021 he arrived as Europe's talisman and left as its biggest disappointment: just one point out of four, and the indignity of being benched for the first time in his Ryder Cup career. This was a riposte of sorts, but it was also a kind of personal revenge, a matter not just of team glory but individual honour, a reassurance that he is still the player he thinks he is.
It feels curious to recall that McIlroy was actually one of Europe's poorer performers on that flawless Friday morning, dragged through by Tommy Fleetwood against an indifferent Cantlay and Xander Schauffele. Something seems to have clicked in him from that point, a determination not just to contribute but to lead. The clutch putts have been dropping. The galleries have waved and danced to his tune. The result: four points, the richest harvest of his career, and the best of all 24 golfers in Rome this week. Turns out LaCava picked the wrong guy with whom to start a beef.
And perhaps it should not surprise us that McIlroy produced his best golf in the shadow of a storm. He has always been an unusually emotional performer, spurred not just by personal accolades but by the idea of playing for something larger than himself. Is it any real coincidence that his recent return to form has come in the wake of the LIV Golf earthquake and his vocal opposition to it? Perhaps that volatility is part of the reason he is about to mark a decade without a major championship. But it also makes him the perfect Ryder Cup animal, the blood in Europe's veins, a captain in all but name.
A little before 7pm Italian time, McIlroy and his jubilant colleagues took to the dais to answer questions. He sat in the top row, plonked his feet on the table, sipped a beer and cracked jokes, looking finally like a man at one with the world. You can keep your Roman philosophy and your positive mantras. It turns out the only thing McIlroy ever really needed to find peace was winning.