For most elite gymnasts, after a year out of training and a relatively short amount of time training at full intensity again, it might be advisable to start slowly in competition and ease back to full difficulty. But Simone Biles does nothing by half.
After a two-year absence, in her first major competition since the Tokyo Olympics, the 26-year-old marked her return at the World Artistic Gymnastics Championships in Antwerp by landing her Yurchenko double pike vault in an international competition for the first time. The vault, the most difficult being attempted in women's gymnastics, will be named the Biles II.
Biles finished the first day of the two-day qualifying round as leader in the women's all‑around with 58.865 – the highest international all-around score of this Olympic cycle and one that is unlikely to be beaten. She will attempt to win a record-extending sixth world all‑around title on Friday.
Great Britain, meanwhile, continues to establish themselves as one of the most formidable gymnastics teams. After the men qualified in third place behind Japan and USA, the women's team – silver medallists last year – moved into second place after day one with a strong score of 166.130. Their success was driven by a spectacular showing from Jessica Gadirova, who sits in third place in the women's all-around.
As soon as Biles emerged in the Sportpaleis, the Belgian crowd's roars made its admiration clear. Alongside her USA teammates, Biles began her evening on the uneven bars, coolly working her way through an excellent routine on her least favourite apparatus and sticking her dismount as she scored 14.400. She carried that energy until the end.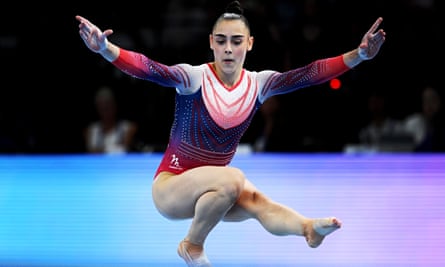 Biles marched through a brilliant balance beam routine that yielded a score of 14.566; nearly a point higher than the score (13.6) that won the balance beam world title last year. On the floor exercise, where she is a five-time world champion, she effortlessly performed her difficult routine, extending her lead with a score of 14.633.
Although Biles first showcased the Yurchenko double pike in 2021, she had never done it at an international event, which is required for a skill to be named after a gymnast. Since her return this year, Biles has remarkably opted to perform the Yurchenko double pike as her main vault and she has performed it consistently throughout the summer.
In the final rotation on Sunday, Biles performed it with her signature amplitude, form and ease, flying high towards the rafters and actually injecting too much power into the vault as she landed with a large step back. The vault was scored 15.266, which included a neutral deduction of 0.5 because her coach, Laurent Landi, was standing on the vault mat as a reassuring presence while she attempted such a difficult skill.
Despite offering up half a point to all rivals, Biles finished 1.933 points ahead of her compatriot Shilese Jones, the all-around silver medallist last year, who enjoyed an excellent day herself. At the end of the first day, Biles leads the all-around, vault, balance beam and floor exercise standings, with Jones ahead on the uneven bars.
It was an ideal start to what could be her most historic world title. A decade after making her major championship debut in this very arena, Biles now has 32 world and Olympic medals. She needs two more to become the most decorated gymnast, male or female, of all time.
Biles was not the only gymnast to impress with an incredibly difficult vault. One year after becoming the first British woman to clinch a women's all-around medal at a world championships, Gadirova demonstrated further improvements. She now performs the Cheng vault, another one of the most challenging vaults in the sport. It significantly elevates her scoring potential and places her among Jones and Rebeca Andrade, the Brazilian reigning world all-around champion, as the standout all-around gymnasts behind Biles. Despite taking a small hop out of bounds on the Cheng vault, she landed it well.
Already a world champion on the floor exercise last year, Gadirova also debuted a double twisting double straight as the new opening tumbling pass in her floor routine and her score of 14.4 placed her just two-tenths behind Biles. Gadirova's all‑around score of 56.766 is a personal best, 1.5 points higher than her score to clinch the bronze medal last year.
Gadirova will likely be joined in the all-around final by Ondine Achampong, who pulled off a small upset by outscoring Alice Kinsella by three-hundredths of a point. Only two gymnasts from each country advance to the final. Ruby Evans, the first Welsh gymnast to be named in a Great Britain squad in 17 years, and Georgia-Mae Fenton rounded off a brilliant GB team performance.