Ewan Murray
Player of the tournament Rory "Rocky" McIlroy was due a massive Ryder Cup, and he delivered one. McIlroy was Europe's top points scorer for the first time. Beyond bare statistics, his off-course influence galvanised the winners.
Rookie of the tournament If there was one American who did not deserve to be on the losing side, it was Max Homa. Zach Johnson's faith in Homa was demonstrated by his appearance in all five sessions.
Best celebration Bob MacIntyre, belting out 500 Miles by the Proclaimers, when ably assisted by McIlroy, Justin Rose and others on the European team bus. MacIntyre enjoyed a memorable Ryder Cup debut.
Best match For grisly reasons. The 9&7 trouncing of Brooks Koepka and Scottie Scheffler by Ludvig Åberg and Viktor Hovland was utterly compelling. The Americans were so bad you couldn't take your eyes off it.
Funniest moment "You've had a shit time of it, haven't you?" says Shane Lowry to Åberg. "Three months ago, you were in college. Bet you wish you were back there …"
In 2025 Europe will … Require team earmuffs. Bethpage is wild enough for major championships. With the US looking to reclaim the Ryder Cup, the New York crowd will be whipped into a frenzy.
Andy Bull
Player of the tournament Viktor Hovland. Set the whole thing rolling with his extraordinary first-morning birdie on the 1st, and carried on playing that way right through the weekend.
Rookie of the tournament Max Homa. Played all five rounds, won three points, felt at points like the only US player who had brought his best game on the first two days.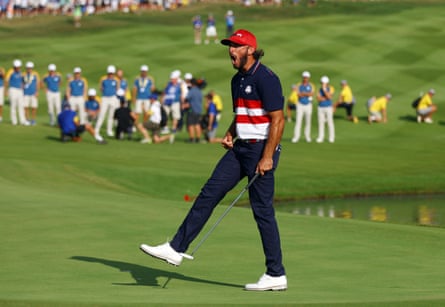 Best celebration Shane Lowry, who seemed, somehow, to be beating his chest and bellowing in the background every time someone on the team made a big putt.
Best match Jon Rahm's to-and-fro with Scottie Scheffler in the opening singles match on Sunday, in which the lead see-sawed six times before they finished all-square on 18.
Funniest moment Rory McIlroy earnestly explaining that he is actually a devoted Stoic just a few hours after the whole world had watched him offering out a caddie in a car park.
In 2025 Europe will … Lose, as away teams always seem to, but, led by Luke Donald again, do a much better job of it than they managed at Whistling Straits in 2021.
Sean Ingle
Player of the tournament Victor Hovland. You could easily make a case for Rory McIlroy, who had the best overall record, and Jon Rahm, who was unbeaten and clutch. But statistically Hovland was the best player on either team by strokes gained, and went 3-1-1. And the way he and Ludwig Åberg destroyed Brooks Koepka and Scottie Scheffler in the Saturday foursomes will live long in the memory.
Rookie of the tournament Max Homa. The only American to play all five matches and had the best record of the US team at 3-1-1. His consistently brilliant play ended with an up and down on 18 in the singles to win against Matt Fitzpatrick, which kept the US alive for a little longer.
Best celebration It has to be the American team waving their hats to Patrick Cantlay after his 43-foot putt on 18 beat McIlroy and Tommy Fleetwood in the Saturday fourballs. Not sure Rory would agree, mind.
Best match That McIlroy/Matt Fitzpatrick versus Cantlay and Wyndham Clark on Saturday was sensational both for the quality of the golf and the 18th-green shenanigans. Honourable mentions go to Rahm's and Nicolai Højgaard's fourballs against Scheffler and Koepka, in which the Spaniard hit two eagles in three holes to tie. And the Rahm v Scheffler epic singles match on Sunday, which the Spaniard again tied on the final green.
Funniest moment McIlroy being held back by Shane Lowry in the car park during a furious confrontation with Justin Thomas's caddie Jim "Bones" Mackay after the final fourball on Saturday got heated. Afterwards Lowry said he had to put McIlroy in a plunge pool to get him to calm down.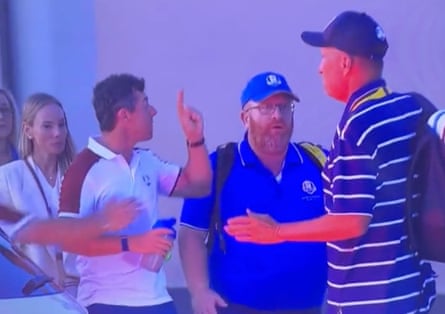 In 2025 Europe will … Hopefully make it a lot closer in the US than they did last time. The Ryder Cup could do with its first away victory since Medinah in 2012.
Jonathan Liew
Player of the tournament Viktor Hovland. A captain's dream, a maestro and a mentor, and a player at the very peak of his confidence.
Rookie of the tournament Max Homa. Brilliant in a lost cause. A clutch player, a pure match play animal and surely a lock for 2025.
Best celebration Basically anything by Shane Lowry.
Best match Jon Rahm v Scottie Scheffler on Sunday. Golf as boxing: a crucial and utterly absorbing half played by two men running on fumes.
Funniest moment I mean, you can't really look past Rory McIlroy offering out a caddie in the car park, can you?
In 2025 Europe will … Lose heavily. That's just the way these things go.