It's just over a year since Gary Neville declared US owners of English soccer clubs "a clear and present danger to the pyramid and fabric of the game". The comment provoked a furore but the former England full-back turned high-profile pundit was unrepentant, insisting that if profit is the priority, there are vital aspects of the roles of soccer clubs that risk being lost.
The issue, clearly, is not restricted to US owners. It's unlikely that anybody who is not a fan who takes over a club is going to be acting primarily in the best interests of the community it represents. But given half the 20 Premier League clubs (and seven of the 24 Championship clubs) are part- or fully-owned by Americans or US companies, and given the prevalence of private equity companies whose sole interest is short-term profit, it's perhaps not surprising that it was Americans who drew Neville's ire, particularly given the chaos induced by the Glazer family at Manchester United, the club for which he used to play.
Saturday's 1-0 home reverse to (the US majority-owned) Crystal Palace meant they had lost four of their first seven league games for the first time since 1989-90. That was a season in which Alex Ferguson, who had apparently faced the sack in January, led his side to the FA Cup in May, inaugurating two decades of extraordinary success. It's fair to say nobody is expecting this season to end in a similar fashion for Erik ten Hag.
The optimism of last season, when Ten Hag, steely-eyed and single-minded, seemed to have the vision to turn the club around, has gone. To an extent he has been undermined by events – a rash of injuries and the unavailability of Antony and Jadon Sancho, but he has also been undone by the culture at the club. There has been a lack of investment in the stadium, the academy, the recruitment department and media facilities with the result that Old Trafford stands as a shabby emblem of the Glazers' reign. Significant money has been spent on players but the now apparently paused plan to sell the club has dragged on for most of this year and has only added to the uncertainty. And all the time the Glazers have been drawing dividends, having already saddled the club with interest repayments to pay for their leveraged buyout.
The most common complaint after Neville's initial comment was that fresh thinking from external sources can be good. Which is true, but not all ideas are equal. Todd Boehly's suggestion that the Premier League could learn from US sports and institute an all-star game was an enormous red flag about his understanding of soccer. There are numerous logistical reasons why an all-star game is a bad idea, but it doesn't happen fundamentally because soccer doesn't work like that. Teams have to be balanced and gelled and coaxed into coherence over weeks and months: you can't just gather 11 talented players and hope for the best – although that does explain his transfer policy at Chelsea.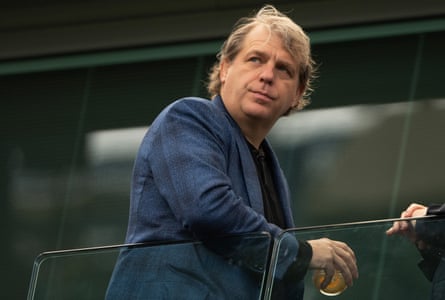 Long-term deals for young players may make sense in terms of complying with financial fair play regulations through amortisation, but they have been largely financed by the sake of academy products. Imagine Mason Mount, Callum Hudson-Odoi, Lewis Hall and Billy Gilmour had not left the club and more than $1bn had not been spent over the past 15 months: would Chelsea be in a worse place now? It's true that the underlying data indicates performances have not been as bad as results suggest but, then, more experienced players might not miss so many chances. The danger now is that gifted youth is being undermined for the want of experienced players to guide them.
There's a reason nobody has won the league with a nursery before. Perhaps Chelsea will come good, perhaps the great disruption will expose the flaws in team-building orthodoxy but at the moment, as confidence drains, they have a squad of anxious players whose value is waning by the week.
Arsenal and Liverpool, it's true, represent more successful US investment (and 18% of Manchester City is owned by Silver Lake, a US private equity firm), but all three of those clubs were quick enough to sign up to the European Super League project in 2021, something opposed by a vast majority of fans. And that, really, is the biggest issue.
It's not just about success. It's about values, something which American soccer fans seem to understand more than American owners. When Ellis Short, a US businessman, owned Sunderland, quite aside from running the club so haplessly they were related to the third flight for only the second time in their history, he reduced support to its charitable arm, the Foundation of Light. What did he care for what the club could do for its community?
That's why there is suspicion of any owner from abroad. Even if they understand football, as the Glazers and Boehly seemingly don't, do they have any feel for the traditions and responsibilities of clubs, which are not just businesses but custodians of a tradition and social institutions?
This is an extract from Soccer with Jonathan Wilson, a weekly look from the Guardian US at the game in Europe and beyond. Subscribe for free here. Have a question for Jonathan? Email soccerwithj[email protected], and he'll answer the best in a future edition