This has been a tale of three seasons for the Arizona Diamondbacks, who were 50-34 and three games up in the National League West on July 1, lost 25 of their next 32 games to fall 12 ½ games back on Aug. 11 and went 27-19 over the final six weeks to claim the last NL wild-card spot with 84 wins, tied with the Miami Marlins for the least of the 12 playoff teams.
But as the Philadelphia Phillies proved in 2022, when they reached the World Series despite a pedestrian 87-75 regular-season record, what happens from April through September doesn't always matter in October.
So don't put too much stock in the Dodgers going 8-5 against Arizona this season and winning their last five games against the Diamondbacks, sweeping a two-game series in Arizona on Aug. 8-9 and a three-game set in Los Angeles on Aug. 28-30.
Arizona, the third team in major league history to lose at least 110 games and make the playoffs two years later, swept the host Milwaukee Brewers in a best-of-three first-round series after scoring just three runs in 42 innings of its final five regular-season games.
That upset gives the streaky and unpredictable Diamondbacks an opportunity for an even bigger upset, of the heavily favored Dodgers in an NL Division Series.
Here are nine things to know about the Diamondbacks heading into Game 1 of the NLDS on Saturday:
1. It takes a thief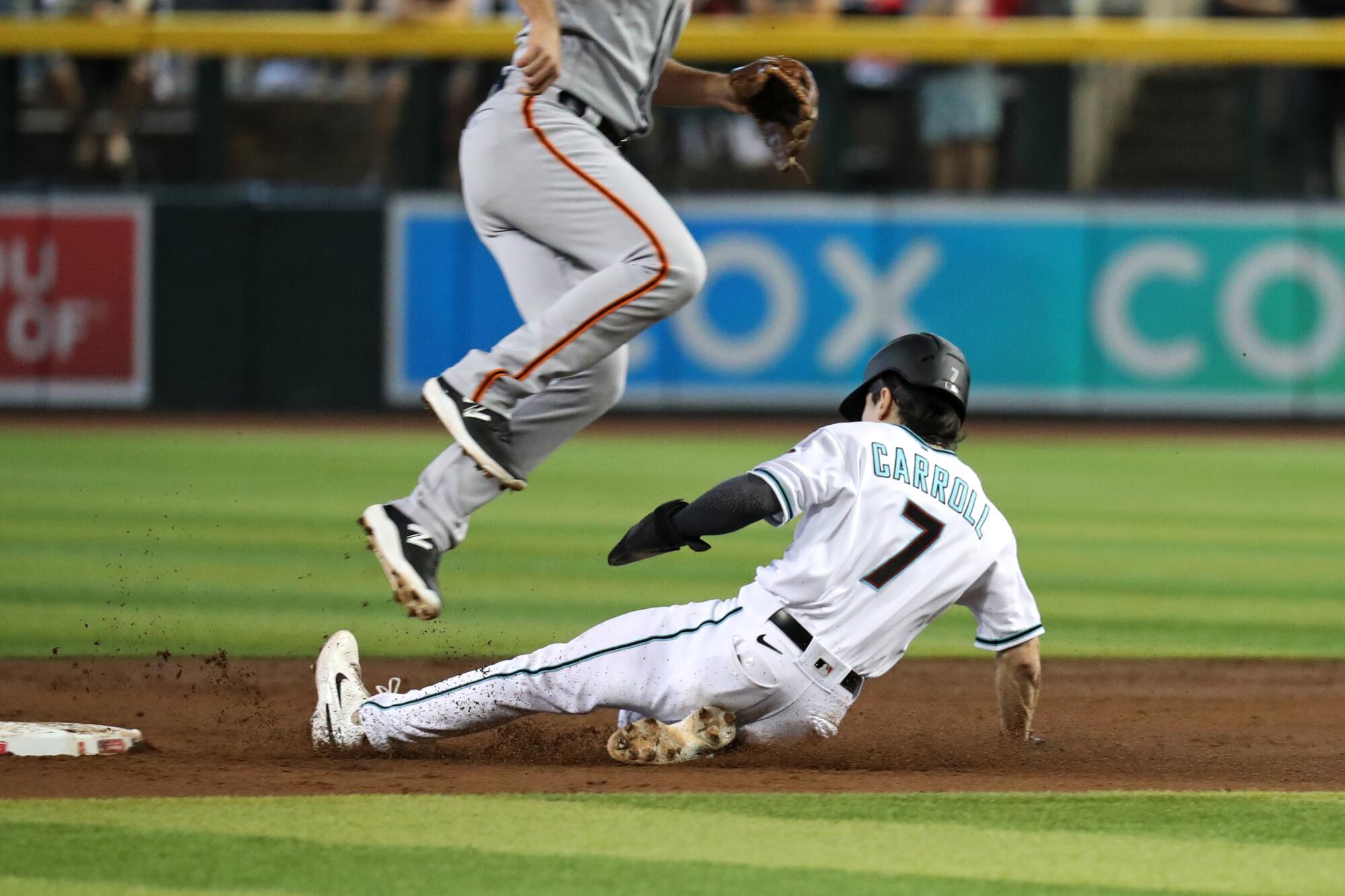 Arizona ranked second in the major leagues with 166 stolen bases in 192 attempts, an 86% success rate that was the second-best in baseball, the Diamondbacks pressure defenses by going from first-to-third on singles and taking extra bases when they can, and they led baseball with 44 triples.
Rookie right fielder and leadoff man Corbin Carroll ranked third in the league with 54 stolen bases in 59 attempts, and four other players had at least 10 stolen bases.
The antidote for the Dodgers: Get early leads and continue to tack on like they did in three of their five August wins over Arizona, when they yielded only two stolen bases while outscoring the Diamondbacks 30-9 in the five games.
2. Stealthy star
Christian Walker has zero All-Star Game selections and has won just one Gold Glove Award in five full big-league seasons, but he has quietly emerged as one of the best all-around first basemen in the game.
The right-handed-hitting slugger has put together back-to-back monster seasons, batting .242 with an .804 on-base-plus-slugging percentage, 36 homers and 94 RBIs in 2022 and .258 with an .830 OPS, 33 homers and 103 RBIs in 2023.
Walker's two-run double, a 112-mph laser to left-center field, scored two huge insurance runs in the ninth inning of Tuesday night's 6-3 Game 1 victory over the Brewers. He also led all first basemen with 12 outs above average and ranked second with nine defensive runs saved, according to Fangraphs, committing two errors in 152 games.
3. Diminutive dynamo
The left-handed-hitting Carroll was the first rookie in major league history to hit 25 homers and steal 50 bases in a season, but power and speed are only two of the many tools the 23-year-old from Seattle flashed this season.
Carroll, who grew up idolizing former Mariners star Ichiro Suzuki, hit .285 with an .868 OPS, 30 doubles, 10 triples and scored a team-high 116 runs and accumulated four outs above average as a center fielder and right fielder.
And don't let that 5-foot-10, 165–pound frame fool you. Carroll crushed a two-run homer off Milwaukee ace Corbin Burnes that traveled 443 feet to right field to jump-start Arizona's comeback victory in Game 1.
4. Pocket aces
The Dodgers roughed up Arizona's top two starting pitchers the last time they faced them, Zac Gallen for six earned runs and nine hits, including four homers, in 5 ⅓ innings of a 7-4 win on Aug. 28 and Merrill Kelly for seven earned runs and 12 hits in five innings of a 9-1 win on Aug. 30.
But those were aberrations for Gallen, an NL Cy Young Award candidate who used his five-pitch mix to go 17-9 with a 3.47 ERA in 34 starts, with 220 strikeouts and 47 walks in 210 innings, and Kelly, who used his six-pitch mix to go 12-8 with a 3.29 ERA in 30 starts, with 187 strikeouts and 69 walks in 177 ⅔ innings.
5. Bullpen boost
Unable to add a starting pitcher at the trade deadline, general manager Mike Hazen acquired closer Paul Sewald from Seattle, a move that bumped everyone else in a struggling bullpen back another inning.
Sewald, a fastball-slider specialist, went 0-1 with a 3.57 ERA in 20 games, with 13 saves and 15 chances. Right-hander Kevin Ginkel has been dominant in a setup role, going 9-1 with a 2.48 ERA in 60 games.
Sidearm-throwing right-hander Ryan Thompson, signed in August after being released with a 6.11 ERA by Tampa Bay, had a Ryan Brasier-like 0.69 ERA in 13 games for Arizona. Relievers had a 2.31 ERA in September, the third-best mark in baseball, and combined for 6 ⅓ scoreless innings in Game 1 against Milwaukee.
Sewald earned his second save of the series Wednesday and the bullpen threw three scoreless innings.
6. Catch of the day
Gabriel Moreno, the 23-year-old Venezuelan who was acquired with outfielder Lourdes Gurriel Jr. from Toronto for Daulton Varsho last winter, led all big-league catchers with 20 defensive runs saved and threw out 22 of 57 would-be base-stealers for a major league-best 39% success rate.
He is not a huge threat at the plate — he hit .284 with a .747 OPS, seven homers, 19 doubles and 50 RBIs in 111 games — but he hit .317 (13 for 41) with runners in scoring position and two outs and snapped a 3-3 tie with a solo homer in the fourth inning of Tuesday night's win over the Brewers.
Moreno's status could be in question after he took a backswing to the head in Game 2 on Wednesday. Moreno was hit by the bat of Milwaukee's Brice Turang in the second inning and exited the game in the bottom of the third.
7. Flashing leather
Arizona ranked fourth in overall team defense with 46 runs saved, according to Sports Info Solutions, and Alek Thomas (center), Carroll (right) and Gurriel (left) give the Diamondbacks one of baseball's best defensive outfields.
Walker and Moreno provide stellar defense at their positions, and third baseman Evan Longoria showed there's still some spring left in his 37-year-old legs, leaping to catch a Tyrone Taylor line drive to his left with the bases loaded and throwing to second to complete a double play to end the fifth inning Tuesday night.
8. Ketel One
Ketel Marte is not the flashiest of defenders at second base, but the switch-hitter was one of the team's most consistent run-producers this season, batting .276 with an .843 OPS, 25 homers, 26 doubles, nine triples and 82 RBIs, his best season since 2019, when he hit .329 with a .981 OPS, 32 homers, 36 doubles, nine triples and 92 RBIs.
Marte, who bats second behind Carroll, also drew 71 walks while striking out 109 times, providing a key on-base component in front of Walker. In Game 2 against the Brewers, Marte's two-run single in the sixth inning gave the Diamondbacks a 3-2 lead.
9. Sentimental favorite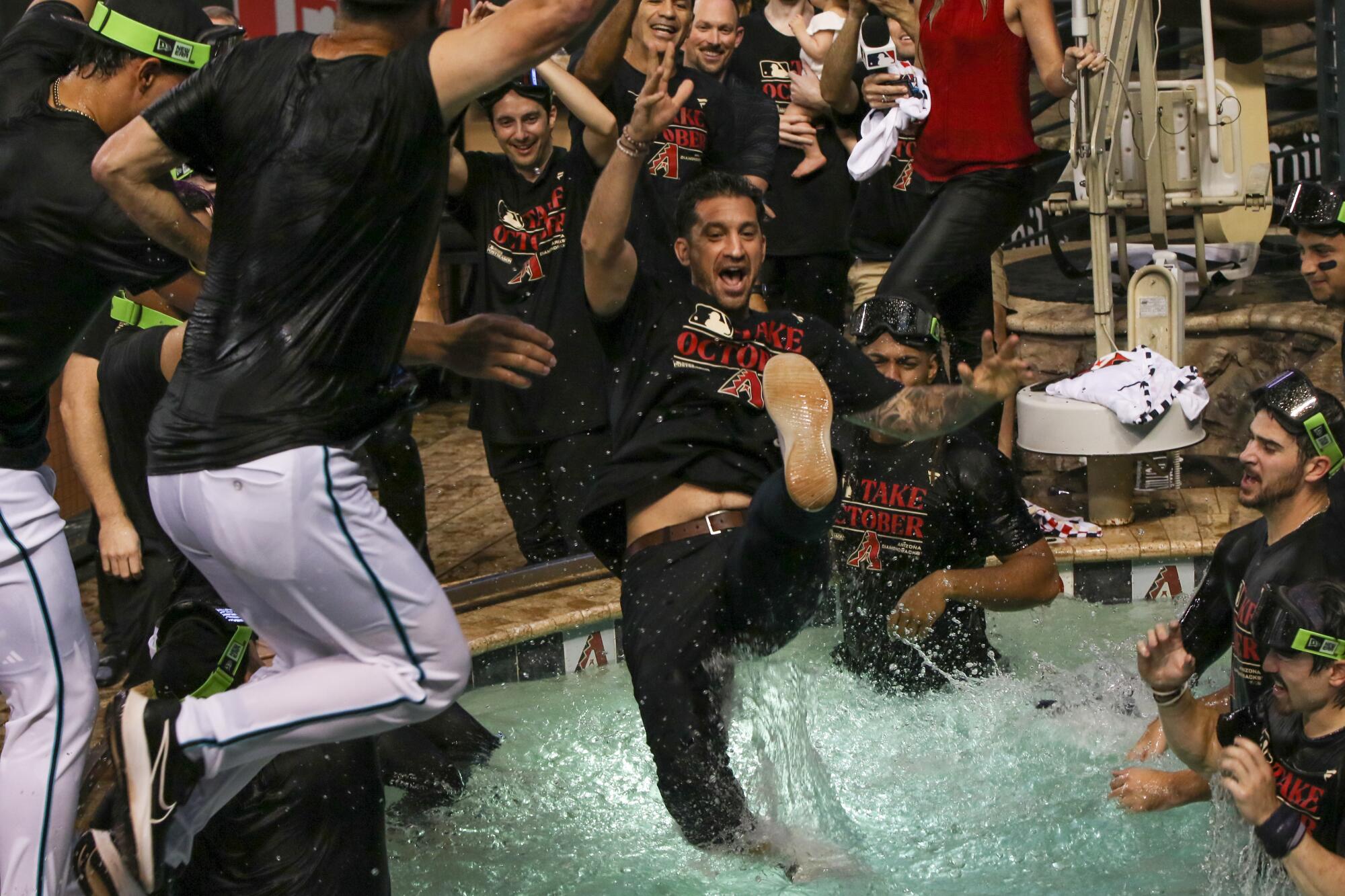 Hazen, in his seventh year as GM, nearly left the game in August 2022 after his wife, Nicole, died following a 26-month battle with glioblastoma, a malignant brain cancer, but his four sons, now ages 13-17, talked him out of it.
Not only did the decision allow Hazen to reap the benefits of his rebuild and celebrate a playoff-clinching victory with a dip in the Chase Field pool last weekend, the GM agreed to a contract extension that is guaranteed through 2028 with a club option for an additional year, the Arizona Republic reported Wednesday morning.