As one teammate, Joscelyn Roberson, was downed by a shock injury in the warm-ups and others were tense under the pressure of international competition, Simone Biles's first final back on Wednesday night gave an appropriate demonstration of the more underrated qualities that have made her so successful for so long.
Biles is certainly the best gymnast in the world, but the 26-year-old's success is also driven by the mental strength that has allowed her to win so consistently and under so much pressure. When her teammates needed her, she was there. Biles's all-around total in the team final was 58.732, 1.633 points higher than the second-best performer and she closed out the night with one of her best-ever floor routines.
On Friday Biles will try to win the world all-around title for a sixth time, a competition in which she remains unbeaten since her debut in Antwerp a decade ago. Between her scores in the qualification round and the team final – by far the two highest international all-around scores of this Olympic quad – and the strong mental state she appears to be in, Biles is the prohibitive favourite to maintain her dominance.
The question is whether anyone will come close enough to at least put her under pressure. The defending champion, Rebeca Andrade, is clearly the most capable. Andrade's trajectory remains one of the most satisfying in the sport's recent history. Despite the immense talent she clearly held as a junior, her potential was constantly stunted by injuries as she tore her anterior cruciate ligaments (ACL) on three separate occasions between 2015 and 2019.
By 2019, there were significant doubts about whether Andrade would ever be healthy enough to thrive. Instead, she returned just in time in 2021 to enjoy an incredible breakout Olympics in Tokyo, winning gold on vault and silver in the all-around, which have catapulted her to greater success. The world all-around title followed last year and on Wednesday she led Brazil to a historic team silver medal. In Biles's absence since Tokyo, she has been the gymnast of this period.
If Biles has taken women's gymnastics to impossible heights that few could have ever imagined, Andrade is the type of gymnast that many fans dreamed of. She combines her great power, amplitude, form, technique and grace across all four apparatuses with boundless charisma. If the 24-year-old competes at her very best on Thursday, Andrade is capable of scoring up to around 58, a huge score, but one that would still rest on mistakes from Biles in order for her to be competitive.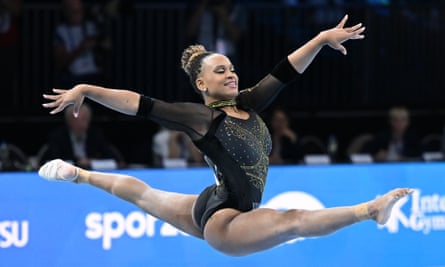 Last weekend, however, the second-highest qualifier was Shilese Jones, Biles's teammate, who at 21 years old has gradually improved to become a top all-around competitor, and is one of the numerous medal contenders. If she can control her extremely difficult Cheng vault, Great Britain's Jessica Gadirova will also be in contention for a medal, as is Mélanie de Jesus dos Santos after leading France to a team bronze medal.
At the US world selection camp last month, Jones came so close to beating Biles in a bizarre meet. After a nervous Biles made numerous mistakes, in the final rotation Jones stepped up to her favourite apparatus, the uneven bars, needing just an average routine in order to win. Instead, Jones made a massive, freak error, brushing her feet on the floor, which cost her a full point penalty and allowed Biles to take the win.
As in Tokyo, where Biles withdrew from five of six finals to focus on her mental health, the event underlined that she is human. But it also showed how difficult it is, physically and mentally, to outperform her even at her worst. If Biles performs well, she will win. If she feels the pressure, her rivals will likely still have to perform out of their skins just to keep up.