Jaxson Hayes had to slam on the brakes.
The Lakers' new center was speaking to the media after the team's third practice of training camp when he saw LeBron James catch a lob and throw down a ferocious dunk.
"Oh my gosh, did you guys just see that?" he asked.
The dunk was flashy; the post-practice work, which included Rui Hachimura at James' side, was not. The two have been on the floor together for much of the offseason with James taking an active role in trying to unlock Hachimura's potential.
Thursday, James said that no other player was with him as much as Hachimura this summer.
"Just Rui," he said.
The Lakers are counting on Hachimura making a leap in his first full season with the team, the combination of his undeniable physical skills with James' tutelage setting the stage for a potential breakout season.
"I'm just trying to attack the rim more," Hachimura said. "I know I've got mid-range, but I'm trying to be more aggressive on the rim. I've been working out a lot, off the court, lifting, weight room too. My body got stronger. I got more footwork. I'm just trying to get more easy points."
In addition to working with James, Hachimura and assistant coach Phil Handy focused on improving the 25-year-old's footwork.
"If I have good footwork, I can get to any spot," Hachimura said. "I already have a mid-range. I have the body and frame. I just have to get my footwork right. That's the kind of stuff we're working on. It's been good."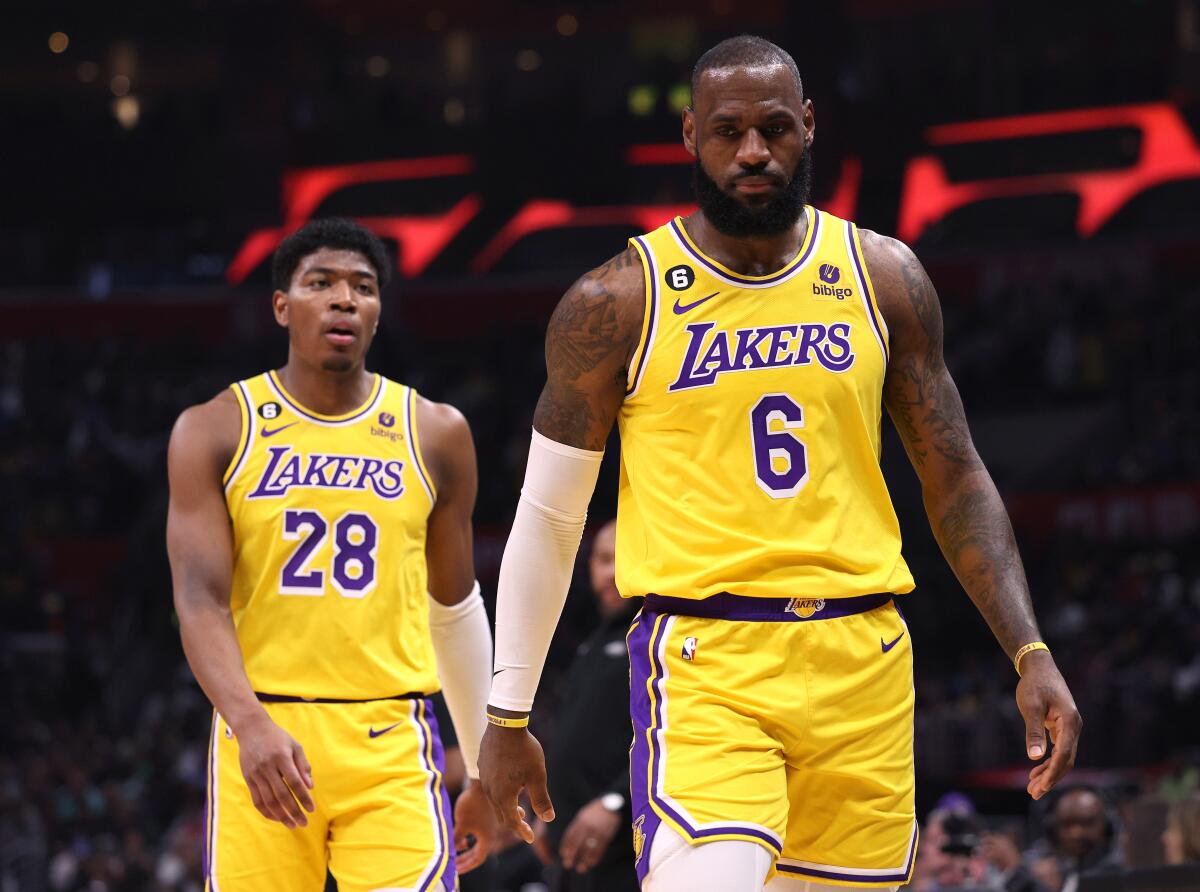 Hachimura is one of the players who had been under consideration for the Lakers' fifth starting spot next to James, Anthony Davis, Austin Reaves and D'Angelo Russell. Thursday, coach Darvin Ham said he's settled on who that starter would be, though he wouldn't disclose it. Asked about the traits he was looking for in that player, Ham laughed.
"If I told you, you'd know exactly who I'm gonna start," he said.
The first five on Saturday in the Lakers' preseason opener won't be a perfect hint — James said he won't play against the Warriors in San Francisco.
"Six preseason games, so hopefully I can get to at least half of them. But we'll see," James said. "I think every game will dictate it. I will not be playing in Saturday's game, that's for sure, in the Bay. But we'll see after that."
With James out, the 2023 season will open with a nice opportunity for Hachimura to show the ways he's changed his game this summer, changes that have largely been borne out of his comfort with the Lakers.
On Monday during the team's media day, Hachimura was always smiling, flashing the "L.A." sign with his hands. The team's social media accounts captured him doing it a dozen different times.
His newfound comfort has helped him embrace the big stage and big goals the Lakers have this season.
"I love that. I love those big stages, big games," Hachimura said.
"Honestly, where I was before when I was with the Wizards, we didn't really have like a championship goal like that. But with this team, of course, we have championship, bigger goals. The motivation is different. I have more motivation. Every day is going to be different; it's a long season, so mentally, physically, I just have to prepare for it."
And to hear James talk, it sounds like Hachimura certainly has.