The 2023 MLB division series begin on Saturday afternoon. Only one team will win 11 more games and hoist the World Series trophy. Will the Houston Astros repeat as champions? Or could the 101-win Baltimore Orioles win their first World Series since 1983?
We rank the remaining eight teams from most likely to least likely to lift the commissioner's trophy.
Atlanta Braves
Strengths The 2023 Braves will be remembered as one of the greatest offenses in Major League Baseball history. They are the first team since 1997 to have three different players hit at least 40 home runs in a season, they scored at least one run in the first inning in 40% of their games this year and they finished with the highest slugging percentage of any team in major league history. The Braves dominated the regular season in both traditional baseball statistics (like home runs, RBI, runs scored) and advanced metrics (like percentage of balls hit hard and exit velocity).
Unfortunately for their opponents, Atlanta aren't completely reliant on power to win. Only three other teams struck out less often than the Braves did this season and Atlanta led all teams in baserunners going from first base to third on a single. Simply put: They hit it harder than any other team, they don't strike out all that often and put significant pressure on opposing defenses on the basepaths.
Weaknesses Their pitching staff was among the worst in baseball during the last month of the season. Atlanta's relief pitchers surrendered more home runs and stolen bases than any other team in the month of September while their starters tallied a 5.84 earned run average, the worst of any playoff team. Starting pitchers Spencer Strider and Max Fried are among the game's best when they are healthy and in command, but the dependability of the Braves' pitching staff is the team's biggest concern entering the playoffs.
Key player Ronald Acuña Jr. He may be the single most enjoyable player to watch in all of baseball. Acuña became the first player in history to hit at least 40 home runs and steal at least 70 bases in one season while leading baseball in on-base percentage and hitting the hardest ball of any player during the regular season.
Los Angeles Dodgers
Strengths Since 2017, the Dodgers have won 64% of their regular-season games, but they have only won one World Series during that stretch (and it happened in Arlington, Texas, due to pandemic restrictions). This year's team does everything quite well yet again: If Acuña does not win National League MVP, then outfielder and occasional second baseman Mookie Betts – who finished the season with 39 homers and a .408 on-base percentage while playing elite defense – will be honored. In any other season, first baseman Freddie Freeman, who set the franchise record for doubles and hit .331, would be a deserving candidate.
Beyond the two superstars is a highly flexible lineup that is powerful (the Dodgers finished second behind the Braves in home runs, RBIs and runs), disciplined (they were one of two teams to walk in 10% of their plate appearances) and smart (they are among the league leaders in fewest runners thrown out on the basepaths and play excellent team defense). After an inconsistent first half of the season, the pitching staff was among baseball's best in ERA and opponent batting average over the final two months of the season.
Weaknesses The pitching staff has performed very well over the last two months of the season, but the Dodgers may rely on three rookies in high-leverage situations. Staff ace Clayton Kershaw has been effective, but the old war horse is battling an ailing shoulder and is unlikely to throw more than six innings in any of his starts. Veteran pitcher Lance Lynn joined the team in July, but has allowed more home runs than any other starting pitcher in baseball this season. After that, the best options for multi-inning pitchers are rookies Bobby Miller, Emmett Sheehan and Ryan Pepiot, all of whom are promising young talents, but none of whom have pitched in such high-pressure contests.
Key player Bobby Miller. The Dodgers' 24-year-old rookie hurler has the raw tools to become a star in October. His mix of pitches – notably his curveball and changeup – keeps hitters off-balance when he is able to command them. The question is whether he will be consistent enough to help the Dodgers avoid yet another early exit from the postseason.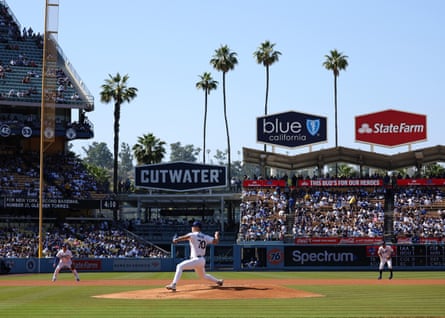 Houston Astros
Strengths Much like the Dodgers, the defending champion Astros are veterans of the postseason. The difference is that Houston thrive in October. Since 2017, the Astros have won two World Series titles, four AL pennants and 53 playoff games. Only one other team (Los Angeles) has even played 53 playoff games in that span. Houston feature a dynamic offense with four of the most feared hitters in the American League – second baseman Jose Altuve, third baseman Alex Bregman, designated hitter Yordan Alvarez and rightfielder Kyle Tucker. The Astros also feature one of the greatest postseason pitchers of all-time (Justin Verlander, back after a dismal sojourn in Queens) and the best pitcher of the 2022 postseason (Framber Valdez). This season, the Astros were one of the toughest teams in baseball to strike out and were one of the most powerful offenses in the second half of the season, trailing only the Braves and Dodgers in team batting average and runs scored.
Weaknesses Houston finished 39-42 at home this season, the first time they finished with a losing record at Minute Maid Park since 2014. The offense hit 38 more home runs on the road than at home while their pitchers compiled a strong 3.62 ERA on the road compared to a forgettable 4.25 ERA at home.
Key player Jose Abreu. He endured a dreadful first season in Houston after spending nine years as an elite power hitting first baseman for the Chicago White Sox. But sespite suffering through a career-worst campaign, Abreu hit seven homers in September. If he shows flashes of his old self, the Astros offense will be extremely tough to stop.
Philadelphia Phillies
Strengths After making an unlikely run to the World Series last season, the Phillies are back with a new star bat (shortstop Trea Turner) to join sluggers Bryce Harper, Kyle Schwarber and Nick Castellanos. Philadelphia remain dangerous because of the number of players they have who can change the game with one swing. They also feature veteran starting pitchers (Zack Wheeler and Aaron Nola) who can work deep into games in an era when teams are increasingly reliant on relief pitching. Long one of the weakest parts of the team, the Phillies' bullpen has had an excellent second half, allowing the fewest home runs of any playoff team.
Weaknesses They are a very balanced team, but most advanced statistics have the team's defense as one of the weakest in baseball. After playing 103 games in left field, Kyle Schwarber is serving mostly as a designated hitter because of his poor outfield play. The Phillies will likely turn to Cristian Pache, an excellent fielder but light hitter, in an attempt to improve the team defense.
Key player Bryson Stott. The young second baseman isn't one of the most feared hitters in the lineup, but his dramatic grand slam against the Marlins on Wednesday night reminded viewers that he's an essential part of the lineup who is ready for clutch moments.
Baltimore Orioles
Strengths Despite being one of the youngest teams in baseball, the Orioles won 100 games for the first time since 1980 thanks to resilient starting pitching and an excellent bullpen. You won't find any high-priced talent in Baltimore, but you will find elite young talents like catcher Adley Rutschman and shortstop Gunnar Henderson. Despite losing star closer Felix Bautista to an elbow injury, the Orioles have a deep bullpen that has been pitching in high-leverage situations for most of the season. When games get tight are when the Orioles are at their best: their 30-16 record in one-run games was the best of any team in the American League this season.
Weaknesses It is a young team with no significant playoff experience. They're a fundamentally sound team that excels at keeping games close, but the playoffs will be a much different atmosphere than anything most of their players have ever faced.
Key player Adley Rutschman. He's a complete young catcher in the mold of former San Francisco Giants catcher Buster Posey. His game-calling and defense is advanced for a 25-year-old player and he's already one of the game's most patient hitters.
Minnesota Twins
Strengths The Twins balance an impressive crop of young players (former No. 1 overall pick Royce Lewis, outfielder Matt Wallner and catcher Ryan Jeffers) with trusty veterans (shortstop Carlos Correa and starting pitchers Sonny Gray and Pablo Lopez) that beat teams by hitting home runs and striking out opposing hitters. The pitching staff led the league in strikeouts and had the fewest walks of any team remaining in the postseason. It is a very powerful and disciplined lineup that can pile up runs as long as they are successfully putting the ball in play.
Weaknesses The Twins love striking opposing hitters out, but their offense strikes out more than any other team in baseball. And excluding flamethrowing closer Jhoan Duran, the bullpen has endured some inconsistency and might pose a problem if their starting pitchers are unable to go deep into games.
Key player Carlos Correa. He is one of the few players on the roster with significant playoff experience after playing in three World Series as a member of the Astros. The star shortstop struggled after signing a six-year, $200m contract in the offseason, but made an exceptional defensive play to go along with a key RBI single in the Twins' wildcard series win over the Toronto Blue Jays.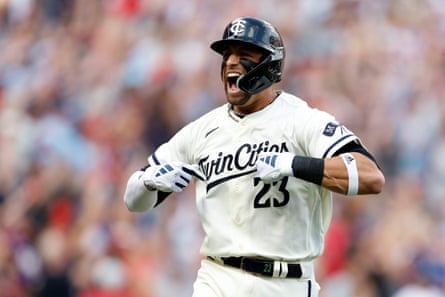 Texas Rangers
Strengths It is easy to look at powerful hitters like Corey Seager, Marcus Semien and Adolis Garcia and think that the Rangers win by beating you into submission. And it is a team that hit 233 home runs this season, which was ranked only behind the Braves and Dodgers. But the infield defense is a big reason the Rangers reached 90 wins for the first time since the 2016 season. Texas finished tied for first in defensive efficiency and second in errors committed, and the Seager-Semien pairing at short and second might be the best middle infield tandem in baseball.
Weaknesses Their bullpen had a horrifyingly bad second half. The Rangers converted just 48% of their save opportunities over the course of the season and allowed 51 home runs in the second half of the season, by far the worst of any team left in the playoffs. Typically, teams with bad bullpens don't last long in the postseason.
Key player Max Scherzer. The future Hall of Fame starting pitcher suffered a shoulder injury in mid-September that was supposed to end his season. There are reports that he is pushing to join the bullpen in the division series, which might provide a jolt for a beleaguered staff. It's unlikely he plays, but it would be a treat to get one of the game's most fearsome competitors back.
Arizona Diamondbacks
Strengths The Diamondbacks are a young and aggressive side that excels in destabilizing opposing pitchers and defenses. Led by 23-year-old superstar Corbin Caroll, Arizona like stealing bases (they stole 166 as a team and succeeded 86% of the time, both good for second in all of baseball) and putting the ball in play (they finished with the fourth-lowest strikeout rate of any team in baseball). Starting pitchers Zac Gallen and Merrill Kelly were two of the best starters in the National League this year and are formidable challenges to any opposing offense.
In their upset of the Milwaukee Brewers in the wildcard round, the Diamondbacks came back from early deficits in both games with timely hitting anchored by long, disciplined at-bats. They are a pesky team with an excellent outfield defense, a cavernous home ballpark that does not favor power hitters and one brimming with confidence after knocking off the NL Central champion Brewers.
Weaknesses Postseason baseball tends to favor teams with power hitting offenses and high-strikeout pitching staffs. The Diamondbacks don't really have either. If Arizona doesn't receive strong production from Carroll, second baseman Ketel Marte and first baseman Christian Walker, it is hard to see them scoring enough runs to win a playoff series.
Key player Christian Walker. He is the one player in the Arizona lineup with huge power complemented by a strong batting eye. Walker has hit 69 home runs over the past two seasons and can take any opposing pitcher deep into counts before sending one into the seats. If he has at-bats with runners on base, Arizona can balance their smaller, more aggressive style with old-fashioned power hitting.