It has not taken long for the Dymally High football team to make its presence felt in the Coliseum League.
Bryant Collins caught three touchdown passes, ran for another score and made a game-clinching interception in the host Challengers' 36-27 triumph over Crenshaw on Friday night.
"Back in the day our coaches played on a team that got blown out by Crenshaw in the playoffs," Collins said. "The key for us was to play hard on both sides of the ball. This is our first year in a new league and our goal is to win it."
Mitaevionne Reynolds set the tone on the first play from scrimmage when he took a handoff up the middle and raced 53 yards for a touchdown.
After Crenshaw drove 73 yards in 10 plays, tying the score on Collington Tillett's five-yard run, the Challengers responded with a 50-yard strike to Collins from quarterback Jermaine Whiten.
"The game plan? Simple — pound it down their throats," Whiten said.
Anderson Hernandez kicked a 32-yard field goal on the final play of the first half to give Dymally a 24-21 lead.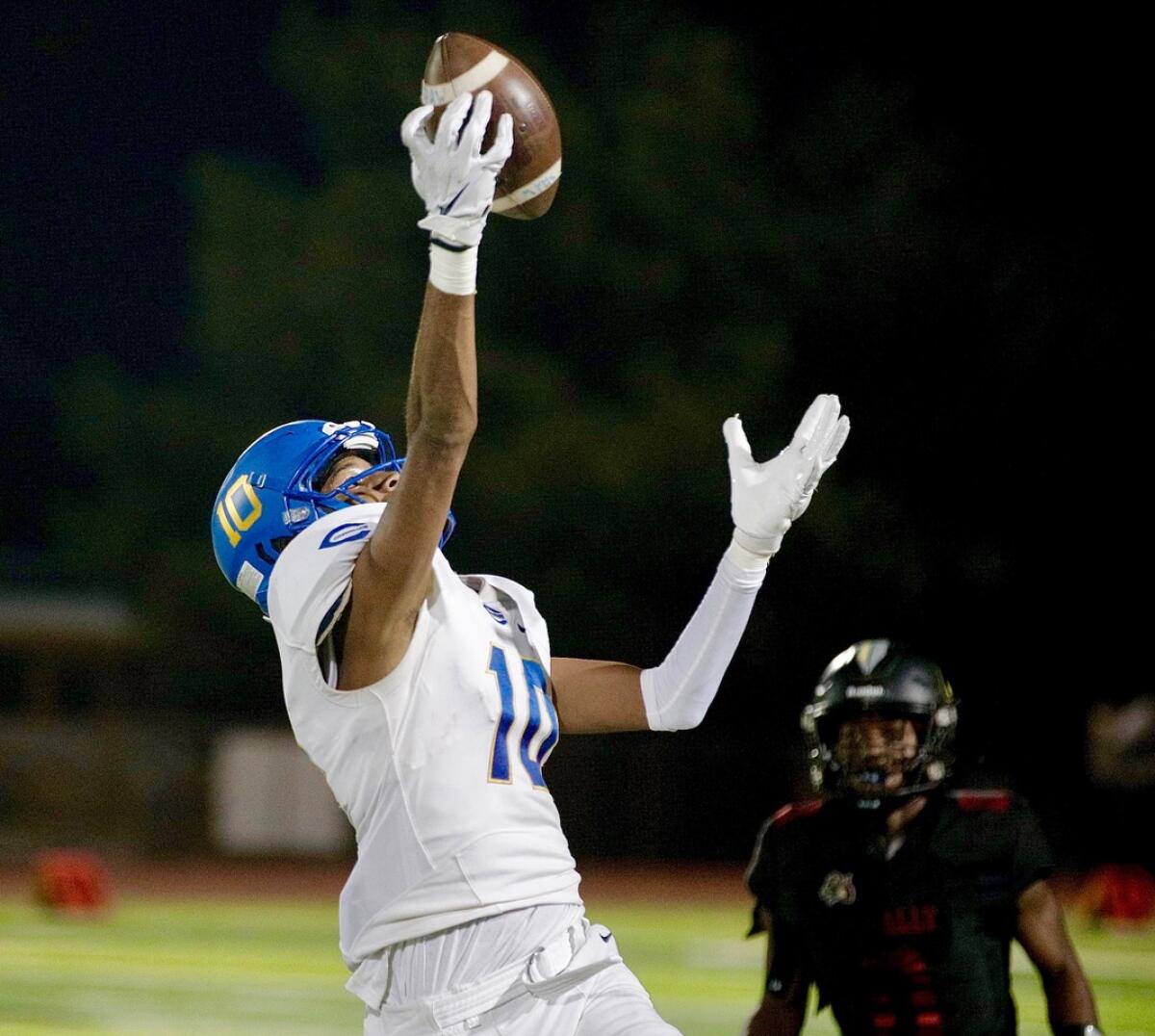 Dion Odom caught an eight-yard touchdown pass from Donce' Lewis to give the Cougars (5-2, 1-1) their only lead, 27-24, with 4:13 left in the third quarter. It took Dymally (6-1, 2-0) less than 30 seconds to go back ahead on a 15-yard touchdown run by Collins.
Collins' third touchdown catch put Dymally up by two scores with 9:01 left. He picked off a pass near midfield with 45 seconds remaining to seal the win.
Dymally first fielded a football team in 2014 and it was an 8-man program until coach David Wiltz arrived four years ago. He piloted the Challengers to two Metro League titles before being moved to the stronger Coliseum League.
"I don't see Crenshaw as the gold standard in league," Wiltz said. "I've thought they're beatable ever since I got here."
Dymally controls its playoff destiny and can take its first Coliseum League title with victories over King-Drew, Dorsey and Washington.