The first donations trickled in Monday morning, half an hour after West Long Beach Little League President Louie Terrazas put out an SOS.
One of the league's equipment sheds — which housed everything from baseball line chalkers to propane tanks — had been raided by thieves for the second time in just a few months.
A pitching machine valued at around $1,000 was stolen along with three bases, and a set of olive green locks were found cut and discarded on the ground.
"It was real discouraging," Terrazas said of finding the shed, located in Long Beach's Silverado Park, wide open and looted on Friday morning. "It made me question who would do this and how we would get back on our feet."
While the first question remains a mystery, Terrazas said he's "been amazed" at the support his league has received over the last few days.
A GoFundMe campaign had raised more than $10,000 as of Thursday afternoon. Others — including fellow leagues in El Segundo and Redondo Beach — have pledged to contribute.
"That's what's been most touching because I didn't realize there's such a huge support system," said Terrazas, who took over as league president this summer. "It's been a blessing."
West Long Beach practiced at Silverado Park the evening of Sept. 28. The team's two equipment sheds were locked up afterward, as was an adjacent snack stand.
An unknown number of burglars cut a pair of locks and broke into the first shed, according to Terrazas. Most items in that shed were left alone, while the other storage unit and snack shack went untouched entirely.
"I'm guessing whoever did this had an eye on the pitching machine for a while," said Terrazas, 29. "There were other things that could have been stolen and they weren't targeted. I'm not even sure why the bases were stolen."
The loss of the pitching machine was felt immediately by the league's farm division team, a squad of 15 players ages 5 to 7. The youngsters are making the jump from hitting off a stationary tee to batting versus live pitching and need steady tosses, Terrazas said.
Coaches — with their not-as-accurate pitching — have been filling in since Friday.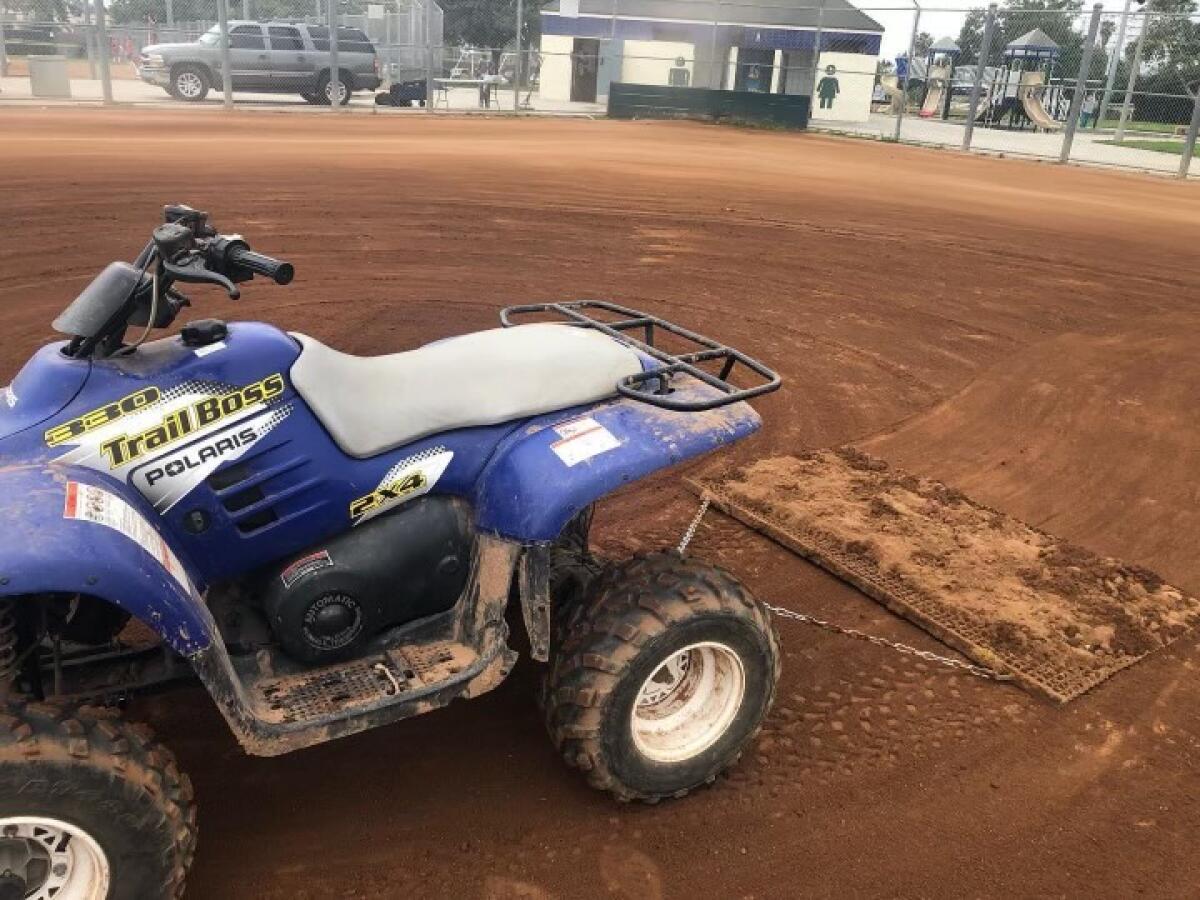 "We're going to do our best with the kids, but it's not the same," Terrazas said.
Last week's theft was the second for the league in recent months.
In July, the team's Polaris Trail Boss 330 all-terrain vehicle was stolen from an equipment shed at Long Beach's Hudson Park. The vehicle was used to smooth clumped dirt on the playing field.
Alberto Guevara, who was then finishing up a five-year term as the league's president, estimated the vehicle to be worth several thousand dollars.
"The ATV was gifted to us from a community member, so it was a big setback," Guevara said of the still-missing vehicle.
Guevara said he doesn't know who's behind the thefts, but added that marketplace apps make it much simpler to sell stolen equipment.
"You could easily hide the quad in your backyard while shopping it online," he said.
Terrazas said he filed a police report about the latest theft and then posted his GoFundMe on Monday, hoping to raise $5,000.
The Chevron refinery worker, who leaves his Long Beach home at 4 a.m. for his 10-hour shift in El Segundo before coaching in the evenings, said he was saddened in the days following the theft.
However, Terrazas' spirits were buoyed as the donations poured in, with the total easily surpassing $5,000 by Wednesday. He increased his goal to $20,000 to help pay for the league's coaching, umpiring and administrative needs.
"It's been overwhelming to see so many people reach out," he said. "There are so many expenses to running a team and this will help."
A West Long Beach Little League Instagram follower agreed to buy the team new bases, while Redondo Beach Little League President Danny Schwarz offered up slightly used versions.
"I called to see if they could use any of our excess equipment," Schwarz said. "We've been blessed that we haven't had that type of incident at Redondo and I think it's important for other leagues to help those who have."
El Segundo's reigning Little League World Series champion squad also amplified West Long Beach's GoFundMe account to its Instagram followers.
"Sometimes you just have to shame people and hope that they have a guilty conscience for stealing from children, because that's exactly what this is," said El Segundo Little League President Jamin Griffiths.
For Terrazas, the last few days have provided a lesson in solidarity.
"It's amazing to see this unity after the theft," he said. "I never expected it."