In the two years since Simone Biles returned home from the Olympics mentally and physically empty, it has taken everything for her to make it back to the top. She first had to withdraw from her sport in order to heal, with long hours spent in therapy. When she returned, she had to throw herself back in like never before.
It is a result of her hard work and mental strength, as well as her stratospheric talent, that Biles is once again, officially, the best gymnast in the world. On Fridaynight, Biles won a record-extending sixth all-around title at theWorld Artistic Gymnastics Championships in Antwerp with a score of 58.399.
Even as she towered over her rivals, the quality of the contenders was still incredibly high. In a brilliant tussle for silver and bronze that came down to a dramatic final floor rotation, Rebeca Andrade, of Brazil, last year's champion, won silver by scoring 56.766. Shilese Jones took bronze with 56.332. It is the first time that three black women have stood on the world all-around podium.
The evening, though, began with massive disappointment when British Gymnastics announced that Jessica Gadirova had withdrawn from the competition "as a precautionary measure", with Alice Kinsella replacing her. Gadirova had qualified for the final in third place and had been one of the top medal prospects.
Biles had arrived in the all-around final, the biggest event in gymnastics, having already made her superiority clear. In two days of competition, the qualification round and the team final, she had registered the two biggest international all-around scores of the Olympic qualifying cycle so far.
A lingering question was whether she would attempt the Yurchenko double pike vault in the all-around final despite the greater risk of a mistake. In a show of her peerless excellence, Biles opted for the relative safety of her Cheng vault, yet she performed it so well that she scored almost as highly as the far more difficult one. Biles stuck the vault cold, receiving an incredible score of 15.1. Andrade, who along with Biles is one of the best ever performers of the Cheng vault, already trailed the American by 0.4 points after taking a step on her landing.
On the uneven bars, historically her weaker apparatus, Biles continued her rock-solid form this week, easily navigating a secure routine to earn another strong score of 14.333. Only five gymnasts scored higher in the final. Behind Biles, Andrade showed her own mental fortitude as she endured an incredibly long wait before her uneven bars as judges deliberated over the score of the prior gymnast, Ellie Black, before delivering a brilliant set. Jones, meanwhile, nailed her own uneven bars routine.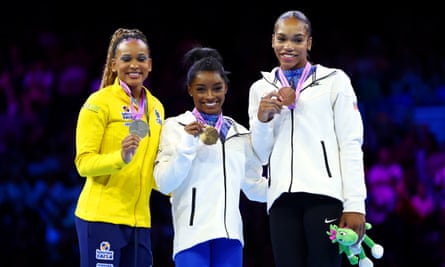 One of the most striking aspects of Biles's week so far is how secure she has been on the balance beam, where even she has been far from immune from mistakes over the years. She started her routine with a slight wobble on her mount, but knew exactly what to do. She punctuated a brilliant routine with a supremely difficult full-twisting double-back for a score of 14.433.
By the final rotation, the floor exercise, nothing but disaster could stop Biles from closing out the gold medal on her favourite apparatus. The true intrigue was directly behind her as Andrade stepped out of bounds in her floor routine but did just enough to hold off Jones, who performed an incredible save, stumbling during a tumbling pass yet somehow completed her double-back somersault.
As every competitor watched on, Biles stepped up and pounded through four brilliant tumbling passes. The floor routine was not perfect; Biles comically stumbled while attempting a leap but such was her dominance over the field, she laughed at the error mid-routine. With her floor score of 14.533, Biles led the field on three of her four routines.
Biles's return to the top is a triumph of her longevity. Not everyone can mentally and physically withstand a decade of elite gymnastics. Earlier this summer, Biles said that the rest of her life was "on hold" once she returned to the gym. Flying so high into the air and landing in one piece requires the utmost discipline and commitment.
For so many gymnasts, their bodies often decide the length of their careers for them. But despite the difficulty of her work and the way she has constantly pushed the bar forward, Biles has looked after her's incredibly well, she has maintained her motivation throughout her career and, 10 years after her first triumph, she remains the very best in the world.